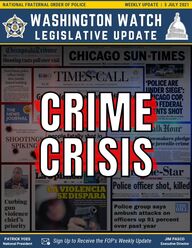 Return to flip book view
FOP Update - Week of July 05, 2021
Page 1
Sign Up to Receive the FOP's Weekly UpdateJIM PASCOExecutive DirectorPATRICK YOESNational PresidentWEEKLY UPDATE | 5 JULY 2021NATIONAL FRATERNAL ORDER OF POLICE
Page 2
@FOPNATIONAL@GLFOPNational President Patrick Yoes continued conversations withstakeholders and Congressional negotiators regarding criminaljustice reform proposals. LEGISLATIVE NEWS & ACTIVITYF R A T E R N A L O R D E R O F P O L I C ENational President Patrick Yoes gave numerous mediainterviews.National Vice President Joe Gamaldi gave numerousinterviews regarding the surge of violent crime in major citiesacross the country. National Vice President Gamaldihighlighted how rogue prosecutors and activist judges havebeen contributing factors in the rise of violent crime.Executive Director Jim Pasco spokewith Associate Attorney General VanitaGupta regarding U.S. Department ofJustice operations, with a particularfocus on the Civil Rights Division, theOffice of Justice Programs (OJP), andthe Office of Community OrientedPolicing Services (COPS Office).
Page 3
@FOPNATIONAL@GLFOPF R A T E R N A L O R D E R O F P O L I C ELEGISLATIVE NEWS & ACTIVITYExecutive Director Jim Pasco spoke with John D. Cohen,Coordinator for Counterterrorism and Assistant Secretary forCounterterrorism and Emerging Threats within the U.S.Department of Homeland Security (DHS), regarding broadeningthe policies on intelligence sharing and information sharingbetween DHS and State and local law enforcement.Executive Director Jim Pasco continued dialogue withMembers of Congress leading the negotiations on criminaljustice reform. The FOP continues to maintain our absolutecommitment to the continuation of full qualified immunity andto use of force guidelines that are consistent with Graham vConnor. The FOP has not and will not take a position on draftlegislation until we see a document that both sides have agreedupon.
Page 4
@FOPNATIONAL@GLFOPExecutive Director Jim Pasco gave numerous media interviews,most of which were in regard to the FOP's position on pendingcriminal justice reform legislation as well as the crime wavetaking place in major cities across the country.F R A T E R N A L O R D E R O F P O L I C ELEGISLATIVE NEWS & ACTIVITYB y a s m a k h a l i d7 / 8 / 2 0 2 1
Page 5
@FOPNATIONAL@GLFOPF R A T E R N A L O R D E R O F P O L I C ESenior Legislative Liaison Tim Richardson spoke with staff inthe office of Senator Charles E. Grassley (R-IA) regarding therecent hearing and pending legislation on the Federalsentencing disparity between crack and powder cocaine.LEGISLATIVE NEWS & ACTIVITYSenior Legislative Liaison Tim Richardson represented theFOP on a conference call hosted by Robert Chapman, ActingDirector of the Office of Community Oriented Policing Services(COPS Office), regarding the Fifth Annual Attorney General'sAward for Distinguished Service in Community Policing.Senior Legislative Liaison Tim Richardson spoke with staff inthe COPS Office regarding pending legislation and mentalhealth and wellness issues.
Page 6
@FOPNATIONAL@GLFOPThe House was in recess this week.F R A T E R N A L O R D E R O F P O L I C ETHIS WEEK IN WASHINGTONThe Senate was in a pro forma session this week. Fraternal Order of PoliceNational Legislative Office
Page 7
COSPONSORS47183136COSPONSORS92415COSPONSORS110COSPONSORS165741COSPONSORS43127@FOPNATIONAL@GLFOPF R A T E R N A L O R D E R O F P O L I C ETOP LEGISLATIVE PRIORITIES
Page 8
COSPONSORS220COSPONSORS45461COSPONSORS23230COSPONSORS33352+ 1 NEW@FOPNATIONAL@GLFOPF R A T E R N A L O R D E R O F P O L I C EMORE RESOURCES ON OUR LEGISLATIVE PRIORITIESFULL LIST OF LEGISLATION SUPPORTED BY THE FOPLEGISLATIVE PRIORITIES
Page 9
@FOPNATIONAL@GLFOPPresident Biden is trying to tread a thin, tangledline. He's trying to pass a police reform bill as asurge of violent crime sweeps the country. He'salso trying to balance calls from activistswithin his own party for a major overhaul ofpolicing with growing safety... READ MORE[NPR] An Old Friend Of Law Enforcement,Biden Walks A Thin Line On Police ReformAt least 233 people were killed and 618 peoplewere injured by gun violence in more than 500shootings across the country during the Fourthof July weekend, a 26% drop from last year'sholiday weekend, according to the latest datacompiled by the Gun Violence.. READ MORE[CNN] More than 230 people fatally shot inshootings over the Fourth of July weekend The Office of Community Oriented PolicingServices (COPS Office) would like to remindyou that the Community Policing Development(CPD) De-Escalation Training Solicitation isopen and accepting applications... READ MORECommunity Policing Development De-Escalation Training Solicitation ReminderNational FOP Vice President Joe Gamaldijoined Fox and Friends to discuss the greatestcrisis our country faces right now: ViolentCrime... WATCH INTERVIEW[FOX News] National FOP Vice PresidentJoe Gamaldi: Embrace the Rule of LawF R A T E R N A L O R D E R O F P O L I C EFOP NEWSROOM
Page 10
SOCIAL SECURITYFight for Fairness! TellCongress to pass the "SocialSecurity Fairness Act."TAKE ACTIONFEDERAL OFFICERSTell Congress to support H.R.962, the "Law EnforcementOfficers' Equity Act."TAKE ACTIONLEOSA REFORMTell Congress to support the"LEOSA Reform Act."TAKE ACTIONPROTECT & SERVETell Congress to support thepolice and pass the "Protectand Serve Act."TAKE ACTIONQUALIFIED IMMUNITYTell Congress to OPPOSE theelimination of the establisheddoctrine on qualified immunity.TAKE ACTION@FOPNATIONAL@GLFOPF R A T E R N A L O R D E R O F P O L I C EFOP ACTION CENTER
Page 11
Been Exposed?Are You Sick?READ MORE@FOPNATIONAL@GLFOPREAD MOREThe National Legislative Office providedFOP members with information, releasedby the Federal Emergency ManagementAgency, regarding exporters with asurplus of medical supplies andequipment. COVID-19 Information for Law EnforcementProtecting Public Safety and HealthFRATERNAL ORDER OF POLICEJULY 8:W W W . FO P C O V I D 1 9 . OR GThe National Legislative Office providedFOP members with information that wasshared during a White House COVID-19Response Team press briefing, wherepublic health officials gave a generalupdate on the COVID-19 pandemic. JULY 9:F R A T E R N A L O R D E R O F P O L I C ECOVID-19 ACTIVITY
Page 12
@FOPNATIONAL@GLFOPF R A T E R N A L O R D E R O F P O L I C EIn August 2021, the National Fraternal Order of Police will hold its 65th NationalConference and Exposition at the Indiana Convention Center in Indianapolis. Hostedby Indianapolis Lodge #86, this event represents 106 years of professional lawenforcement experience for the largest and oldest law enforcement labororganization in the United States.The National Fraternal Order of Police holds a NationalConference every two years to set the goals andagenda for the organization. The business of the FOP isconducted, seminars are offered, Constitution & By-Laws are reviewed and changed, the Executive Board iselected, National Trustees and Committee Chairs reporttheir activities, and exhibitors from around the countryshowcase their products and services at our EXPO.Law enforcement officials from all over the country are expected to attend, includingpolice chiefs, administrators, sheriffs, training officers, fleet managers, federalofficers, corrections officers and procurement staff.CONFERENCE HOST INFORMATION & EVENING EVENTS65TH NATIONAL CONFERENCE
Page 13
FOP-TV PROGRAM GUIDEGrassroots Public Relations & Media Talk"Keeping Resilience Front & Center"Community and Media Relations Tool KitCRI TAC PartnershipFOP Nationwide HealthcareCollective Bargaining & ArbitrationCivilian OversightQualified ImmunityTune in every week for a new episode of FOP-TV where National FraternalOrder of Police leaders discuss new and relevant topics that are impactingour profession and important to leading our organization through theseturbulent times.@FOPNATIONAL@GLFOPF R A T E R N A L O R D E R O F P O L I C EWATCH PREVIOUS EPISODESFOP ON DEMAND
Page 14
@FOPNATIONAL@GLFOPF R A T E R N A L O R D E R O F P O L I C E
Page 15
The Collaborative Reform Initiative Technical Assistance Center (CRI-TAC)provides no cost, customized technical assistance solutions designed tomeet the unique needs of state, local, tribal, & campus law enforcementagencies throughout the U.S.The Office of Justice Programs (OJP) provides innovative leadership tofederal, state, local, and tribal justice systems, by disseminating state-of-theart knowledge and practices across America, and providing grants for theimplementation of these crime fighting strategies. The COPS Office awards grants to hire community policing professionals,develop and test innovative policing strategies, and provide training andtechnical assistance to community members, local government leaders, andall levels of law enforcement.VISIT WEBSITE FOR MORE INFORMATIONU.S. DEPARTMENT OF JUSTICEOffice of Justice Programs@FOPNATIONAL@GLFOPF R A T E R N A L O R D E R O F P O L I C EVISIT WEBSITE FOR MORE INFORMATIONVISIT WEBSITE FOR MORE INFORMATION
Page 16
@FOPNATIONAL@GLFOPThe Fraternal Order of Police is committed to improving theworking conditions of law enforcement officers and the safety ofthose we serve through education, legislation, information,community involvement, and employee representation. Our challenge to you is to have each and every FOP member inyour department, lodge, and State commit $5.00 a month to theNFOP PAC. Please contact the National Legislative Office to learnabout the various ways you can contribute to the NFOP PAC.The NFOP PAC is the power behindour organization's punch on CapitolHill, representing its members inthe most effective way possible. F R A T E R N A L O R D E R O F P O L I C EPOLITICAL ACTION COMMITTEECAN YOU CHIP IN $5?DONATEClick Here
Page 17
@FOPNATIONAL@GLFOPF R A T E R N A L O R D E R O F P O L I C E