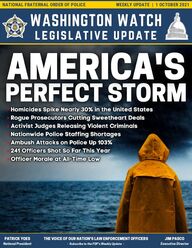 Return to flip book view
FOP Update - October 1, 2021
Page 1
WEEKLY UPDATE | 1 OCTOBER 2021NATIONAL FRATERNAL ORDER OF POLICE
Page 2
LEGISLATIVE NEWS & ACTIVITYNational President Yoes and Executive Director Jim Pasco had aconference call with Alejandro N. Mayorkas, Secretary of theU.S. Department of Homeland Security (DHS), and seniorexecutives from national law enforcement organizations todiscuss the situation at the border and how the FOP can bestcontinue to engage with the DHS to the benefit of State and localagencies struggling with increases in violence and trafficking.National President Patrick Yoes worked out ofthe Government and Media Affairs Center inWashington, D.C. this week.National President Patrick Yoes, National Vice President JoeGamaldi, National Secretary Jimmy Holderfield, NationalTreasurer James Smallwood, and Executive Director JimPasco, along with more than a dozen FOP leaders from borderStates and regions, joined senior officials at the U.S. Customsand Border Protection (CBP) headquarters in Washington, D.C.and received a briefing on the "State of the Border." CONTINUES ON THE NEXT PAGE
Page 3
LEGISLATIVE NEWS & ACTIVITYThe briefing was provided by Marcos Mareno, Acting Director ofthe Strategic Intelligence and Analysis Division within the CBPOffice of Intelligence, who gave our FOP leaders an overview ofcriminal activity at and across the border, as well as its potentialimpact on State and local jurisdictions across the country.U.S. Border Patrol Chief Tony Barker, who is also the Director ofthe Southwest Border (SWB) Response, also briefed FOP leadersand addressed the recent Del Rio operation, which cleared a largeencampment of people seeking to enter or remain in the U.S.unlawfully. He also responded to questions from our FOP leadersin a direct and candid way about the operations of the U.S. BorderPatrol in light of recent events.The discussion was very helpful as it highlighted the need forcontinued engagement and cooperation between Federal agenciesand their State and local counterparts to combat crime and reducethe incentive for people to attempt illegal crossings or engage incriminal trafficking.
Page 4
FIND AN EVENT NEAR YOULEARN MORENational President Patrick Yoes gave an interview to FoxBusiness in regard to how mandating the vaccine, instead ofstrongly encouraging officers to receive it, could have long-term consequences and raises serious public safety concerns.LEGISLATIVE NEWS & ACTIVITYNational President Patrick Yoes joined former Governor MikeHuckabee on the Trinity Broadcasting Network's show,Huckabee, to promote the National Faith & Blue Weekend,which will take place from 8-11 October.
Page 5
LEGISLATIVE NEWS & ACTIVITYExecutive Director Jim Pasco spoke with Chiraag Bains, SpecialAssistant to the President for Criminal Justice Policy, regardingcriminal justice reform.National President Patrick Yoes gave numerous media interviewsin regard to the crime wave that many cities across America areexperiencing as well as the COVID-19 pandemic.In a separate conversation this week, Executive Director JimPasco spoke with DHS Secretary Alejandro N. Mayorkasregarding the immigration crisis and the illegal smuggling takingplace at the southern border.Executive Director Jim Pasco participated in a Zoom call withDHS Secretary Alejandro N. Mayorkas regarding a range of DHSissues, including the immigration crisis at the southern border, theinvestigation into the treatment of migrants by U.S. Border Patrolagents, as well as key vacancies within DHS.
Page 6
LEGISLATIVE NEWS & ACTIVITYExecutive Director Jim Pasco gave numerous media interviewsin regard to criminal justice reform, the Biden Administration'srelationship with rank-and-file law enforcement, and thenationwide increase in violent crime.Executive Director Jim Pasco also gave numerous mediainterviews pertaining to the COVID-19 pandemic andvaccinations and the impacts on public safety. The NationalFOP believes in the science behind the COVID-19 vaccines andthat vaccinations work to prevent people from becominginfected by or transmitting COVID-19. However, the NationalFOP continues to believe that whether or not to accept thevaccine is a personal decision. UPDATED POLICY STATEMENT: COVID-19 VACCINESSenior Legislative Liaison Tim Richardson and LegislativeLiaison Mark McDonald spoke with staff in the office ofRepresentative Donald J. Bacon (R-NE) regarding the issue oflaw enforcement credentials for civilian officers employed bythe U.S. Department of Defense (DoD).
Page 7
LEGISLATIVE NEWS & ACTIVITYSenior Legislative Liaison Tim Richardson and LegislativeLiaison Matt Brown spoke with staff in the office of SenatorThomas R. Tillis (R-NC) regarding draft legislation pertainingto the identification and reporting of cybercrime incidents.Senior Legislative Liaison Tim Richardson and LegislativeLiaison Matt Brown met with staff in the office ofRepresentative Elizabeth A. Van Duyne (R-TX) to discuss FOPpriorities.
Page 8
THIS WEEK IN WASHINGTONThe House considered and passed H.R. 1693, the "EQUAL Act,"on a 361-66 vote. The legislation would eliminate the Federalsentencing disparity between drug offenses involving crackcocaine and powder cocaine. Currently, different thresholdquantities of crack cocaine and powder cocaine (e.g., 28 gramsof crack cocaine and 500 grams of powder cocaine) trigger thesame statutory criminal penalties. The legislation wastransmitted to the Senate for further action.The House considered and passed H.R. 4981 on a 410-14vote. The legislation, which would modify certain deadlinesrelating to the Commission on Combating Synthetic OpioidTrafficking, was transmitted to the Senate for further action.The House Select Committee on the January 6 Attack on theUnited States Capitol issued additional subpoenas fordeposition testimony and records to individuals tied to theevents and rallies leading up to the violent events that unfoldedon 6 January.
Page 9
Earlier this week, the Senate considered and rejected a motionfor cloture on H.R. 5305, the "Extending Government Fundingand Delivering Emergency Assistance Act," on a 48-50 vote,falling short of the 60 votes needed to bring debate on thelegislation to a close. The continuing resolution would providecontinuing FY2022 appropriations for Federal agencies through 3December 2021, suspend the debt limit, provide supplementalappropriations, and extend several expiring programs andauthorities.On Thursday, the Senate amended and passed H.R. 5305, on a63-35 vote. The legislation was transmitted back to the House,where it passed hours later on a 254-175 vote.Late Thursday evening, the President signed it into law, avoidinga partial government shutdown.THIS WEEK IN WASHINGTON
Page 10
COSPONSORS54229175COSPONSORS92516COSPONSORS110COSPONSORS186446COSPONSORS43430TOP LEGISLATIVE PRIORITIES+ 2 NEW
Page 11
COSPONSORS220COSPONSORS47481COSPONSORS23230COSPONSORS40455MORE RESOURCES ON OUR LEGISLATIVE PRIORITIESFULL LIST OF LEGISLATION SUPPORTED BY THE FOPLEGISLATIVE PRIORITIES+ 3 NEW
Page 12
Police departments large and small arestruggling to attract new officers after morethan a year of negative public sentiment towardlaw enforcement and an intense... READ MOREPolice struggle with recruiting newofficers to empty academies [Washington Examiner]FOP NEWSROOMThe International Association of Chiefs ofPolice (IACP) and the Fraternal Order of Police(FOP) are disappointed that Senate negotiatorscould not reach agreement on police reformlegislation, and we thank all... READ MOREIACP and FOP Statement on PoliceReform NegotiationsThe National Fraternal Order of Police reportsthat as of midnight on 30 September, therehave been 241 officers shot so far in 2021, 44of whom were killed by gunfire... READ MOREFOP Monthly Update: Officers Shot andKilledNational President Patrick Yoes gave aninterview to Fox Business' in regard to howmandating the vaccine, instead of stronglyencouraging officers to receive... READ MOREFOP President: Mandating VaccinesCould Have Long-Term Public SafetyConsequences [Fox Business]
Page 13
Patrick McDowell was finally captured Tuesdayafternoon at a sports complex just outsideCallahan following a five-day search thatinvolved hundreds of law... READ MOREHandcuffs carried by slain Nassau Countydeputy used to arrest his suspected killer[News4Jax]During a planned year-end reconciliation of theDepartment of Justice's Financial ManagementSystem, the Justice Grants System(JustGrants) will be unavailable from 11:30p.m. ET on Thursday, September... READ MOREFunding Tips: Prepare for PlannedJustGrants Outage [OJP]DEA has issued a public safety alert to warnAmericans of the alarming increase in thelethality and availability of fake pills containingfentanyl and methamphetamine. Criminal drugnetworks are mass-producing counterfeit pillsand falsely marketing them as... READ MOREDEA Launches 'One Pill Can Kill' [DEA]FOP NEWSROOMTwo police associations released a statementexpressing disappointment over police reformnegotiations ending on Capitol Hill last week,after a bipartisan group of law... READ MOREPolice organizations say failed reformproposal would have strengtheneddepartments, not defunded them [The Hill]
Page 14
SOCIAL SECURITYFight for Fairness! TellCongress to pass the "SocialSecurity Fairness Act."TAKE ACTIONFEDERAL OFFICERSTell Congress to support H.R.962, the "Law EnforcementOfficers' Equity Act."TAKE ACTIONLEOSA REFORMTell Congress to support the"LEOSA Reform Act."TAKE ACTIONPROTECT & SERVETell Congress to support thepolice and pass the "Protectand Serve Act."TAKE ACTIONQUALIFIED IMMUNITYTell Congress to OPPOSE theelimination of the establisheddoctrine on qualified immunity.TAKE ACTIONFOP ACTION CENTERCOLLECTIVE BARGAININGTell Congress to SUPPORTcollective bargaining rights forpublic safety employees.TAKE ACTION
Page 15
Been Exposed?Are You Sick?READ MOREREAD MOREVIEW A STATE-BY-STATE BREAKDOWNThe National FOP provided memberswith information that was shared duringa White House COVID-19 ResponseTeam press briefing, where public healthofficials gave a general update on theCOVID-19 pandemic. COVID-19 Information for Law EnforcementProtecting Public Safety and HealthFRATERNAL ORDER OF POLICESEPTEMBER 27:W W W . F O P C O V I D 1 9 . O R GThe National FOP provided memberswith information, released by the Centersfor Disease Control and Prevention,regarding the safety of COVID-19 vaccinebooster shots.SEPTEMBER 29:COVID-19 ACTIVITYREAD MORE READ MORE
Page 16
FOP-TV PROGRAM GUIDEGrassroots Public Relations & Media Talk"Keeping Resilience Front & Center"Community and Media Relations Tool KitCRI TAC PartnershipFOP Nationwide HealthcareCollective Bargaining & ArbitrationCivilian OversightQualified ImmunityTune in every week for a new episode of FOP-TV where National FraternalOrder of Police leaders discuss new and relevant topics that are impactingour profession and important to leading our organization through theseturbulent times.WATCH PREVIOUS EPISODESFOP ON DEMAND
Page 17
Page 18
The Collaborative Reform Initiative Technical Assistance Center (CRI-TAC)provides no cost, customized technical assistance solutions designed tomeet the unique needs of state, local, tribal, & campus law enforcementagencies throughout the U.S.The Office of Justice Programs (OJP) provides innovative leadership tofederal, state, local, and tribal justice systems, by disseminating state-of-theart knowledge and practices across America, and providing grants for theimplementation of these crime fighting strategies. The COPS Office awards grants to hire community policing professionals,develop and test innovative policing strategies, and provide training andtechnical assistance to community members, local government leaders, andall levels of law enforcement.VISIT WEBSITE FOR MORE INFORMATIONVISIT WEBSITE FOR MORE INFORMATIONVISIT WEBSITE FOR MORE INFORMATION
Page 19
The Fraternal Order of Police is committed to improving theworking conditions of law enforcement officers and the safety ofthose we serve through education, legislation, information,community involvement, and employee representation. Our challenge to you is to have each and every FOP member inyour department, lodge, and State commit $5.00 a month to theNFOP PAC. Please contact the National Legislative Office to learnabout the various ways you can contribute to the NFOP PAC.The NFOP PAC is the power behindour organization's punch on CapitolHill, representing its members inthe most effective way possible. POLITICAL ACTION COMMITTEECAN YOU CHIP IN $5?DONATEClick Here
Page 20