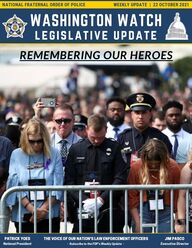 Return to flip book view
FOP Update - October 22, 2021
Page 1
WEEKLY UPDATE | 22 OCTOBER 2021NATIONAL FRATERNAL ORDER OF POLICEREMEMBERING OUR HEROES
Page 2
LEGISLATIVE NEWS & ACTIVITYNational President Patrick Yoes worked out ofthe Government and Media Affairs Center inWashington, D.C. this week.National President PatrickYoes gave numerousmedia interviews in regardto law enforcement line-of-duty deaths, the crimewave that many citiesacross America areexperiencing, as well asthe COVID-19 pandemic.National TreasurerJames Smallwoodjoined Fox News' NeilCavuto to discuss theFOP's 40th AnnualNational PeaceOfficers' MemorialService.
Page 3
LEGISLATIVE NEWS & ACTIVITYExecutive Director Jim Pasco spoke with Associate U.S.Attorney General Vanita Gupta regarding a range of issuesconcerning the Public Safety Officers' Benefits (PSOB)Program.Executive Director Jim Pasco spoke with Alejandro N.Mayorkas, Secretary for the U.S Department of HomelandSecurity (DHS), about issues related to immigration and bordersecurity.Executive Director Jim Pasco spoke with Chiraag Bains,Special Assistant to the President for Criminal Justice andGuns Policy at the Domestic Policy Council, regarding criminaljustice reform efforts. Executive Director Jim Pasco gave numerous media interviewsin regard to the nationwide increase in violent crime and theissue of officer recruitment and retention.
Page 4
LEGISLATIVE NEWS & ACTIVITYExecutive Director Jim Pasco also gave numerous mediainterviews pertaining to the COVID-19 pandemic andvaccinations and the impacts on public safety. The NationalFOP believes in the science behind the COVID-19 vaccines andthat vaccinations work to prevent people from becominginfected by or transmitting COVID-19. However, the NationalFOP continues to believe that whether or not to accept thevaccine is a personal decision.
Page 5
LEGISLATIVE NEWS & ACTIVITYS. 921, the "Jaime Zapata and Victor Avila Federal Officers andEmployees Protection Act," which would clarify that Federal law clearlyand unambiguously protects Federal law enforcement officers andother employees operating outside our borders;S. 1502, the "Confidentiality Opportunities for Peer Support (COPS)Act," which would reduce the barriers for law enforcement officerswhen trying to access mental health resources; andS. 1511, the "Protecting America's First Responders Act," which wouldupdate the PSOB disability determinations and the definitions making itmore consistent with existing Federal law and greatly improve theability of our injured and disabled officers to have their claimsprocessed more fairly and more quickly as well as providing for anextension of the COVID-19 presumption for the Public Safety Officers'Benefits program.Senior Legislative Liaison Tim Richardson had separateconversations with staff in the offices of RepresentativesSteny H. Hoyer (D-MD) and Kevin O. McCarthy (R-CA), as wellas senior members of the majority staff on the HouseCommittee on the Judiciary, to discuss moving three bills onthe House Floor under a suspension of the rules next week: All of these bills have already passed the Senate. If adopted bythe House, S. 921 and S. 1502 would go directly to thePresident to be signed into law, but S. 1511 would need to goback to the Senate after being amended.
Page 6
LEGISLATIVE NEWS & ACTIVITYSenior Legislative Liaison Tim Richardson and LegislativeLiaison Mark McDonald spoke with staff in the office ofRepresentative Val V. Demings (D-FL) regarding draftlegislation pertaining to funding for the U.S. Department ofHomeland Security's Urban Area Security Initiative.Senior Legislative Liaison Tim Richardson and LegislativeLiaison Matt Brown spoke with staff in the office ofRepresentative John M. Katko (R-NY) regarding legislationaimed at reducing recidivism. Senior Legislative Liaison Tim Richardson and LegislativeLiaison Matt Brown spoke with staff in the office ofRepresentative María E. Salazar (R-FL) regarding legislationwhich would create a grant program to help State and localagencies establish a Veteran Support Task Force.
Page 7
LEGISLATIVE NEWS & ACTIVITYSenior Legislative Liaison Tim Richardson and LegislativeLiaison David Taboh represented the FOP on a conference callwith stakeholders and staff from the offices of SenatorsChristopher A. Coons (D-DE) and Roger F. Wicker (R-MS) todiscuss strategy for the upcoming markup of S. 998, the"Driving for Opportunity Act." Senior Legislative Liaison Tim Richardson and Legislative LiaisonMark McDonald participated in a Zoom meeting with the FOP'sFederal Officers' Coalition.
Page 8
THIS WEEK IN WASHINGTONThe House Committee on Judiciary held a hearing entitled"Oversight of the United States Department of Justice" earlierthis week at which U.S. Attorney General Merrick B. Garlandtestified.The House amended and passed H.R. 4089, the "Darren DrakeAct" on a 379-51 vote, which would direct the U.S. Departmentof Homeland Security to develop best practices for vehiclerental companies to report suspicious behavior to lawenforcement agencies at the point of sale of a rental vehicle.
Page 9
THIS WEEK IN WASHINGTONThe Senate passed without amendment by unanimous consentS. 2899, the "Prison Camera Reform Act of 2021." Thislegislation would require Director Michael Carbajal, of theBureau of Prisons, to address deficiencies and makenecessary upgrades to the security camera and radio systemsat Bureau of Prisons facilities. This bill will now be transmittedover to the House of Representatives. The Senate Committee on the Judiciary held an ExecutiveBusiness Meeting to discuss numerous judicial nominationsand pending legislation, including S. 998, the "Driving forOpportunity Act of 2021." This legislation would use grants asincentives to move states away from suspending, revoking, orrefusing to renew driver's licenses or motor vehicleregistrations, for failure to pay a civil or criminal fine or fee.The Senate Committee on the Finance held a hearing toexamine the nomination of Chris Magnus to be Commissionerof the U.S. Customs and Border Protection.
Page 10
COSPONSORS56232176COSPONSORS92617COSPONSORS110COSPONSORS207050COSPONSORS43430TOP LEGISLATIVE PRIORITIES+ 5 NEW+ 1 NEW+ 1 NEW
Page 11
COSPONSORS220COSPONSORS50511COSPONSORS23230COSPONSORS43485MORE RESOURCES ON OUR LEGISLATIVE PRIORITIESFULL LIST OF LEGISLATION SUPPORTED BY THE FOPLEGISLATIVE PRIORITIES+ 1 NEW+ 2 NEW
Page 12
FOP NEWSROOMNational FOP President on VaccineMandates and COVID-19's Impact onPolicing [ABC News Live]National President of the Fraternal Order ofPolice Patrick Yoes joined ABC News Live todiscuss vaccine mandates and the effectCOVID has had on policing.... WATCHToday, the National Fraternal Order of Policeand National Auxiliary will gather on the WestFront of the U.S. Capitol to honor the 491 lawenforcement officers who lost their lives in theline of duty during 2019 and... READ MOREPresident Biden Joins National FOP toSalute Our Fallen HeroesThe devolving situation in Chicago and the veryreal threat to public safety in the city has beenentirely manufactured and unnecessarilyescalated by Mayor Lori... READ MOREStatement of National FOP PresidentPatrick Yoes on Chicago's Call for LawEnforcement VolunteersFraternal Order of Police treasurer:'Defund the police' is dangerous andreckless trend [Fox News]National Fraternal Order of Police TreasurerJames Smallwood joins 'Cavuto Live' ahead ofthe 40th Annual National Peace Officers'Memorial Service.... WATCH
Page 13
FOP NEWSROOMToday marks the first anniversary of thecreation of the Department of HomelandSecurity's (DHS) Center for Countering HumanTrafficking (CCHT)... READ MOREDHS Takes Victim-Centered Approach onFirst Anniversary of Center forCountering Human Trafficking [DHS]Patrick Yoes, National President of theFraternal Order of Police, said he washeartened by the news this week that theSupreme Court of the United... READ MOREU.S. Supreme Court Upholds Precedent inTwo Qualified Immunity Cases – FOP hadfiled amicus in support of officersThe National FOP will take every step and useevery available approach to protect ourmembers and their rights as these issuesdevelop. We are prepared to... READ MOREICYMI: Updates to Policy Statementregarding COVID-19 VaccinesThe U.S. Supreme Court sided with policeMonday in two separate rulings on qualifiedimmunity, a legal doctrine... READ MORESupreme Court reaffirms policeprotection by qualified immunity, a legaldoctrine targeted in protests [WashingtonPost]
Page 14
SOCIAL SECURITYFight for Fairness! TellCongress to pass the "SocialSecurity Fairness Act."TAKE ACTIONFEDERAL OFFICERSTell Congress to support H.R.962, the "Law EnforcementOfficers' Equity Act."TAKE ACTIONLEOSA REFORMTell Congress to support the"LEOSA Reform Act."TAKE ACTIONPROTECT & SERVETell Congress to support thepolice and pass the "Protectand Serve Act."TAKE ACTIONQUALIFIED IMMUNITYTell Congress to OPPOSE theelimination of the establisheddoctrine on qualified immunity.TAKE ACTIONFOP ACTION CENTERCOLLECTIVE BARGAININGTell Congress to SUPPORTcollective bargaining rights forpublic safety employees.TAKE ACTION
Page 15
Been Exposed?Are You Sick?READ MOREREAD MOREVIEW A STATE-BY-STATE BREAKDOWNCOVID-19 Information for Law EnforcementProtecting Public Safety and HealthFRATERNAL ORDER OF POLICEOCTOBER 18:W W W . F O P C O V I D 1 9 . O R GOCTOBER 19:COVID-19 ACTIVITYREAD MORE READ MOREThe National FOP provided FOPmembers with information that wasshared during a White House COVID-19Response Team press briefing, wherepublic health officials gave a generalupdate on the COVID-19 pandemic. The National FOP provided FOPmembers with information, released bythe Centers for Disease Control andPrevention, regarding an update to publichealth recommendations for fullyvaccinated people.
Page 16
FOP-TV PROGRAM GUIDEGrassroots Public Relations & Media Talk"Keeping Resilience Front & Center"Community and Media Relations Tool KitCRI TAC PartnershipFOP Nationwide HealthcareCollective Bargaining & ArbitrationCivilian OversightQualified ImmunityTune in every week for a new episode of FOP-TV where National FraternalOrder of Police leaders discuss new and relevant topics that are impactingour profession and important to leading our organization through theseturbulent times.WATCH PREVIOUS EPISODESFOP ON DEMAND
Page 17
Page 18
The Collaborative Reform Initiative Technical Assistance Center (CRI-TAC)provides no cost, customized technical assistance solutions designed tomeet the unique needs of state, local, tribal, & campus law enforcementagencies throughout the U.S.The Office of Justice Programs (OJP) provides innovative leadership tofederal, state, local, and tribal justice systems, by disseminating state-of-theart knowledge and practices across America, and providing grants for theimplementation of these crime fighting strategies. The COPS Office awards grants to hire community policing professionals,develop and test innovative policing strategies, and provide training andtechnical assistance to community members, local government leaders, andall levels of law enforcement.VISIT WEBSITE FOR MORE INFORMATIONVISIT WEBSITE FOR MORE INFORMATIONVISIT WEBSITE FOR MORE INFORMATION
Page 19
The Fraternal Order of Police is committed to improving theworking conditions of law enforcement officers and the safety ofthose we serve through education, legislation, information,community involvement, and employee representation. Our challenge to you is to have each and every FOP member inyour department, lodge, and State commit $5.00 a month to theNFOP PAC. Please contact the National Legislative Office to learnabout the various ways you can contribute to the NFOP PAC.The NFOP PAC is the power behindour organization's punch on CapitolHill, representing its members inthe most effective way possible. POLITICAL ACTION COMMITTEECAN YOU CHIP IN $5?DONATEClick Here
Page 20