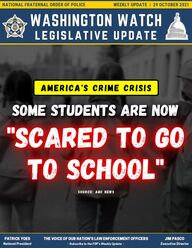 Return to flip book view
FOP Update - October 29, 2021
Page 1
SOME STUDENTS ARE NOWWEEKLY UPDATE | 29 OCTOBER 2021NATIONAL FRATERNAL ORDER OF POLICES o u r c e : A B C N e w sA M E R I C A ' S C R I M E C R I S I S
Page 2
LEGISLATIVE NEWS & ACTIVITYNational President Patrick Yoes and Senior Legislative LiaisonTim Richardson had a video conference meeting withRepresentative John H. Rutherford (R-FL) to discuss issuesimpacting law enforcement with a focus on the importance ofhearing rank-and-file voices in discussions about police reform.They also discussed mental health and wellness programs forofficers as well as the current recruiting and retention crisis theprofession faces.National President Patrick Yoes gave numerous media interviewsin regard to law enforcement line-of-duty deaths, the crime wavemany cities across America are experiencing as well as the COVID-19 pandemic.
Page 3
LEGISLATIVE NEWS & ACTIVITYExecutive Director Jim Pasco and Senior Legislative Liaison TimRichardson represented the FOP on a video conference withCedric L. Richmond, Senior Advisor to the President and Directorof the White House Office of Public Engagement, AmbassadorSusan Rice, Assistant to the President for Domestic Policy andDirector of the United States Domestic Policy Council, U.S. DeputyAttorney General Lisa O. Monaco, U.S. Associate AttorneyGeneral Vanita Gupta, representatives from the InternationalAssociation of Chiefs of Police, as well as other senior officialsfrom the White House and the U.S. Department of Justice todiscuss ongoing criminal justice reform efforts.Executive Director Jim Pasco spokewith Chiraag Bains, who was recentlypromoted to Deputy Assistant to thePresident for Racial Justice and Equity,regarding criminal justice reform.Executive Director Jim Pasco spoke with Erin Murphy, SeniorPolicy Advisor to the White House Domestic Policy CouncilDirector for Criminal Justice, regarding criminal justice reform.
Page 4
LEGISLATIVE NEWS & ACTIVITYExecutive Director Jim Pasco spokewith U.S. Homeland SecuritySecretary Alejandro N. Mayorkasregarding border issues.Executive Director Jim Pasco gave numerous media interviewsin regard to criminal justice reform as well as the nationwideincrease in violent crime.Executive Director Jim Pasco also gave numerous mediainterviews pertaining to the COVID-19 pandemic andvaccinations and the impacts on public safety. The NationalFOP believes in the science behind the COVID-19 vaccines andthat vaccinations work to prevent people from becominginfected by or transmitting COVID-19. However, the NationalFOP continues to believe that whether or not to accept thevaccine is a personal decision. Executive Director Jim Pasco spoke with U.S. Associate AttorneyGeneral Vanita Gupta regarding issues pertaining to officerwellness as well as due process rights.
Page 5
LEGISLATIVE NEWS & ACTIVITYS. 921, the "Jaime Zapata and Victor Avila Federal Officersand Employees Protection Act," which would clarify thatFederal law clearly and unambiguously protects Federal lawenforcement officers and other employees operating outsideour borders;S. 1502, the "Confidentiality Opportunities for Peer Support(COPS) Act," which would reduce the barriers for lawenforcement officers when trying to access mental healthresources; andS. 1511, the "Protecting America's First Responders Act,"which would update the PSOB disability determinations andthe definitions making it more consistent with existing Federallaw and greatly improve the ability of our injured and disabledofficers to have their claims processed more fairly and morequickly as well as providing for an extension of the COVID-19presumption for the Public Safety Officers' Benefits program.Senior Legislative Liaison Tim Richardson had separateconversations with staff in the offices of RepresentativesSteny H. Hoyer (D-MD) and Kevin O. McCarthy (R-CA) todiscuss three bills that were passed by the House this weekunder a suspension of the rules.
Page 6
LEGISLATIVE NEWS & ACTIVITYSenior Legislative Liaison Tim Richardson spoke with staff inthe office of Senator Christopher A. Coons (D-DE) regarding S.998, the "Driving For Opportunity Act," which was marked up bythe Committee on the Judiciary this week.Senior Legislative Liaison Tim Richardson spoke with staff inthe office of Representative Steven J. Chabot (R-OH)regarding legislation to amend the "Healthcare Enhancementfor Local Public Safety (HELPS) Retirees Act" by eliminating thedirect pay requirement and increasing the amount of the pretaxbenefit.Legislative Liaison Mark McDonald participated in a WhiteHouse Labor Stakeholder meeting via Zoom, hosted by ErikaDinkel-Smith, Director for Labor within the White House Officeof Public Engagement, regarding various labor-related issues.Also discussed during the meeting were issues with the supplychain across the country as well as the impacts that COVID-19and vaccine mandates are having on employees and laborunions. During the meeting, former Governor of Delaware JackA. Markell provided an update on Operation Allies Welcome,the Administration's efforts to resettle Afghan refugees.
Page 7
LEGISLATIVE NEWS & ACTIVITYLegislative Liaisons Mark McDonald and Matt Brownrepresented the FOP at a virtual roundtable meeting with lawenforcement stakeholders, hosted by House RepublicanConference Chair Elise M. Stefanik (R-NY) and Conferencestaff. The meeting was part of Representative Stefanik's effortto hear directly from the law enforcement community and toget a pulse on the issues facing the men and women of lawenforcement. Legislative Liaisons McDonald and Browndiscussed some of the FOP's legislative priorities and sharedthe FOP's position on various issues during the meeting.
Page 8
President Joseph R. Biden, Jr. took to Capitol Hill this week tomeet with Congressional Democrats working to advance thePresident's "Build Back Better" plan. The framework includesapproximately $1.75 trillion of investments to combat climatechange, extend health care coverage, and alleviate childpoverty.The legislative text, as it relates to law enforcement, includes$2.5 billion in funding to the U.S. Department of Justice forcommunity violence prevention grants and $2.5 billion to theU.S. Department of Health and Human Services for communityviolence and trauma interventions.VIEW THE BUILD BACK BETTER PLANTHIS WEEK IN WASHINGTON
Page 9
S. 921, the "Jaime Zapata and Victor Avila Federal Officersand Employees Protection Act," will clarify that Federal lawclearly and unambiguously protects Federal lawenforcement officers and other employees operatingoutside our borders.S. 1502, the "Confidentiality Opportunities for Peer Support(COPS) Act," will reduce the barriers for law enforcementofficers when trying to access mental health resources.S. 1511, the "Protecting America's First Responders Act,"would update the Public Safety Officers' Benefits (PSOB)disability determinations and the definitions making itmore consistent with existing Federal law, greatlyimproving the ability of our injured and disabled officers tohave their claims processed more fairly and more quickly. The House considered and passed three vital law enforcement-related bills, which the FOP supported, under a suspension ofthe rules. Two of the bills, S. 921 and S. 1502, will now go tothe President to be signed into law, while S. 1511 will go backto the Senate after being amended.THIS WEEK IN WASHINGTON
Page 10
THIS WEEK IN WASHINGTONThis week Senator Marsha Blackburn (R-TN) introduced S.3079, the "Keeping Our COVID-19 Heroes Employed Act," whichwould protect essential workers from being fired due to FederalCOVID-19 vaccine mandates. Delivering an ultimatum to thebrave men and women of law enforcement—either choose tounwillingly get vaccinated or lose their livelihoods—is not right,and that is why the FOP supports this legislation.The Senate Committee on the Judiciary marked up andfavorably reported S. 998, the "Driving For Opportunity Act," byvoice vote this week. The legislation, which the FOP supports,would authorize the U.S. Department of Justice to make grantsto States that do not suspend, revoke, or refuse to renew adriver's license of an individual based on the failure to pay acivil or criminal fine or fee. The legislation will now go to theSenate floor for a full vote.READ THE FOP'S PRESS RELEASEURGE YOUR SENATORS TO SUPPORT S. 3079
Page 11
TOP LEGISLATIVE PRIORITIESCOSPONSORS56233177COSPONSORS92718COSPONSORS110COSPONSORS217453COSPONSORS43531+ 4 NEW+ 1 NEW+ 1 NEW+ 1 NEW
Page 12
LEGISLATIVE PRIORITIESCOSPONSORS220COSPONSORS51521COSPONSORS23230COSPONSORS43485MORE RESOURCES ON OUR LEGISLATIVE PRIORITIESFULL LIST OF LEGISLATION SUPPORTED BY THE FOP+ 1 NEW
Page 13
However, President of the National FraternalOrder of Police Patrick Yoes said it's importantto remember responders are still human...."Somehow we think that because they're lawenforcement officers, that this... READ MOREFirst responders' resilience masks amounting mental health toll [The Hill]FOP NEWSROOMNational President Patrick Yoes announcedthat the organization has endorsed S. 3079, the"Keeping Our COVID-19 Heroes Employed Act,"which was introduced yesterday by SenatorMarsha Blackburn (R-TN)...READ MOREFOP Endorses S. 3079, the "Keeping OurCOVID-19 Heroes Employed Act"House of Representatives Passes ThreeCritical Law Enforcement Bills"The demonization of the police has made ourcommunities and law enforcement jobs lesssafe," National FOP President Patrick Yoes toldthe Daily Caller News... READ MOREPOLL: Growing Number Of AmericansWant Increased Funding For Police [Daily Caller]Patrick Yoes, National President of theFraternal Order of Police, applauded today'snews that the United States House ofRepresentatives considered and passed threevital law enforcement-related... READ MORE
Page 14
FOP NEWSROOMState Rep. Haraz N. Ghanbari (R-Perrysburg)launched a nationwide challenge dubbed"#RideAlongAndLearn," during a pressconference Wednesday at the Statehouse.Ghanbari called on elected...READ MOREOhio State Rep. Issues NationwideChallenge: Do a Ride Along [Ohio House]The National Fraternal Order of Police, thelargest police union in the country, urged theSenate to consider legislation introduced thisweek by a group of... READ MOREPolice union endorses GOP bill protectingjobs of essential workers who defy COVIDvaccine mandates [Fox News[After 23 students were arrested in the span ofthree days for fighting at a Louisiana highschool last month, Michael La'Fitte II's 16-year-old daughter was scared to go... READ MOREKids were fighting in school. Dads beganpatrolling campus, and the violencestopped [Washington Post]Joshua Corneilius, 17, should be enjoying hissenior year of high school, but instead, he isconstantly worried about the violence occurringboth inside and outside of his... READ MOREPhiladelphia students 'scared to go toschool' as gun violence escalates [ABC News]
Page 15
SOCIAL SECURITYThis is About Fairness! UrgeCongress to Pass the "SocialSecurity Fairness Act."TAKE ACTIONFEDERAL OFFICERSSupport Our Federal Officers byPassing the "Law EnforcementOfficers' Equity Act."TAKE ACTIONLEOSA REFORMSupport Active and Retired LawEnforcement Officers by Passingthe "LEOSA Reform Act."TAKE ACTIONPROTECT AND SERVEUrge Congress to Protect OurPolice Officers and Pass the"Protect and Serve Act."TAKE ACTIONVACCINE MANDATESWe Must Keep Our COVID-19Heroes Employed! TellCongress to Pass S. 3079! TAKE ACTIONFOP ACTION CENTERCOLLECTIVE BARGAININGWe Must Fight for the Right toBargain Collectively! UrgeCongress to Pass H.R. 3225.TAKE ACTION
Page 16
Been Exposed?Are You Sick?READ MOREREAD MOREVIEW A STATE-BY-STATE BREAKDOWNThe National FOP provided memberswith information that was shared duringa White House COVID-19 ResponseTeam press briefing, where public healthofficials gave a general update on theCOVID-19 pandemic. COVID-19 Information for Law EnforcementProtecting Public Safety and HealthFRATERNAL ORDER OF POLICEOCTOBER 25:W W W . F O P C O V I D 1 9 . O R GThe National FOP provided memberswith information, released by the Centersfor Disease Control and Prevention,regarding an update to regulationsconcerning international air travel intothe United States.OCTOBER 28:COVID-19 ACTIVITYREAD MORE READ MORE
Page 17
FOP-TV PROGRAM GUIDEGrassroots Public Relations & Media Talk"Keeping Resilience Front & Center"Community and Media Relations Tool KitCRI TAC PartnershipFOP Nationwide HealthcareCollective Bargaining & ArbitrationCivilian OversightQualified ImmunityTune in every week for a new episode of FOP-TV where National FraternalOrder of Police leaders discuss new and relevant topics that are impactingour profession and important to leading our organization through theseturbulent times.WATCH PREVIOUS EPISODESFOP ON DEMAND
Page 18
Page 19
The Collaborative Reform Initiative Technical Assistance Center (CRI-TAC)provides no cost, customized technical assistance solutions designed tomeet the unique needs of state, local, tribal, & campus law enforcementagencies throughout the U.S.The Office of Justice Programs (OJP) provides innovative leadership tofederal, state, local, and tribal justice systems, by disseminating state-of-theart knowledge and practices across America, and providing grants for theimplementation of these crime fighting strategies. The COPS Office awards grants to hire community policing professionals,develop and test innovative policing strategies, and provide training andtechnical assistance to community members, local government leaders, andall levels of law enforcement.VISIT WEBSITE FOR MORE INFORMATIONVISIT WEBSITE FOR MORE INFORMATIONVISIT WEBSITE FOR MORE INFORMATION
Page 20
The Fraternal Order of Police is committed to improving theworking conditions of law enforcement officers and the safety ofthose we serve through education, legislation, information,community involvement, and employee representation. Our challenge to you is to have each and every FOP member inyour department, lodge, and State commit $5.00 a month to theNFOP PAC. Please contact the National Legislative Office to learnabout the various ways you can contribute to the NFOP PAC.The NFOP PAC is the power behindour organization's punch on CapitolHill, representing its members inthe most effective way possible. POLITICAL ACTION COMMITTEECAN YOU CHIP IN $5?DONATEClick Here
Page 21