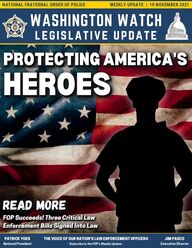 Return to flip book view
FOP Update - November 19, 2021
Page 1
WEEKLY UPDATE | 19 NOVEMBER 2021NATIONAL FRATERNAL ORDER OF POLICE
Page 2
National President Patrick Yoes joined President Joseph R. Biden, Jr., VicePresident Kamala D. Harris, U.S. Attorney General Merrick B. Garland, U.S.Homeland Security Secretary Alejandro N. Mayorkas and numerous Membersof Congress at the White House for a signing ceremony where the Presidentsigned three critical law enforcement bills, which the FOP supported, into law.These three bills will: make it easier for Federal officers to seek out peersupport for mental wellness; make needed reforms to the Public SafetyOfficers' Benefits (PSOB) program with respect to the COVID-19 presumptionsought by the FOP; and clarify that Federal law clearly and unambiguouslyprotects Federal law enforcement officers and other employees operatingoutside our borders. President Biden recognized the FOP's efforts over the pastyear, and in some cases, longer, to push these bills through Congress. President Biden handed the pen he signed one of the bills with to JacobBomba, the 7-year-old son of Officer Thomas Bomba, who took his own life inOctober 2019 after suffering a training injury ten years prior that led to aflesh-eating bacterial infection. Officer Bomba had worked for theMontgomery County Police Department in Maryland for 13 years and was amember of the Montgomery County FOP Lodge 35.LEGISLATIVE NEWS & ACTIVITY
Page 3
LEGISLATIVE NEWS & ACTIVITYNational President Patrick Yoes participated in a weekend-long, after-actionmeeting with Dianne Bernhard, Executive Director of Concerns of PoliceSurvivors (COPS), Marcia Ferranto, Executive Director of National LawEnforcement Officers Memorial Fund (NLEOMF), and others to discuss theFOP's 40th National Peace Officers' Memorial Service as well as the 2021National Police Week. National President Patrick Yoes participated in a meeting with the NationalBoard of Trustees.
Page 4
National Sergeant-at-Arms Keith Turney, Director of Wellness Services SherriMartin, and Senior Legislative Liaison Tim Richardson joined a broad groupof stakeholders from the law enforcement community on a conference call,hosted by the U.S. Department of Justice's Civil Rights Division. Thepurpose of the conference call was to discuss the implementation andadministrative enforcement of Title VI of the Civil Rights Act of 1964 ("TitleVI") and the non-discrimination provisions of the Omnibus Crime Control andSafe Streets Act ("Safe Streets Act"). The provisions prohibit recipients ofFederal financial assistance from engaging in discrimination based on race,color, national origin, sex (which includes sexual orientation and genderidentity), and religion. The review is not designed to look at where and howthe Department allocates its funding, but rather, how the Department canensure that public funds are not used to finance illegal discrimination.LEGISLATIVE NEWS & ACTIVITYExecutive Director Jim Pasco spoke with Trey L. Baker III, Senior Advisorwith the White House Office of Public Engagement, regarding pendinglegislation.National President Patrick Yoes gave numerous media interviews in regard tolaw enforcement line-of-duty deaths, the crime wave many cities acrossAmerica are experiencing as well as the COVID-19 pandemic.
Page 5
LEGISLATIVE NEWS & ACTIVITYExecutive Director Jim Pasco also gave numerous media interviewspertaining to the COVID-19 pandemic and vaccinations and the impacts onpublic safety. The National FOP believes in the science behind the COVID-19vaccines and that vaccinations work to prevent people from becominginfected by or transmitting COVID-19. However, the National FOP continues tobelieve that whether or not to accept the vaccine is a personal decision. Executive Director Jim Pasco spoke with U.S. Associate Attorney GeneralVanita Gupta regarding criminal justice reform.Executive Director Jim Pasco spoke with Heather Fong, Counselor to theSecretary of Homeland Security, regarding border issues.Executive Director Jim Pasco gave numerous media interviews in regard tocriminal justice reform, the nationwide increase in violent crime, and the issueof rogue prosecutors across the country failing to prosecute violent crimes.
Page 6
LEGISLATIVE NEWS & ACTIVITYSenior Legislative Liaison Tim Richardson and Legislative Liaisons MattBrown and David Taboh participated in the monthly call with otherstakeholders as part of the Public Pension Network (PPN).Senior Legislative Liaison Tim Richardson and Legislative Liaison Matt Brownspoke with staff from the office of Senator Michael Bennet (D-CO) to discussS. 774, the "Protect and Serve Act," the "Public Employer-EmployeeCooperation Act," and school resource officer programs.Senior Legislative Liaison Tim Richardson spoke with staff in the office ofSenator Cory A. Booker (D-NJ) regarding H.R.1693/S. 79, the "Eliminating aQuantifiably Unjust Application of the Law (EQUAL) Act."Senior Legislative Liaison Tim Richardson and Legislation Liaison MarkMcDonald spoke with staff in the office of Representative Donald J. Bacon(R-NE) regarding the need for law enforcement credentials for Federal lawenforcement officers employed by the U.S. Department of Defense.
Page 7
READ MOREPresident Joseph R. Biden, Jr. signed H.R. 3684, the "Investing in a NewVision for the Environment and Surface Transportation (INVEST) in AmericaAct," into law. This is considered to be a major piece of the Administration'sagenda for the 117th Congress.THIS WEEK IN WASHINGTONS. 921, the "Jaime Zapata and Victor Avila Federal Officers and EmployeesProtection Act," which would clarify that Federal law clearly andunambiguously protects Federal law enforcement officers and otheremployees operating outside our borders;S. 1502, the "Confidentiality Opportunities for Peer Support (COPS) Act,"which would reduce the barriers for law enforcement officers when trying toaccess mental health resources; andS. 1511, the "Protecting America's First Responders Act," which would updatethe Public Safety Officers' Benefits (PSOB) disability determinations and thedefinitions making it more consistent with existing Federal law and greatlyimprove the ability of our injured and disabled officers to have their claimsprocessed more fairly and more quickly as well as providing for an extensionof the COVID-19 presumption for the PSOB program.President Joseph R. Biden, Jr. signed three FOP-backed bills into law. Duringthe signing ceremony, the President acknowledged the hard work of the FOPin getting these bills to his desk.
Page 8
THIS WEEK IN WASHINGTONThe House considered and agreed to H. Res. 789, a resolution censuringRepresentative Paul A. Gosar (R-AZ), on a 223-207 vote. The resolutionremoves Representative Gosar from his assignments on the HouseCommittee on Oversight and Reform as well as House Committee on NaturalResources for posting a manipulated video on his social media accountsdepicting himself killing Representative Alexandria Ocasio-Cortez (D-NY),and attacking the President. It requires Representative Gosar to presenthimself in the well of the House for the pronouncement of censure. Theresolution condemns "threats of violence" against members of Congress andthe President, stating that "depictions of violence can foment actual violenceand jeopardize the safety of elected officials."The House also considered and passed H.R. 5376, the "Build Back BetterAct," a spending bill of at least $1.75 trillion in social spending according tothe Congressional Budget Office (CBO). The House considered and passedthe legislation on a 220-213 vote, which sends the bill to the Senate forfurther consideration. The legislation will be considered as a reconciliationmeasure, meaning that it can pass with a simple majority in the Senate. Atthis writing, there is no timeline for Senate consideration.
Page 9
The Senate Committee on the Judiciary held a markup of S. 2629, the "BetterCybercrime Metrics Act." This bill would would encourage local and Federallaw enforcement agencies to report cybercrimes to the Federal Bureau ofInvestigation (FBI). The bill, which the FOP supports, passed by unanimousconsent and was reported to the Senate floor favorably. THIS WEEK IN WASHINGTONThe Senate Committee on the Judiciary held a hearing, entitled "Oversight ofthe Department of Homeland Security," during which Secretary of HomelandSecurity Alejandro N. Mayorkas testified.
Page 10
TOP LEGISLATIVE PRIORITIESCOSPONSORS57237180The "Law Enforcement Officers' Equity Act" would expand the definition of "lawenforcement officer" for salary and retirement benefits to include all Federal lawenforcement officers.The "Social Security Fairness Act" would repeal both the "Windfall EliminationProvision" and the "Government Pension Offset" in current Social Security law.The "Public Safety Employer-Employee Cooperation Act" would recognize the right oflaw enforcement and other public safety officers to bargain collectively with theiremployers.COSPONSORS92819COSPONSORS110COSPONSORS217857COSPONSORS43632+ 1 NEW+ 2 NEW
Page 11
LEGISLATIVE PRIORITIESThe "LEOSA Reform Act" would amend the Law Enforcement Officers' Safety Act(LEOSA), which exempts qualified active and retired law enforcement officers fromlocal and State prohibitions on the carriage of concealed firearms, to ensure thatthese officers are able to carry in the same venues as civilian concealed carrypermit holders in areas like schools and national parks, as well as use publictransportation and extends the exemption to magazine capacity and would allowactive and retired law enforcement officers to access services at U.S. post offices,Social Security Administration offices or Veterans Affairs facilities.COSPONSORS220COSPONSORS51521The "Protect and Serve Act" would make it a Federal crime to target a lawenforcement officer with an assault that results in seriously bodily harm or death.COSPONSORS23230COSPONSORS44495MORE RESOURCES ON OUR LEGISLATIVE PRIORITIESFULL LIST OF LEGISLATION SUPPORTED BY THE FOP+ 1 NEW
Page 12
FOP NEWSROOMThe National FOP's Government and MediaAffairs Center provided FOP members with anupdate regarding our COVID-19 Vaccines PolicyStatement... READ MORE[UPDATED] Policy Statement: COVID-19VaccinesNational President Patrick Yoes sent a letter toRepresentatives Joyce and Trone in support ofH.R. 4565, the "Protecting First Respondersfrom Secondary Exposure Act"... READ MOREH.R. 4565, the "Protecting FirstResponders from Secondary Exposure Act"National President Patrick Yoes joinedPresident Joseph R. Biden, Jr. and others at theWhite House for a signing ceremony for threebipartisan bills, which the FOP supported andworked tirelessly to advance... READ MOREPresident Biden Signs Three BipartisanLaw Enforcement Bills Into LawPresident Biden signed into law Thursday threebipartisan bills that expand benefits for localand federal law enforcement officers injured inthe line of duty, as well as... READ MOREPresident Biden signs three bills to expandcounseling, benefits for law enforcement [Washington Times]
Page 13
FOP NEWSROOMIn two 911 calls, a 13-year-old Seattle teenpleaded for help as his father suffered amedical emergency in their apartment. Butwhat would normally elicit an... READ MORERantz: 13-yr-old watches father die asstaffing crisis likely delayed police, fireresponse [KTTH]NYPD Officer Kyo Sun Lee was minding his ownbusiness in The Bronx on Sunday — that is, hewas walking a beat in the service of New YorkCity — when he was attacked without warningor provocation... READ MOREThe shameful betrayal of New York'sFinest [New York Post]A suspect was apprehended at a Tennesseemotel after a police officer, shot whileperforming a welfare check, died Saturdayevening, according to authorities... READ MOREVirginia officer shot during welfare checkdies; man arrested after 'extensivesearch' [CBS 6]The Department of Justice today announcedmore than $139 million in grant fundingthrough the department's Office of CommunityOriented Policing Services... READ MOREJustice Department Announces $139Million for Law Enforcement Hiring toAdvance Community Policing
Page 14
SOCIAL SECURITYThis is About Fairness! UrgeCongress to Pass the "SocialSecurity Fairness Act."TAKE ACTIONFEDERAL OFFICERSSupport Our Federal Officers byPassing the "Law EnforcementOfficers' Equity Act."TAKE ACTIONLEOSA REFORMSupport Active and Retired LawEnforcement Officers by Passingthe "LEOSA Reform Act."TAKE ACTIONPROTECT AND SERVEUrge Congress to Protect OurPolice Officers and Pass the"Protect and Serve Act."TAKE ACTIONVACCINE MANDATESWe Must Keep Our COVID-19Heroes Employed! TellCongress to Pass S. 3079! TAKE ACTIONFOP ACTION CENTERCOLLECTIVE BARGAININGWe Must Fight for the Right toBargain Collectively! UrgeCongress to Pass H.R. 3225.TAKE ACTION
Page 15
Been Exposed?Are You Sick?READ MOREREAD MOREVIEW A STATE-BY-STATE BREAKDOWNThe National FOP provided memberswith an update regarding our COVID-19Vaccines Policy Statement. COVID-19 Information for Law EnforcementProtecting Public Safety and HealthFRATERNAL ORDER OF POLICENOVEMBER 16:W W W . F O P C O V I D 1 9 . O R GThe National FOP provided memberswith information that was shared duringa White House COVID-19 ResponseTeam press briefing, where public healthofficials gave a general update on theCOVID-19 pandemic. NOVEMBER 18:COVID-19 ACTIVITYREAD MORE READ MORE
Page 16
FOP-TV PROGRAM GUIDEGrassroots Public Relations & Media Talk"Keeping Resilience Front & Center"Community and Media Relations Tool KitCRI TAC PartnershipFOP Nationwide HealthcareCollective Bargaining & ArbitrationCivilian OversightQualified ImmunityTune in every week for a new episode of FOP-TV where National FraternalOrder of Police leaders discuss new and relevant topics that are impactingour profession and important to leading our organization through theseturbulent times.WATCH PREVIOUS EPISODESFOP ON DEMAND
Page 17
Page 18
The Collaborative Reform Initiative Technical Assistance Center (CRI-TAC)provides no cost, customized technical assistance solutions designed tomeet the unique needs of state, local, tribal, & campus law enforcementagencies throughout the U.S.The Office of Justice Programs (OJP) provides innovative leadership tofederal, state, local, and tribal justice systems, by disseminating state-of-theart knowledge and practices across America, and providing grants for theimplementation of these crime fighting strategies. The COPS Office awards grants to hire community policing professionals,develop and test innovative policing strategies, and provide training andtechnical assistance to community members, local government leaders, andall levels of law enforcement.VISIT WEBSITE FOR MORE INFORMATIONVISIT WEBSITE FOR MORE INFORMATIONVISIT WEBSITE FOR MORE INFORMATION
Page 19
The Fraternal Order of Police is committed to improving theworking conditions of law enforcement officers and the safety ofthose we serve through education, legislation, information,community involvement, and employee representation. Our challenge to you is to have each and every FOP member inyour department, lodge, and State commit $5.00 a month to theNFOP PAC. Please contact the National Legislative Office to learnabout the various ways you can contribute to the NFOP PAC.The NFOP PAC is the power behindour organization's punch on CapitolHill, representing its members inthe most effective way possible. POLITICAL ACTION COMMITTEECAN YOU CHIP IN $5?DONATEClick Here
Page 20