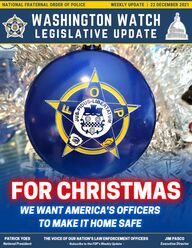 Return to flip book view
FOP Update - December 22, 2021
Page 1
WEEKLY UPDATE | 22 DECEMBER 2021NATIONAL FRATERNAL ORDER OF POLICE
Page 2
LEGISLATIVE NEWS & ACTIVITYThe National FOP's Government and Media AffairsCenter will not be sending out a WashingtonWatch: Legislative Update next week. Unlesscircumstances dictate otherwise, we will resumepublication the first week of January 2022. Wewish you and your family a Merry Christmas,happy holidays, and a healthy New Year!National President Patrick Yoes and Executive Director Jim Pasco met withJim Bugel, Vice President of FirstNet, Built by AT&T.National President Patrick Yoes gave numerous media interviews in regard tolaw enforcement line-of-duty deaths, the crime wave many cities acrossAmerica are experiencing, as well as the COVID-19 pandemic.Executive Director Jim Pasco spoke with Chiraag Bains, Deputy Assistant tothe President and Deputy Director of the Domestic Policy Council (DPC) forRacial Justice and Equity at the White House, regarding criminal justicereform efforts and existing vacancies in the Executive branch.Executive Director Jim Pasco spoke with Erin E. Murphy, Senior PolicyAdvisor for Criminal Justice on the DPC at the White House.
Page 3
LEGISLATIVE NEWS & ACTIVITYExecutive Director Jim Pasco met with U.S. Homeland Security SecretaryAlejandro N. Mayorkas to discuss the natural disasters in Kentucky and otherareas as well as immigration issues.Executive Director Jim Pasco spoke with Heather Fong, Counselor to theSecretary of Homeland Security, regarding an earlier stakeholder call on theimplementation of the new Federal body-worn camera programs at the U.S.Immigration and Customs Enforcement (ICE).Executive Director Jim Pasco spoke with U.S. Associate Attorney GeneralVanita Gupta regarding potential executive actions to advance criminaljustice reform.
Page 4
LEGISLATIVE NEWS & ACTIVITYExecutive Director Jim Pasco also gave numerous media interviewspertaining to the COVID-19 pandemic, vaccinations, and their impact on publicsafety. The National FOP believes in the science behind the COVID-19vaccines and that vaccinations work to prevent people from becominginfected by or transmitting COVID-19. However, the National FOP continues tobelieve that whether or not to accept the vaccine is a personal decision. Executive Director Jim Pasco gave numerous media interviews in regard tocriminal justice reform, the nationwide increase in violent crime, and the issueof rogue prosecutors failing to prosecute violent offenders. ExecutiveDirector Pasco gave an in-depth interview to the Washington Times in regardto progressive mayors of major cities reversing their actions to defund thepolice as public safety moves to the top of voters' priority lists.READ MORE
Page 5
THE U.S. HOUSE OF REPRESENTATIVESTHE UNITED STATES SENATETHIS WEEK IN WASHINGTONThe House was in a pro-forma session this week.The Senate was in a pro-forma session this week.
Page 6
TOP LEGISLATIVE PRIORITIESCOSPONSORS58242184H.R. 82The "Law Enforcement Officers' Equity Act" would expand the definition of "lawenforcement officer" for salary and retirement benefits to include all Federal lawenforcement officers.The "Social Security Fairness Act" would repeal both the "Windfall EliminationProvision" and the "Government Pension Offset" in current Social Security law.The "Public Safety Employer-Employee Cooperation Act" would recognize the right oflaw enforcement and other public safety officers to bargain collectively with theiremployers.COSPONSORS92920H.R. 3225COSPONSORS110S. 1888NOT YET INTRODUCED IN THE SENATECOSPONSORS228462H.R. 962COSPONSORS43733S. 1302
Page 7
LEGISLATIVE PRIORITIESThe "LEOSA Reform Act" would amend the Law Enforcement Officers' Safety Act(LEOSA), which exempts qualified active and retired law enforcement officers fromlocal and State prohibitions on the carriage of concealed firearms, to ensure thatthese officers are able to carry in the same venues as civilian concealed carrypermit holders in areas like schools and national parks, as well as use publictransportation and extends the exemption to magazine capacity and would allowactive and retired law enforcement officers to access services at U.S. post offices,Social Security Administration offices or Veterans Affairs facilities.COSPONSORS220S. 1610COSPONSORS51521H.R. 1210The "Protect and Serve Act" would make it a Federal crime to target a lawenforcement officer with an assault that results in seriously bodily harm or death.COSPONSORS23230S. 774COSPONSORS44495H.R. 3079MORE RESOURCES ON OUR LEGISLATIVE PRIORITIESFULL LIST OF LEGISLATION SUPPORTED BY THE FOP
Page 8
FOP ANNOUNCES DAY ON THE HILL 2022The National FOP is pleased to announce that the 2022 Day on the Hill will begin onMonday, 7 February 2022. The National Legislative Office and the National LegislativeCommittee will host a short briefing on our legislative agenda. The briefing will takeplace on that Monday afternoon at D.C. Lodge #1 and last approximately one hour. STAY TUNED FOR MORE DETAILS!Tuesday and Wednesday, 8-9 February, will be devoted to your meetings with Membersfrom your home States and districts. These appointments should be made in advance!!!Event participants should make every effort to have their Representative or Senatorattend the meeting along with the appropriate staff person. Please bear in mind that wewill comply with any public health requirements in place in the District of Columbiaduring this event.HOTEL ACCOMMODATIONS: The National Legislative Office is working to secure aroom block for attendees. We will provide this information as soon as possible.Your participation is critical, and while we look forward to seeing old friends and ourDay on the Hill veterans, we need to see some new faces. Challenge your memberswho attend to bring along a lodge member who hasn't yet participated in this event. Themore officers that lawmakers hear from, the greater the effectiveness we will have asan organization. Talk about Day on the Hill in your lodge meetings and help us help youby increasing our participation.
Page 9
FOP NEWSROOMICYMI: FOP National President IssuesStatement on the NFL's Support for Anti-Policing Efforts through the "InspireChange" InitiativePatrick Yoes, National President of theFraternal Order of Police, responded to recentcoverage of the National Football... MORENational President Patrick Yoes sent a letter toSenators Cardin and Van Hollen asking them tosupport S. 774, the "Protect and Serve Act"...MORES. 774, the "Protect and Serve Act"The NFL is taking some serious heat afterreportedly donating money to anti-policegroups... MORENational Fraternal Order Of Police RipsThe NFL For Donating Money To Anti-Police Groups [The Daily Caller]Liberal big-city mayors who raced to jump onthe "defund the police" bandwagon are nowscrambling to jump off amid signs of a furiousvoter backlash over rising crime... MOREFrom defund to refund: Liberal mayorsreverse course on police as crime surges[The Washington Times]
Page 10
SOCIAL SECURITYThis is About Fairness! UrgeCongress to Pass the "SocialSecurity Fairness Act."TAKE ACTIONFEDERAL OFFICERSSupport Our Federal Officers byPassing the "Law EnforcementOfficers' Equity Act."TAKE ACTIONLEOSA REFORMSupport Active and Retired LawEnforcement Officers by Passingthe "LEOSA Reform Act."TAKE ACTIONPROTECT AND SERVEUrge Congress to Protect OurPolice Officers and Pass the"Protect and Serve Act."TAKE ACTIONVACCINE MANDATESWe Must Keep Our COVID-19Heroes Employed! TellCongress to Pass S. 3079! TAKE ACTIONFOP ACTION CENTERCOLLECTIVE BARGAININGWe Must Fight for the Right toBargain Collectively! UrgeCongress to Pass H.R. 3225.TAKE ACTION
Page 11
Been Exposed?Are You Sick?READ MOREREAD MOREVIEW A STATE-BY-STATE BREAKDOWNThe National FOP provided memberswith information, released by the Foodand Drug Administration, regarding anupdate to the various actions the FDAhas taken to combat COVID-19. COVID-19 Information for Law EnforcementProtecting Public Safety and HealthFRATERNAL ORDER OF POLICEDECEMBER 20:W W W . F O P C O V I D 1 9 . O R GThe National FOP provided memberswith a fact sheet, released by the FederalEmergency Management Agency,regarding the actions the agency istaking to combat COVID-19. DECEMBER 21:COVID-19 ACTIVITYREAD MORE READ MORE
Page 12
LEARN MORE LEARN MORELEARN MORELEARN MOREWatch the latest FOP-TV episodesand hear from National FraternalOrder of Police leaders from acrossthe country as they discuss new andrelevant topics that are impactingour profession and important toleading our organization throughthese turbulent times.The Collaborative Reform InitiativeTechnical Assistance Center (CRI-TAC) provides no cost, customizedtechnical assistance solutionsdesigned to meet the unique needsof state, local, tribal, & campus lawenforcement agencies throughoutthe United States.The COPS Office awards grants tohire community policingprofessionals, develop and testinnovative policing strategies, andprovide training and technicalassistance to community members,local government leaders, and alllevels of law enforcement. The Office of Justice Programs (OJP)provides innovative leadership toFederal, state, local, and tribal justicesystems, by disseminating state-of-theart knowledge and practices, andproviding grants for theimplementation of these crimefighting strategies. MORE RESOURCES
Page 13
PP CCThe Fraternal Order of Police is committed to improving theworking conditions of law enforcement officers and the safety ofthose we serve through education, legislation, information,community involvement, and employee representation. Our challenge to you is to have each and every FOP member inyour department, lodge, and State commit $5.00 a month to theNFOP PAC. Please contact the National Legislative Office to learnabout the various ways you can contribute to the NFOP PAC.The NFOP PAC is the power behindour organization's punch on CapitolHill, representing its members inthe most effective way possible. POLITICAL ACTION COMMITTEECAN YOU CHIP IN $5?DONATEClick Here
Page 14
328 MASSACHUSETTS AVE NE, WASHINGTON, D.C. 20002 PHONE: 202-547-8189 FAX: 202-547-8190TI M R IC HA RD SO NSenior Legislative Liaison JI M P AS COExecutive DirectorDA VI D TA BO HLegislative Liaison MA RK M CD ON AL DLegislative Liaison JE SS IC A CA HI LLPress Liaison MA TT B RO WNLegislative Liaison