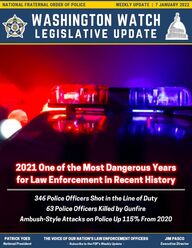 Return to flip book view
FOP Update - January 7, 2022
Page 1
WEEKLY UPDATE | 7 JANUARY 2022NATIONAL FRATERNAL ORDER OF POLICE
Page 2
LEGISLATIVE NEWS & ACTIVITYNational President Patrick Yoes released a statement reflecting on thedangerous challenges law enforcement officers faced in 2021.READ THE FULL STATEMENTNational President Patrick Yoes, along with an army of volunteers fromacross the country, traveled to Broomfield, Colorado to participate in theNational FOP's Disaster Area Response Team's (DART) efforts. The NationalFOP's DART provided several thousand daily hot meals to first respondersworking the Marshall Wildfires that claimed several lives and destroyed over900 homes on New Year's Eve.
Page 3
LEGISLATIVE NEWS & ACTIVITYNational President Patrick Yoes gave numerous media interviews in regard tolaw enforcement line-of-duty deaths, the crime wave many cities acrossAmerica are experiencing, as well as the COVID-19 pandemic.National President Patrick Yoes participated in numerous meetings of theFOP Labor Coalition.National President Patrick Yoes joinedSenator Marsha Blackburn (R-TN) on herpodcast, Freedom Rings with MarshaBlackburn, to discuss the current challengesAmerica's law enforcement is facing.National Vice President Joe Gamaldigave numerous interviews, including oneto Fox News' Harris Faulkner, duringwhich he discussed how criminals are nolonger afraid of the consequences oftheir actions as a result of the pro-criminal policies put in place by rogueprosecutors across the country. NationalVice President Gamaldi also discussedthe National FOP's recent report that 346police officers were shot in 2021.
Page 4
Executive Director Jim Pascospoke with U.S. Department ofHomeland Security (DHS)Secretary Alejandro N. Mayorkasregarding State and localcoordination with the DHS. Executive Director Jim Pasco spoke with U.S. Associate Attorney GeneralVanita Gupta regarding civil rights enforcement. Executive Director Jim Pasco spoke with U.S. Deputy Attorney General Lisa O.Monaco regarding law enforcement vacancies within the U.S. Department ofJustice. LEGISLATIVE NEWS & ACTIVITYExecutive Director Jim Pasco spoke with Chiraag Bains, Deputy Assistant tothe President and Deputy Director of the Domestic Policy Council (DPC) forRacial Justice and Equity at the White House, regarding the Administration'slaw enforcement priorities.Executive Director Jim Pasco spoke with Erika Dinkel-Smith, Director forLabor within the White House Office of Public Engagement, regarding theAdministration's labor positions.
Page 5
LEGISLATIVE NEWS & ACTIVITYSenior Legislative Liaison Tim Richardson spoke with staff in the offices ofSenators L. Tammy Duckworth (D-IL) and Timothy M. Kaine (D-VA) regardinglanguage changes to the Senate companion bill of H.R. 3701, the "PublicSafety Officer Support Act," which was introduced in the House byRepresentative David J. Trone (D-MD). Legislative Liaison Mark McDonald spoke with staff in the office ofRepresentative Joshua S. Gottheimer (D-NJ) regarding draft legislation thatwould, among other things, establish critical grant funding for small,municipal law enforcement agencies to be used for training focused on de-escalation, domestic violence, and officer safety.Executive Director Jim Pasco also gave numerous media interviewspertaining to the COVID-19 pandemic, vaccinations, and their impact on publicsafety. The National FOP believes in the science behind the COVID-19vaccines and that vaccinations work to prevent people from becominginfected by or transmitting COVID-19. However, the National FOP continues tobelieve that whether or not to accept the vaccine is a personal decision. Executive Director Jim Pasco gave numerous media interviews in regard tocriminal justice reform, the nationwide increase in violent crime, and the issueof rogue prosecutors failing to prosecute violent offenders.
Page 6
THE U.S. DEPARTMENT OF JUSTICEREAD THE ATTORNEY GENERAL'S REMARKSTHIS WEEK IN WASHINGTONUnited States Attorney General Merrick B. Garland delivered remarks on theone-year anniversary of the violent attack on the United States Capitol. Later in the day, Attorney General Garland met with many of the U.S.Department of Justice employees who are assigned to the January 6thinvestigation.Along with Deputy Attorney General Lisa O. Monaco and FBI DirectorChristopher A. Wray, the Attorney General thanked agents, analysts, taskforce officers, prosecutors and professional staff from the FBI's WashingtonField Office, the U.S. Attorney's Office for the District of Columbia andadditional offices around the country for their tireless work this past year tohold accountable those who attacked the Capitol on 6 January.
Page 7
THE U.S. HOUSE OF REPRESENTATIVESThe House observed a moment of silence on 6 January to commemorate theone-year anniversary of the violent attack on the United States Capitol. Laterthat evening, Members of Congress held a prayer vigil on the steps of theCapitol building to conclude its observance of the one-year anniversary.We were thrust into 2021 when the entire world watched the horrific eventsunfold on January 6. As a violent mob attacked the very heart of ourAmerican democracy, it was the men and women of the U.S. Capitol Police(USCP), D.C. Metropolitan Police (MPD), U.S. Park Police (USPP), andnumerous Federal, State, and local partners who answered the call of duty. Their heroism and bravery were on full display that day while protecting theU.S. Capitol. We are immensely proud of these officers and, as Americans, weare extremely grateful for their service. History will not forget their gallantryand the sacrifices they made in defense of our Capitol—ultimately preservingour way of life.We ask that you keep the families and friends of the five officers who havesince lost their lives after they responded heroically to the attack on 6January in your thoughts and prayers: USCP Officer Brian Sicknick, USCPOfficer Howard Liebengood, Jr., MPD Officer Jeffrey Smith, MPD OfficerGunther Hashida, and MPD Officer Kyle DeFreytag.THIS WEEK IN WASHINGTONThe House was in a pro-forma session this week.
Page 8
THE UNITED STATES SENATETHIS WEEK IN WASHINGTONNumerous Senators attended the funeral of the late Senator Johnny Isakson(R-GA) in Atlanta, Georgia. Former Senator Isakson (R-GA) served in theUnited States Senate from 2005 until late 2019. Previously, he hadrepresented the 6th Congressional District of Georgia in the U.S. House ofRepresentatives from 1999 until 2005. Former Senator Isakson was 76.The Senate passed Senate Resolution 485 by unanimous consent andwithout amendment. This resolution recognizes the death of former SenateMajority Leader Harry M. Reid Jr. (D-NV). Former Leader Reid passed awaylast week at his home in Nevada. He served in the United States Senate from1987 until early 2017. Before his time in the Senate, from 1983 until 1987 herepresented the 1st Congressional District of Nevada in the U.S. House ofRepresentatives. Former Leader Reid was 82.The Senate Committee on Rules andAdministration held the third hearingon the "Oversight of the U.S. CapitolPolice Following the January 6thAttack on the Capitol." Providingtestimony at this hearing was UnitedStates Capitol Police Chief J.Thomas Manger.
Page 9
TOP LEGISLATIVE PRIORITIESCOSPONSORS58242184H.R. 82The "Law Enforcement Officers' Equity Act" would expand the definition of "lawenforcement officer" for salary and retirement benefits to include all Federal lawenforcement officers.The "Social Security Fairness Act" would repeal both the "Windfall EliminationProvision" and the "Government Pension Offset" in current Social Security law.The "Public Safety Employer-Employee Cooperation Act" would recognize the right oflaw enforcement and other public safety officers to bargain collectively with theiremployers.COSPONSORS92920H.R. 3225COSPONSORS110S. 1888NOT YET INTRODUCED IN THE SENATECOSPONSORS228462H.R. 962COSPONSORS43733S. 1302
Page 10
LEGISLATIVE PRIORITIESThe "LEOSA Reform Act" would amend the Law Enforcement Officers' Safety Act(LEOSA), which exempts qualified active and retired law enforcement officers fromlocal and State prohibitions on the carriage of concealed firearms, to ensure thatthese officers are able to carry in the same venues as civilian concealed carrypermit holders in areas like schools and national parks, as well as use publictransportation and extends the exemption to magazine capacity and would allowactive and retired law enforcement officers to access services at U.S. post offices,Social Security Administration offices or Veterans Affairs facilities.COSPONSORS220S. 1610COSPONSORS51521H.R. 1210The "Protect and Serve Act" would make it a Federal crime to target a lawenforcement officer with an assault that results in seriously bodily harm or death.COSPONSORS23230S. 774COSPONSORS44495H.R. 3079MORE RESOURCES ON OUR LEGISLATIVE PRIORITIESFULL LIST OF LEGISLATION SUPPORTED BY THE FOP
Page 11
FOP NEWSROOMPatrick Yoes, National President of theFraternal Order of Police, released the followingstatement reflecting on the dangerouschallenges law enforcement officers faced in2021... MORENational FOP President Reflects onDangers Law Enforcement Faced in 2021The National Fraternal Order of Police reportsthat as of midnight on 31 December, there were346 officers shot in the line of duty in 2021. Ofthose officers shot, 63 of them were killed bygunfire... MOREFOP Monthly Update: Officers Shot andKilledNational Fraternal Order of Police VicePresident Joe Gamaldi joined Fox News'Faulkner Focus to discuss how criminals are nolonger afraid of the consequences of theiractions after 346 police officers were... MOREAmbush-style attacks on policeincreased 115% from 2020 [Fox News]A "historic" 346 police officers were shot in theline of duty in 2021 — 63 of whom were killed,according to the National Fraternal Order ofPolice (FOP), which represents more... MORE'Historic' 346 officers shot in line of dutyin 2021: National Fraternal Order ofPolice [Fox News]
Page 12
FOP NEWSROOMReigning "Jeopardy!" champion Amy Schneiderwas robbed at gunpoint over New Year'sweekend in Oakland, California... MORE'Jeopardy!' champ Amy Schneider robbedat gunpoint in California [ABC 6]From one police commissioner to thenext: Dermot Shea gives his advice toKeechant Sewell on running the NYPD[New York Daily News]Thirty years ago, when I first put on a shieldthat said "Police Officer, City of New York," Ipatrolled a crack-ravaged Bronx... MOREMore police officers were shot and killed in theline of duty in 2021 than in any of the previousthree years, according to a national policeunion... MOREPolice union says more cops were fatallyshot in 2021 than prior three years[Washington Times]It's being called an epidemic, the spike inviolent crimes that's happening across thenation, including in New Mexico and Texas.This as assaults against law... MORE'Alarming' spike in Homicides, assaultson law enforcement officers continue[NBC KTSM 9 News]
Page 13
OFFICERS SHOT & KILLEDThe National Fraternal Order of Police reports that as of midnight on 31December, there were 346 officers shot in the line of duty in 2021. Ofthose officers shot, 63 of them were killed by gunfire.There were 103 ambush-style attacks on law enforcement officersthis year (+115% from 2020 YTD). These ambush-style attacks haveresulted in 130 officers shot, 30 of whom were killed by gunfire.The number of ambush-style attacks listed does not include thenumerous incidents where an officer was shot at but not struck bygunfire during an ambush-style attack.346346LAW ENFORCEMENT OFFICERSSHOT IN THE LINE OF DUTY6 36 3LAW ENFORCEMENT OFFICERSKILLED BY GUNFIREVIEW THE MONTHLY OFFICERS SHOT & KILLED UPDATE
Page 14
FOP ANNOUNCES DAY ON THE HILL 2022The National FOP is pleased to announce that the 2022 Day on the Hill will begin onMonday, 7 February 2022. The National Legislative Office and the National LegislativeCommittee will host a short briefing on our legislative agenda. The briefing will takeplace on that Monday afternoon at D.C. Lodge #1 and last approximately one hour. REGISTER FOR THE FOP'S 2022 DAY ON THE HILLTuesday and Wednesday, 8-9 February, will be devoted to your meetings with Membersfrom your home States and districts. These appointments should be made in advance!!!Event participants should make every effort to have their Representative or Senatorattend the meeting along with the appropriate staff person. Please bear in mind that wewill comply with any public health requirements in place in the District of Columbiaduring this event.HOTEL ACCOMMODATIONS: The National Legislative Office is working to secure aroom block for attendees. We will provide this information as soon as possible.Your participation is critical, and while we look forward to seeing old friends and ourDay on the Hill veterans, we need to see some new faces. Challenge your memberswho attend to bring along a lodge member who hasn't yet participated in this event. Themore officers that lawmakers hear from, the greater the effectiveness we will have asan organization. Talk about Day on the Hill in your lodge meetings and help us help youby increasing our participation.
Page 15
SOCIAL SECURITYThis is About Fairness! UrgeCongress to Pass the "SocialSecurity Fairness Act."TAKE ACTIONFEDERAL OFFICERSSupport Our Federal Officers byPassing the "Law EnforcementOfficers' Equity Act."TAKE ACTIONLEOSA REFORMSupport Active and Retired LawEnforcement Officers by Passingthe "LEOSA Reform Act."TAKE ACTIONPROTECT AND SERVEUrge Congress to Protect OurPolice Officers and Pass the"Protect and Serve Act."TAKE ACTIONVACCINE MANDATESWe Must Keep Our COVID-19Heroes Employed! TellCongress to Pass S. 3079! TAKE ACTIONFOP ACTION CENTERCOLLECTIVE BARGAININGWe Must Fight for the Right toBargain Collectively! UrgeCongress to Pass H.R. 3225.TAKE ACTION
Page 16
Been Exposed?Are You Sick?READ MOREREAD MOREVIEW A STATE-BY-STATE BREAKDOWNThe National FOP provided memberswith information, released by the Centersfor Disease Control and Prevention,regarding Pfizer COVID-19 vaccinebooster shots.COVID-19 Information for Law EnforcementProtecting Public Safety and HealthFRATERNAL ORDER OF POLICEJANUARY 4W W W . F O P C O V I D 1 9 . O R GThe National FOP provided memberswith information that was shared duringa White House COVID-19 ResponseTeam press briefing, where public healthofficials gave a general update on theCOVID-19 pandemic.JANUARY 6:COVID-19 ACTIVITYREAD MORE READ MORE
Page 17
LEARN MORE LEARN MORELEARN MORELEARN MOREWatch the latest FOP-TV episodesand hear from National FraternalOrder of Police leaders from acrossthe country as they discuss new andrelevant topics that are impactingour profession and important toleading our organization throughthese turbulent times.The Collaborative Reform InitiativeTechnical Assistance Center (CRI-TAC) provides no cost, customizedtechnical assistance solutionsdesigned to meet the unique needsof state, local, tribal, & campus lawenforcement agencies throughoutthe United States.The COPS Office awards grants tohire community policingprofessionals, develop and testinnovative policing strategies, andprovide training and technicalassistance to community members,local government leaders, and alllevels of law enforcement. The Office of Justice Programs (OJP)provides innovative leadership toFederal, state, local, and tribal justicesystems, by disseminating state-of-theart knowledge and practices, andproviding grants for theimplementation of these crimefighting strategies. MORE RESOURCES
Page 18
PP CCThe Fraternal Order of Police is committed to improving theworking conditions of law enforcement officers and the safety ofthose we serve through education, legislation, information,community involvement, and employee representation. Our challenge to you is to have each and every FOP member inyour department, lodge, and State commit $5.00 a month to theNFOP PAC. Please contact the National Legislative Office to learnabout the various ways you can contribute to the NFOP PAC.The NFOP PAC is the power behindour organization's punch on CapitolHill, representing its members inthe most effective way possible. POLITICAL ACTION COMMITTEECAN YOU CHIP IN $5?DONATEClick Here
Page 19
328 MASSACHUSETTS AVE NE, WASHINGTON, D.C. 20002 PHONE: 202-547-8189 FAX: 202-547-8190TI M R IC HA RD SO NSenior Legislative Liaison JI M P AS COExecutive DirectorDA VI D TA BO HLegislative Liaison MA RK M CD ON AL DLegislative Liaison JE SS IC A CA HI LLPress Liaison MA TT B RO WNLegislative Liaison