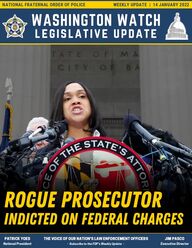 Return to flip book view
FOP Update - January 14, 2022
Page 1
WEEKLY UPDATE | 14 JANUARY 2022NATIONAL FRATERNAL ORDER OF POLICE
Page 2
READ SECRETARY MAYORKAS' LETTERLEGISLATIVE NEWS & ACTIVITYNational President Patrick Yoes received a letter from U.S. Department ofHomeland Security (DHS) Secretary Alejandro N. Mayorkas honoring NationalLaw Enforcement Appreciation Day. In his letter, Secretary Mayorkasexpressed his gratitude, respect, and admiration for National President Yoes'leadership as well as for the bravery, service, and sacrifice of each lawenforcement officer who is a member of the Fraternal Order of Police. National President Patrick Yoesspoke with CNN's Josh Campbellabout the disturbing trend of policeofficers killed in the line of duty,the skyrocketing violent crime rateacross the country, and how rogueprosecutors have created arevolving-door criminal justicesystem.
Page 3
National Vice President Joe Gamaldi gave numerous interviews on theskyrocketing violent crime rate across the country. He also joined Fox News'Justice with Judge Jeanine to discuss how rogue prosecutors in citiesacross the country have created a revolving-door criminal justice system,releasing violent criminals back onto the streets to roam freely and commitmore crimes.LEGISLATIVE NEWS & ACTIVITYNational President Patrick Yoes participated in an Executive Board planningmeeting.National President Patrick Yoes participated in a Board of Trustees meeting.National President Patrick Yoes gave numerous media interviews in regard tolaw enforcement line-of-duty deaths, the crime wave many cities acrossAmerica are experiencing, as well as the COVID-19 pandemic.
Page 4
LEGISLATIVE NEWS & ACTIVITYExecutive Director Jim Pasco spoke with Heather Fong, Counselor to theSecretary of Homeland Security, regarding immigrations issues as well asDHS State and local task forces.Executive Director Jim Pasco spoke with a number of Administration officialson a retrospective view of the First Step Act and its implementation. Executive Director Jim Pasco also gave numerous media interviewspertaining to the COVID-19 pandemic, vaccinations, and their impact on publicsafety. The National FOP believes in the science behind the COVID-19vaccines and that vaccinations work to prevent people from becominginfected by or transmitting COVID-19. However, the National FOP continues tobelieve that whether or not to accept the vaccine is a personal decision. Executive Director Jim Pasco gave numerous media interviews in regard tocriminal justice reform, the nationwide increase in violent crime, and the issueof rogue prosecutors failing to prosecute violent offenders. Senior Legislative Liaison Tim Richardson spoke with staff in the offices ofSenators L. Tammy Duckworth (D-IL) and Timothy M. Kaine (D-VA) regardinglanguage changes to the Senate companion bill of H.R. 3071, the "PublicSafety Officer Support Act," which was introduced in the House byRepresentative David J. Trone (D-MD).
Page 5
LEGISLATIVE NEWS & ACTIVITYSenior Legislative Liaison Tim Richardson spoke with staff in the offices ofRepresentatives Trone (D-MD) and Guy L. Reschenthaler (R-PA), the twoleads on H.R. 3071, to discuss some language changes to that bill, whichamends the Public Safety Officers' Benefit Act to explicitly include death anddisability from suicide or attempted suicide.Senior Legislative Liaison Tim Richardson spoke with staff in the office ofSenator Cory A. Booker (D-NJ) about criminal justice reform.Senior Legislative Liaison Tim Richardson spoke with minority staff on theSenate Committee on Appropriations' Subcommittee on Commerce, Justice,and Science, and Related Agencies about the next appropriations bill.Senior Legislative Liaison Tim Richardson and Legislative Liaison Matt Brownparticipated on a conference call with staff from the office of RepresentativeJody Hice (R-GA) to discuss expansion of LEOSA.Legislative Liaisons Matt Brown and David Taboh participated in a monthlycall with other criminal justice stakeholders.
Page 6
THE U.S. HOUSE OF REPRESENTATIVESTHIS WEEK IN WASHINGTONThe House passed H.R. 5746, the "NASA Enhanced Use Leasing ExtensionAct of 2021," on a 220–203 vote. This legislation was adjusted to includelanguage from H.R. 4, the "John R. Lewis Voting Rights Advancement Act of2021," and S. 2747, the "Freedom to Vote Act." This legislation was passedby the House under protocol that would allow the Senate to bring it to theSenate floor immediately, avoiding a potential motion to proceed vote.However, it is unlikely to pass due to the current filibuster rules of the Senate.The House Committee on Appropriation held a hearing on the "Security of theCapitol Campus since the Attack of January 6, 2021." Providing testimony atthis hearing was United States Capitol Police Chief J. Thomas Manger,Architect of the Capitol J. Brett Blanton, and Sergeant-at-Arms of the U.S.House of Representatives Major General William J. Walker.
Page 7
THE UNITED STATES SENATETHIS WEEK IN WASHINGTONThe Senate Committee on Judiciary held a hearing on the "DomesticTerrorism Threat One Year After January 6." Providing testimony at thishearing was the Honorable Matthew Olsen from the U.S. Department ofJustice, and Executive Assistant Director of the National Security Branch fromthe Federal Bureau of Investigation.The Senate Select Committee on Intelligence held a hearing on the"Nomination of Mr. Kenneth Wainstein to be Under Secretary for Intelligenceand Analysis, Department of Homeland Security."The Senate Committee on Judiciary held a hearing on numerous severaljudicial nominations. Multiple nominees were reported favorably to theSenate, while others were carried over for future hearings.During this hearing, as well as hisremarks on the Senate floor,Senator Charles E. Grassley (R-IA)referenced the recently publisheddata from the National FOP onofficers shot and killed in the lineof duty.
Page 8
TOP LEGISLATIVE PRIORITIESCOSPONSORS59245186H.R. 82The "Law Enforcement Officers' Equity Act" would expand the definition of "lawenforcement officer" for salary and retirement benefits to include all Federal lawenforcement officers.The "Social Security Fairness Act" would repeal both the "Windfall EliminationProvision" and the "Government Pension Offset" in current Social Security law.The "Public Safety Employer-Employee Cooperation Act" would recognize the right oflaw enforcement and other public safety officers to bargain collectively with theiremployers.COSPONSORS92920H.R. 3225COSPONSORS121S. 1888NOT YET INTRODUCED IN THE SENATECOSPONSORS228462H.R. 962COSPONSORS43733S. 1302+3 NEW+1 NEW
Page 9
LEGISLATIVE PRIORITIESThe "LEOSA Reform Act" would amend the Law Enforcement Officers' Safety Act(LEOSA), which exempts qualified active and retired law enforcement officers fromlocal and State prohibitions on the carriage of concealed firearms, to ensure thatthese officers are able to carry in the same venues as civilian concealed carrypermit holders in areas like schools and national parks, as well as use publictransportation and extends the exemption to magazine capacity and would allowactive and retired law enforcement officers to access services at U.S. post offices,Social Security Administration offices or Veterans Affairs facilities.COSPONSORS220S. 1610COSPONSORS52531H.R. 1210The "Protect and Serve Act" would make it a Federal crime to target a lawenforcement officer with an assault that results in seriously bodily harm or death.COSPONSORS23230S. 774COSPONSORS45505H.R. 3079MORE RESOURCES ON OUR LEGISLATIVE PRIORITIESFULL LIST OF LEGISLATION SUPPORTED BY THE FOP+1 NEW+1 NEW
Page 10
FOP NEWSROOMThe National FOP is pleased to announce thatthe 2022 FOP Day on the Hill will begin onMonday, 7 February 2022. The National FOP'sGovernment and Media Affairs Center and theNational Legislative Committee will host ashort briefing on our legislative... MOREFOP Announces 2022 Day on the HillNational President Patrick Yoes sent a letter toRepresentatives Rice and Spanberger insupport of H.R. 6375, the "COPS on the BeatGrant Program Reauthorization and ParityAct"... MOREH.R. 6375, the "COPS on the Beat GrantProgram Reauthorization and Parity Act"Clyde Boatwright, president of the MarylandState Fraternal Order of Police, says hiscommunity 'deserves better' and calls forjustice for his citizens... MOREBaltimore arsonist admits 'I shouldn't beout right now' after serving six months[Fox News]The chief prosecutor for the city of Baltimorehas been indicted by a federal grand jury ontwo counts of perjury and two counts... MOREBaltimore state's attorney Marilyn Mosbyindicted on charges of perjury andmaking false statements on mortgageapplications [CNN]
Page 11
FOP NEWSROOMPatrick Yoes, National President of theFraternal Order of Police, released the followingstatement reflecting on the dangerouschallenges law enforcement officers faced in2021... MOREICYMI: National FOP President Reflects onDangers Law Enforcement Faced in 2021The National Fraternal Order of Police reportsthat as of midnight on 31 December, there were346 officers shot in the line of duty in 2021. Ofthose officers shot, 63 of them were killed bygunfire... MOREICYMI: FOP Monthly Update: OfficersShot and KilledThe California sheriff tasked with pursuingcharges against the four alleged gangmembers accused in the shooting death of anoff-duty Los Angeles Police Depart... MORELA sheriff asks feds to handleprosecution in off-duty cop shooting overconcerns DA too lenient [Fox News]Last year saw the highest number of lawenforcement officers who were intentionallykilled in the line of duty since the terroristattacks of Sept. 11, 2001, an increase... MOREIntentional killings of law enforcementofficers reach 20-year high, FBI says[CNN]
Page 12
REGISTER FOR THE FOP'S 2022 DAY ON THE HILLHOTEL ACCOMMODATIONS: All reservations can be made by clicking here.Reservations should be made no later than 5:00pm, on Friday, 21 January 2022.PLEASE BE ADVISED: Starting 15 January, per D.C. Mayor Muriel Bowser's order,anyone who wants to dine and drink inside D.C. restaurants and bars will berequired to show proof of vaccination at the door. Click here to learn more.FOP ANNOUNCES DAY ON THE HILL 2022The National FOP is pleased to announce that the 2022 Day on the Hill will begin onMonday, 7 February 2022.The National FOP's Government and Media Affairs Center and the National LegislativeCommittee will host a short briefing on our legislative agenda. The briefing will takeplace on that Monday afternoon at D.C. Lodge #1 and last approximately one hour.Tuesday and Wednesday, 8-9 February, will be devoted to your meetings with Membersfrom your home States and districts. These appointments should be made in advance! Your participation is critical! The more officers that lawmakers hear from, the greaterthe effectiveness we will have as an organization. Talk about Day on the Hill in yourlodge meetings and help us help you by increasing our participation.
Page 13
SOCIAL SECURITYThis is About Fairness! UrgeCongress to Pass the "SocialSecurity Fairness Act."TAKE ACTIONFEDERAL OFFICERSSupport Our Federal Officers byPassing the "Law EnforcementOfficers' Equity Act."TAKE ACTIONLEOSA REFORMSupport Active and Retired LawEnforcement Officers by Passingthe "LEOSA Reform Act."TAKE ACTIONPROTECT AND SERVEUrge Congress to Protect OurPolice Officers and Pass the"Protect and Serve Act."TAKE ACTIONVACCINE MANDATESWe Must Keep Our COVID-19Heroes Employed! TellCongress to Pass S. 3079! TAKE ACTIONFOP ACTION CENTERCOLLECTIVE BARGAININGWe Must Fight for the Right toBargain Collectively! UrgeCongress to Pass H.R. 3225.TAKE ACTION
Page 14
Been Exposed?Are You Sick?READ MOREREAD MOREVIEW A STATE-BY-STATE BREAKDOWNThe National FOP provided memberswith information, released by the Centersfor Disease Control and Prevention,regarding Moderna COVID-19 vaccinebooster shots. COVID-19 Information for Law EnforcementProtecting Public Safety and HealthFRATERNAL ORDER OF POLICEJANUARY 10W W W . F O P C O V I D 1 9 . O R GThe National FOP provided memberswith information that was shared duringa White House COVID-19 ResponseTeam press briefing, where public healthofficials gave a general update on theCOVID-19 pandemic. JANUARY 12:COVID-19 ACTIVITYREAD MORE READ MORE
Page 15
LEARN MORE LEARN MORELEARN MORELEARN MOREWatch the latest FOP-TV episodesand hear from National FraternalOrder of Police leaders from acrossthe country as they discuss new andrelevant topics that are impactingour profession and important toleading our organization throughthese turbulent times.The Collaborative Reform InitiativeTechnical Assistance Center (CRI-TAC) provides no cost, customizedtechnical assistance solutionsdesigned to meet the unique needsof state, local, tribal, & campus lawenforcement agencies throughoutthe United States.The COPS Office awards grants tohire community policingprofessionals, develop and testinnovative policing strategies, andprovide training and technicalassistance to community members,local government leaders, and alllevels of law enforcement. The Office of Justice Programs (OJP)provides innovative leadership toFederal, state, local, and tribal justicesystems, by disseminating state-of-theart knowledge and practices, andproviding grants for theimplementation of these crimefighting strategies. MORE RESOURCES
Page 16
Page 17
PP CCThe Fraternal Order of Police is committed to improving theworking conditions of law enforcement officers and the safety ofthose we serve through education, legislation, information,community involvement, and employee representation. Our challenge to you is to have each and every FOP member inyour department, lodge, and State commit $5.00 a month to theNFOP PAC. Please contact the National Legislative Office to learnabout the various ways you can contribute to the NFOP PAC.The NFOP PAC is the power behindour organization's punch on CapitolHill, representing its members inthe most effective way possible. POLITICAL ACTION COMMITTEECAN YOU CHIP IN $5?DONATEClick Here
Page 18
328 MASSACHUSETTS AVE NE, WASHINGTON, D.C. 20002 PHONE: 202-547-8189 FAX: 202-547-8190TI M R IC HA RD SO NSenior Legislative Liaison JI M P AS COExecutive DirectorDA VI D TA BO HLegislative Liaison MA RK M CD ON AL DLegislative Liaison JE SS IC A CA HI LLPress Liaison MA TT B RO WNLegislative Liaison