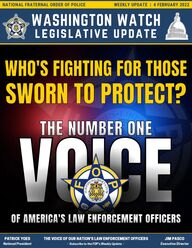 Return to flip book view
FOP Update - February 4, 2022
Page 1
WEEKLY UPDATE | 4 FEBRUARY 2022NATIONAL FRATERNAL ORDER OF POLICE
Page 2
National President Patrick Yoes gave numerous media interviews in regard tolaw enforcement line-of-duty deaths, the crime wave many cities acrossAmerica are experiencing, the inappropriate comments from White HousePress Secretary Jen Psaki, as well as the COVID-19 pandemic.National President Yoes joined Fox News' Fox & Friends to discuss the recentcrime wave as well as the numerous agenda-driven prosecutors who havegone rogue, failing to prosecute violent criminals. LEGISLATIVE NEWS & ACTIVITYNational President Patrick Yoes attended the FOP Officer Wellness Summit inNashville, Tennessee. The summit covered numerous topics includingfinancial, mental, and physical support for law enforcement officers. National President Patrick Yoes attended, along with over 400 attendees, theFOP Leadership Matters Conference in Nashville, Tennessee.
Page 3
LEGISLATIVE NEWS & ACTIVITYNational Vice President Joe Gamaldi gave numerous interviews regarding thecrime wave as well as the attacks on law enforcement. In one interview hegave to Fox News' America Reports, National Vice President Gamaldi discussed the growing attacks on law enforcement as well as White HousePress Secretary Jen Psaki's comments mocking Americans' concerns overthe crime crisis.Executive Director Jim Pasco spoke with Chiraag Bains, Deputy Assistant tothe President and Deputy Director of the Domestic Policy Council (DPC) forRacial Justice and Equity at the White House, regarding criminal justicereform.Executive Director Jim Pasco spoke with U.S. Department of HomelandSecurity (DHS) Secretary Alejandro N. Mayorkas regarding border securityissues, violence at the southern border, and narcotic smuggling operations.
Page 4
LEGISLATIVE NEWS & ACTIVITYExecutive Director Jim Pasco spoke with U.S. Associate Attorney General Vanita Gupta regarding grant programs and the Public Safety Officers'Benefits (PSOB) Program.Executive Director Jim Pasco spoke with Heather Fong, Counselor to theSecretary of Homeland Security, regarding expansion of U.S. Department ofHomeland Security (DHS) grant program resources.
Page 5
LEGISLATIVE NEWS & ACTIVITYExecutive Director Jim Pasco also gave numerous media interviewspertaining to the COVID-19 pandemic, vaccinations, and their impact on publicsafety. The National FOP believes in the science behind the COVID-19vaccines and that vaccinations work to prevent people from becominginfected by or transmitting COVID-19. However, the National FOP continues tobelieve that whether or not to accept the vaccine is a personal decision. Executive Director Jim Pasco gave numerous media interviews in regard tocriminal justice reform, the nationwide increase in violent crime, and the issueof rogue prosecutors failing to prosecute violent offenders. Senior Legislative Liaison Tim Richardson spoke with staff in the office ofSenator Charles E. Grassley (R-IA) regarding S. 3538, the "EliminatingAbusive and Rampant Neglect of Interactive Technologies (EARN IT) Act,"and the new language the FOP helped to draft to amend H.R. 3071, the"Public Safety Officer Support Act." Senior Legislative Liaison Tim Richardson spoke with staff in the offices ofSenators Marsha Blackburn (R-TN), James M. Inhofe (R-OK), and Timothy E.Scott (R-SC) as well as staff in the office of Representative Karen R. Bass (D-CA) concerning the new language the FOP helped to draft to amend H.R.3071, the "Public Safety Officer Support Act."
Page 6
LEGISLATIVE NEWS & ACTIVITYSenior Legislative Liaison Tim Richardson spoke with staff in the offices ofRepresentatives Abigail B. Spanberger (D-VA) and Steven J. Chabot (R-OH)concerning draft legislation to amend the HELPS Retirees Act.Senior Legislative Liaison Tim Richardson spoke with staff in the offices ofRepresentatives David N. Cicilline (D-RI) and John H. Rutherford (R-FL) regarding H.R. 6838, the "Active Shooter Alert Act."Senior Legislative Liaison Tim Richardson provided all Members of theSenate Committee on Commerce, Science and Transportation with the mostrecent letter opposing the nomination of Gigi B. Sohn to serve on the FederalCommunications Commission (FCC).Senior Legislative Liaison Tim Richardson represented the FOP at a meetingof the Public Safety Next Generation 9-1-1 Coalition.Senior Legislative Liaison Tim Richardson spoke with staff in the office ofRepresentative Val B. Demings (D-FL) regarding H.R. 5768, the "ViolentIncident Clearance and Technological Investigative Methods (VICTIM) Act.
Page 7
THE WHITE HOUSETHIS WEEK IN WASHINGTONPresident Joseph R. Biden, Jr. visited the New York City Police Departmentheadquarters Thursday to attend a meeting on gun violence strategies,community anti-violence programs, funding for law enforcement, andcooperation between local and Federal law enforcement. At this meetingPresident Biden was joined by New York City Mayor Eric L. Adams, GovernorKathleen C. Hochul (D-NY), Attorney General Merrick B. Garland, SenatorKirsten E. Gillibrand (D-NY), and other city officials. This meeting comesamid a crime wave that many cities are experiencing.
Page 8
THE U.S. HOUSE OF REPRESENTATIVESTHIS WEEK IN WASHINGTONThe House Committee on Judiciary's Subcommittee on Crime, Terrorism,and Homeland Security held a hearing entitled "Oversight of the FederalBureau of Prisons." Providing testimony at this hearing was Director MichaelCarvajal of the Federal Bureau of Prisons.The House Committee on Homeland Security held a hearing entitled "TheDynamic Terrorism Landscape and What it Means for America." This hearingtouched on domestic terrorist threats and the increasing development of anti-sematic attacks.
Page 9
THIS WEEK IN WASHINGTONIt was announced late Wednesday that Senator Ben Ray Lujàn (D-NM)suffered a stroke and underwent a successful decompressive surgery.Senator Luján's staff have announced that the Senator will be out for 4 to 6weeks, but thankfully, he is expected to make a full recovery. THE UNITED STATES SENATEThe Senate Committee on Homeland Security and Governmental Affairsadvanced on a 7-4 vote the nomination of Sheriff Ed Gonzales as Director ofthe U.S. Immigration and Customs enforcement (ICE). The nomination willnow advance to the Senate floor. Sheriff Gonzalez has received criticism inthe past for being openly critical of ICE. If confirmed, this would be the firsttime in 5 years that the agency has had a Senate confirmed director.The Senate Committee on Commerce, Science, and Transportation held anexecutive session on numerous nominations. Gigi Sohn, President Biden'snominee for the Federal Communications Commission (FCC), was pulledprior. The National FOP opposes the nomination of Ms. Sohn because, as aboard member for Electronic Frontier Foundation (EFF), she was part of aforceful advocacy campaign promoting end-to-end encryption and opposing"lawful access" by law enforcement digital evidence. These new encryptionmethods are causing law enforcement agencies to rapidly lose the capabilityto obtain digital evidence necessary to protect the public from crime andviolence.
Page 10
TOP LEGISLATIVE PRIORITIESCOSPONSORS60247187H.R. 82The "Law Enforcement Officers' Equity Act" would expand the definition of "lawenforcement officer" for salary and retirement benefits to include all Federal lawenforcement officers.The "Social Security Fairness Act" would repeal both the "Windfall EliminationProvision" and the "Government Pension Offset" in current Social Security law.The "Public Safety Employer-Employee Cooperation Act" would recognize the right oflaw enforcement and other public safety officers to bargain collectively with theiremployers.COSPONSORS92920H.R. 3225COSPONSORS121S. 1888NOT YET INTRODUCED IN THE SENATECOSPONSORS228664H.R. 962COSPONSORS43733S. 1302+1 NEW
Page 11
LEGISLATIVE PRIORITIESThe "LEOSA Reform Act" would amend the Law Enforcement Officers' Safety Act(LEOSA), which exempts qualified active and retired law enforcement officers fromlocal and State prohibitions on the carriage of concealed firearms, to ensure thatthese officers are able to carry in the same venues as civilian concealed carrypermit holders in areas like schools and national parks, as well as use publictransportation and extends the exemption to magazine capacity and would allowactive and retired law enforcement officers to access services at U.S. post offices,Social Security Administration offices or Veterans Affairs facilities.COSPONSORS220S. 1610COSPONSORS53541H.R. 1210The "Protect and Serve Act" would make it a Federal crime to target a lawenforcement officer with an assault that results in seriously bodily harm or death.COSPONSORS23230S. 774COSPONSORS48535H.R. 3079MORE RESOURCES ON OUR LEGISLATIVE PRIORITIESFULL LIST OF LEGISLATION SUPPORTED BY THE FOP+2 NEW
Page 12
FOP NEWSROOMThe National Fraternal Order of Police reportsthat as of midnight on 31 January, there havebeen 30 officers shot in the line of duty so farin 2022 (+67% from 2021 YTD)... MOREWidow of NYPD officer Jason Rivera blastsAlvin Bragg in moving eulogy [NY Post]As the largest and oldest law enforcementlabor organization in the United States, we'reproud to be the Number One Voice of America'sLaw Enforcement Officers... MOREWho's Fighting for You? The FraternalOrder of Police Will Always Fight for OurMembersIn a growing number of American cities, if youcall the police, there are fewer officers takingthe call... MOREWhy police forces are struggling torecruit and keep officers [CNN]Patrick Yoes, National President of theFraternal Order of Police, called out WhiteHouse Press Secretary Jen Psaki for mockingand belittling Americans' concerns about thenation's skyrocketing crime rates... MOREFOP National President Calls Out JenPsaki
Page 13
REGISTER FOR THE EVENT2022 VIRTUAL DAY ON THE HILLOnce again, the public health situation in Washington, D.C. has resulted inour decision to pivot to a virtual Day on the Hill. We have concluded it is veryunlikely to have a successful in-person event and, for these reasons, we willhost our 2022 Day on the Hill virtually, just as we did last year. Our event will begin on Monday, 7 February, with an online briefing on ourlegislative agenda hosted by staff in the National FOP's Government andMedia Affairs Center (GMAC) and members of the National LegislativeCommittee. We encourage all of our members and Day on the Hill participants to set upvirtual meetings with your Members and their staff from your home Statesand districts—conference calls, Zoom calls or other virtual interactions for therest of that week, with a focus on Tuesday and Wednesday, 8-9 February. Even though these meetings will be virtual, it is important to make theseappointments in advance! Every effort should be made to have yourRepresentative or Senators participate in the meeting—making theseconnections is important, especially in an election year.
Page 14
SOCIAL SECURITYThis is About Fairness! UrgeCongress to Pass the "SocialSecurity Fairness Act."TAKE ACTIONFEDERAL OFFICERSSupport Our Federal Officers byPassing the "Law EnforcementOfficers' Equity Act."TAKE ACTIONLEOSA REFORMSupport Active and Retired LawEnforcement Officers by Passingthe "LEOSA Reform Act."TAKE ACTIONPROTECT AND SERVEUrge Congress to Protect OurPolice Officers and Pass the"Protect and Serve Act."TAKE ACTIONVACCINE MANDATESWe Must Keep Our COVID-19Heroes Employed! TellCongress to Pass S. 3079! TAKE ACTIONFOP ACTION CENTERCOLLECTIVE BARGAININGWe Must Fight for the Right toBargain Collectively! UrgeCongress to Pass H.R. 3225.TAKE ACTION
Page 15
Been Exposed?Are You Sick?READ MOREREAD MOREVIEW A STATE-BY-STATE BREAKDOWNThe National FOP provided FOPmembers with updated information,released by the Food and DrugAdministration, regarding the ModernaCOVID-19 vaccine.COVID-19 Information for Law EnforcementProtecting Public Safety and HealthFRATERNAL ORDER OF POLICEJANUARY 31WW W. FO PC OV ID 19 .O RGThe National FOP provided FOPmembers with updated information,released by the Centers for DiseaseControl and Prevention, regardingCOVID-19 self-testing. FEBRUARY 2COVID-19 ACTIVITYREAD MORE READ MORE
Page 16
LEARN MORE LEARN MORELEARN MORELEARN MOREWatch the latest FOP-TV episodesand hear from National FraternalOrder of Police leaders from acrossthe country as they discuss new andrelevant topics that are impactingour profession and important toleading our organization throughthese turbulent times.The Collaborative Reform InitiativeTechnical Assistance Center (CRI-TAC) provides no cost, customizedtechnical assistance solutionsdesigned to meet the unique needsof state, local, tribal, & campus lawenforcement agencies throughoutthe United States.The COPS Office awards grants tohire community policingprofessionals, develop and testinnovative policing strategies, andprovide training and technicalassistance to community members,local government leaders, and alllevels of law enforcement. The Office of Justice Programs (OJP)provides innovative leadership toFederal, state, local, and tribal justicesystems, by disseminating state-of-theart knowledge and practices, andproviding grants for theimplementation of these crimefighting strategies. MORE RESOURCES
Page 17
Page 18
POLITICAL ACTION COMMITTEECAN YOU CHIP IN $5?DONATEClick HereThe Fraternal Order of Police is committed to improving the workingconditions of law enforcement officers and the safety of those weserve through education, legislation, information, communityinvolvement, and employee representation. The National FOP PAC is the power behind our organization's punchon Capitol Hill, representing its members in the most effective waypossible.Our challenge to you is to have each and every FOP member in yourdepartment, lodge, and State commit $5.00 a month to the NFOPPAC. Please contact the National Legislative Office to learn aboutthe various ways you can contribute to the NFOP PAC. DONATEClick Here
Page 19
TIM RICHARDSONSenior Legislative Liaison JIM PASCOExecutive DirectorMARK MCDONALDLegislative Liaison DAVID TABOHLegislative Liaison JESSICA CAHILLPress Liaison MATT BROWNLegislative Liaison 328 MASSACHUSETTS AVE NE, WASHINGTON, D.C. 20002 PHONE: 202-547-8189 FAX: 202-547-8190