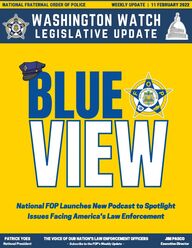 Return to flip book view
FOP Update - February 11, 2022
Page 1
WEEKLY UPDATE | 11 FEBRUARY 2022NATIONAL FRATERNAL ORDER OF POLICE
Page 2
LEGISLATIVE NEWS & ACTIVITYNational President Patrick Yoes, Executive Director Jim Pasco, NationalLegislative Committee Chairman Mark Nelson, and the staff from theGovernment and Media Affairs Center (GMAC) hosted a virtual briefing for theFOP's annual Day on the Hill Event. During the briefing, they discussed theFOP's legislative agenda for the Second Session of the 117th Congress.National President Patrick Yoes joined Representative Val V. Demings (D-FL), and several other Members of Congress, at a press conference on thenational increase in violent crime and the importance of passing H.R. 5768,the "Violent Incident Clearance and Technological Investigative Methods(VICTIM) Act." Senior Legislative Liaison Tim Richardson and Press LiaisonJessica Cahill accompanied National President Yoes.National President Patrick Yoes had a meeting with Vice Presidents EricMuro and Jeremiah Blanton of UPS to discuss the FOP's Disaster AreaResponse Team (DART) and potential corporate partnerships.National President Patrick Yoes participated in the FOP Leadership MattersConference in Nashville, Tennessee.National President Patrick Yoes worked out of the Government and MediaAffairs Center in Washington, D.C. this week.
Page 3
LEGISLATIVE NEWS & ACTIVITYNational President Patrick Yoes sat down with Executive Director Jim Pascofor the first episode of the National FOP's new podcast, Blue View, to discusswhat is being done in Washington, D.C. to reform policing so that thepartnership between our communities and the officers that protect them canbe restored. New episode will drop this TuesdayMAKE SURE TO SUBSCRIBE!National President Patrick Yoes gave numerous media interviews in regard tolaw enforcement line-of-duty deaths, the crime wave many cities acrossAmerica are experiencing, as well as the COVID-19 pandemic.
Page 4
LEGISLATIVE NEWS & ACTIVITYNational Vice President Joe Gamaldi gave numerous interviews regarding thecrime wave as well as the attacks on law enforcement. In one interview hegave to Fox News' America Reports, National Vice President Gamaldi discussed the issue of injections sites nationwide.National President Patrick Yoes attended the Florida State FOP Winter BoardMeeting in Atlantic Beach, Florida.Executive Director Jim Pasco spoke with U.S. Department of HomelandSecurity (DHS) Secretary Alejandro N. Mayorkas regarding border securityissues, violence at the southern border, and narcotic smuggling operations.
Page 5
LEGISLATIVE NEWS & ACTIVITYExecutive Director Jim Pasco joined the Skullduggery podcast, hosted byYahoo News' veteran investigative journalists Michael Isikoff and DanielKlaidman as well as Brennan Center for justice fellow Victoria Blisset, andanswered questions regarding the rise in violent crime, repercussions of the2021 United States Capitol attack on 6 January, and criminal justice reform. Executive Director Jim Pasco spoke with U.S. Associate Attorney GeneralVanita Gupta regarding outreach to the U.S. Bureau of Alcohol, Tobacco,Firearms and Explosives (ATF), leadership in the Office of CommunityOriented Policing Services (COPS), and various programs they administer andoversee.Executive Director Jim Pascospoke with U.S. Bureau ofAlcohol, Tobacco, Firearms, andExplosives (ATF) Acting DirectorMarvin Richardson regarding therise in violent crime, thenationwide increase of crime, andATF Task Force operations.Executive Director Jim Pasco gave numerous media interviews in regard tocriminal justice reform, the nationwide increase in violent crime, and the issueof rogue prosecutors failing to prosecute violent offenders.
Page 6
LEGISLATIVE NEWS & ACTIVITYSenior Legislative Liaison Tim Richardson spoke with staff in numerousSenate offices regarding the new language the FOP helped draft that amendsS. 3635, the "Public Safety Officer Support Act," which was introduced thisweek.Senior Legislative Liaison Tim Richardson and Legislative Liaison DavidTaboh spoke with staff in the office of Representative Abigail B. Spanberger(D-VA) regarding her bill, H.R. 4189, the "Measuring What Matters Act."Executive Director Jim Pasco also gave numerous media interviewspertaining to the COVID-19 pandemic, vaccinations, and their impact on publicsafety. The National FOP believes in the science behind the COVID-19vaccines and that vaccinations work to prevent people from becominginfected by or transmitting COVID-19. However, the National FOP continues tobelieve that whether or not to accept the vaccine is a personal decision. Senior Legislative Liaison Tim Richardson and Legislative Liaison Matt Brownspoke with staff from the office of Representative Christopher L. Jacobs (R-NY) regarding legislation concerning funding for school resource officers.
Page 7
THE U.S. HOUSE OF REPRESENTATIVESTHIS WEEK IN WASHINGTONThe House Committee on Science, Space, and Technology held a hearingentitled "Data Challenges Impacting Human Trafficking Research andDevelopment of Anti-Trafficking Technological Tools." Providing testimonywas Director of the U.S. Government Accountability Office Dr. GrettaGoodwin, among representatives of selected human rights organizations.The House Committee on Homeland Security held a joint hearing entitled"The Nonprofit Security Grant Program and Protecting Houses of Worship: AView from the American Jewish Community." This hearing addressedviolence and anti-Semitic sentiments that have created challenges for lawenforcement. The House passed H.R. 6617, the "Further Additional Extending GovernmentFunding Act," on a 272-162 vote. This bill would provide funding for Federalagencies at the current Fiscal Year 2022 levels. Congress is facing an 18February deadline, and if a measure is not passed, then Federal funding foragencies would run out, resulting in a government shutdown. This fundingmeasure would last through 11 March. The measure will now head over to theSenate for a floor vote early next week.
Page 8
THIS WEEK IN WASHINGTONTHE UNITED STATES SENATEThe Senate Committee on Commerce, Science, and Transportation held anexecutive session on the nomination of Gigi B. Sohn, President Biden'snominee for the Federal Communications Commission (FCC). The NationalFOP opposes the nomination of Ms. Sohn because, as a board member forElectronic Frontier Foundation (EFF), she was part of a forceful advocacycampaign promoting end-to-end encryption and opposing "lawful access" bylaw enforcement . These new encryption methods are causing lawenforcement agencies to rapidly lose the capability to obtain digital evidencenecessary to protect the public from crime and violence. The Senate Committee on Judiciary held a markup of S. 3538, the"Eliminating Abusive and Rampant Neglect of Interactive Technologies (EARNIT) Act." This bill, which is supported by the FOP, would establish a NationalCommission on Online Child Sexual Exploitation Prevention in an effort tocombat the sexual exploitation of children on the Internet. This legislationadvanced through the committee on a voice vote and will now head to theSenate floor.
Page 9
TOP LEGISLATIVE PRIORITIESCOSPONSORS62251189H.R. 82The "Law Enforcement Officers' Equity Act" would expand the definition of "lawenforcement officer" for salary and retirement benefits to include all Federal lawenforcement officers.The "Social Security Fairness Act" would repeal both the "Windfall EliminationProvision" and the "Government Pension Offset" in current Social Security law.The "Public Safety Employer-Employee Cooperation Act" would recognize the right oflaw enforcement and other public safety officers to bargain collectively with theiremployers.COSPONSORS93021H.R. 3225COSPONSORS121S. 1888NOT YET INTRODUCED IN THE SENATECOSPONSORS228664H.R. 962COSPONSORS43733S. 1302+4 NEW+1 NEW
Page 10
LEGISLATIVE PRIORITIESThe "LEOSA Reform Act" would amend the Law Enforcement Officers' Safety Act(LEOSA), which exempts qualified active and retired law enforcement officers fromlocal and State prohibitions on the carriage of concealed firearms, to ensure thatthese officers are able to carry in the same venues as civilian concealed carrypermit holders in areas like schools and national parks, as well as use publictransportation and extends the exemption to magazine capacity and would allowactive and retired law enforcement officers to access services at U.S. post offices,Social Security Administration offices or Veterans Affairs facilities.COSPONSORS220S. 1610COSPONSORS53541H.R. 1210The "Protect and Serve Act" would make it a Federal crime to target a lawenforcement officer with an assault that results in seriously bodily harm or death.COSPONSORS23230S. 774COSPONSORS59656H.R. 3079MORE RESOURCES ON OUR LEGISLATIVE PRIORITIESFULL LIST OF LEGISLATION SUPPORTED BY THE FOP+12 NEW
Page 11
FOP NEWSROOMPatrick Yoes, National President of theFraternal Order of Police, applauded theintroduction of S. 3635, the "Public SafetyOfficer Support Act," which acknowledges theconnection between suicide and...MORE"Public Safety Officer Support Act"Introduced In SenateNational President Patrick Yoes sent a letter tothe Senate and House Committee on Judiciaryurging Congress to pass legislation that wouldpermanently place fentanyl-related substancesin Schedule I... MOREUrging Congress to Permanently PlaceFentanyl-Related Substances in Schedule INational President Patrick Yoes sent a letter toselect members of the Senate Committee onJudiciary in support of S. 3538, the "EliminatingAbusive and Rampant Neglect of InteractiveTechnologies (EARN IT) Act"... MORES. 3538, the "Eliminating Abusive andRampant Neglect of InteractiveTechnologies (EARN IT) Act" Enough is enough! While details are stillforthcoming, we are learning today of severalseparate incidents of violence against lawenforcement officers across...MOREStatement of National FOP PresidentPatrick Yoes Condemns Violence AgainstPolice Officers Across the Country
Page 12
FOP NEWSROOMNine Arizona police officers were woundedFriday morning – believed to be the highestnumber of officers shot in one day – whileresponding to a shooting that led to an...MORE9 Phoenix police officers wounded, womanhurt, in shooting during incident involvingbaby girl; Suspect dead [Fox News]US Department of Labor announcesrelease of White House Task Force reporton promoting worker organizing,collective bargainingToday, the Drug Enforcement Administration(DEA) announced their new initiative --Operation Overdrive -- aimed at combatting therising rates of drug-related violent crime andoverdose deaths plaguing American... MOREDEA Washington Division LaunchesOperation OverdriveNational President Patrick Yoes sent a letter tovarious Senators thanking them for introducingS. 3635, the "Public Safety Officer SupportAct"...MORES. 3635, the "Public Safety Officer SupportAct"The White House Task Force on WorkerOrganizing and Empowerment today releasedits report which details nearly 70...MORE
Page 13
SOCIAL SECURITYThis is About Fairness! UrgeCongress to Pass the "SocialSecurity Fairness Act."TAKE ACTIONFEDERAL OFFICERSSupport Our Federal Officers byPassing the "Law EnforcementOfficers' Equity Act."TAKE ACTIONLEOSA REFORMSupport Active and Retired LawEnforcement Officers by Passingthe "LEOSA Reform Act."TAKE ACTIONPROTECT AND SERVEUrge Congress to Protect OurPolice Officers and Pass the"Protect and Serve Act."TAKE ACTIONVACCINE MANDATESWe Must Keep Our COVID-19Heroes Employed! TellCongress to Pass S. 3079! TAKE ACTIONFOP ACTION CENTERCOLLECTIVE BARGAININGWe Must Fight for the Right toBargain Collectively! UrgeCongress to Pass H.R. 3225.TAKE ACTION
Page 14
Been Exposed?Are You Sick?READ MOREREAD MOREVIEW A STATE-BY-STATE BREAKDOWNThe National FOP provided FOPmembers with information that wasshared during a White House COVID-19Response Team press briefing, wherepublic health officials gave a generalupdate on the COVID-19 pandemic.COVID-19 Information for Law EnforcementProtecting Public Safety and HealthFRATERNAL ORDER OF POLICEFEBRUARY 4WW W. FO PC OV ID 19 .O RGThe National FOP provided FOPmembers with updated information,released by the Centers for DiseaseControl and Prevention, regarding how todetermine a close contact for COVID-19. FEBRUARY 7COVID-19 ACTIVITYREAD MORE READ MORE
Page 15
LEARN MORE LEARN MORELEARN MORELEARN MOREOn the Blue View, a weeklypodcast presented by the NationalFraternal Order of Police, you'llhear from law enforcementexperts, elected officials, andother notable leaders to gaininsight into the issues and currentevents surrounding the lawenforcement community. The Collaborative Reform InitiativeTechnical Assistance Center (CRI-TAC) provides no cost, customizedtechnical assistance solutionsdesigned to meet the uniqueneeds of state, local, tribal, &campus law enforcement agenciesthroughout the United States.The COPS Office awards grants tohire community policingprofessionals, develop and testinnovative policing strategies, andprovide training and technicalassistance to community members,local government leaders, and alllevels of law enforcement. The Office of Justice Programs (OJP)provides innovative leadership toFederal, state, local, and tribal justicesystems, by disseminating state-of-theart knowledge and practices, andproviding grants for theimplementation of these crimefighting strategies. MORE RESOURCES
Page 16
Page 17
POLITICAL ACTION COMMITTEECAN YOU CHIP IN $5?DONATEClick HereThe Fraternal Order of Police is committed to improving the workingconditions of law enforcement officers and the safety of those weserve through education, legislation, information, communityinvolvement, and employee representation. The National FOP PAC is the power behind our organization's punchon Capitol Hill, representing its members in the most effective waypossible.Our challenge to you is to have each and every FOP member in yourdepartment, lodge, and State commit $5.00 a month to the NFOPPAC. Please contact the National Legislative Office to learn aboutthe various ways you can contribute to the NFOP PAC. DONATEClick Here
Page 18
TIM RICHARDSONSenior Legislative Liaison JIM PASCOExecutive DirectorMARK MCDONALDLegislative Liaison DAVID TABOHLegislative Liaison JESSICA CAHILLPress Liaison MATT BROWNLegislative Liaison 328 MASSACHUSETTS AVE NE, WASHINGTON, D.C. 20002 PHONE: 202-547-8189 FAX: 202-547-8190