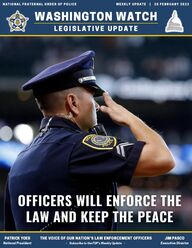 Return to flip book view
FOP Update - February 25, 2022
Page 1
Page 2
On this week's episode of the Blue View, National President Patrick Yoes satdown with National Vice President Joe Gamaldi and National TreasurerJames Smallwood to discuss the alarming increase of violence against policeas well as the consequences of the continued demonization of our lawenforcement officers.L I S T E N T O E P I S O D ECLICK TO SUBSCRIBENational President Patrick Yoesattended the 15th annual KansasCity Policeman's Ball - Night in Blue.National President Yoes was aspeaker at this widely attendedevent.
Page 3
National President Patrick Yoes was a speaker at the 2022 FOP LaborSummit in Las Vegas, Nevada.National President Patrick Yoes was a speaker at the 2022 FOP LegalCounselors Seminar in Las Vegas, Nevada.Executive Director Jim Pasco spoke with U.S. Department of HomelandSecurity (DHS) Secretary Alejandro N. Mayorkas regarding domesticterrorism issues. National Vice President Joe Gamaldi gave numerous interviews regarding thecrime wave, the consequences rogue prosecutors are having on ourcommunities, as well as the attacks on law enforcement.National President Patrick Yoes gave numerous media interviews in regard tolaw enforcement line-of-duty deaths, the crime wave many cities acrossAmerica are experiencing, as well as the COVID-19 pandemic.
Page 4
Executive Director Jim Pasco spoke with U.S. Associate Attorney GeneralVanita Gupta regarding use of force standards and discretionary grantprograms. Executive Director Jim Pasco spoke with Heather Fong, Counselor to theSecretary of Homeland Security, regarding task force operations and U.S.Department of Homeland Security (DHS) involvement at State and locallevels.Executive Director Jim Pasco gave numerous media interviews in regard tocriminal justice reform, the nationwide increase in violent crime, and therecent guilty conviction of three former Minneapolis Police Officers.Executive Director Jim Pasco also gave numerous media interviewspertaining to the COVID-19 pandemic, vaccinations, and their impact on publicsafety. The National FOP believes in the science behind the COVID-19vaccines and that vaccinations work to prevent people from becominginfected by or transmitting COVID-19. However, the National FOP continues tobelieve that whether or not to accept the vaccine is a personal decision.
Page 5
Senior Legislative Liaison Tim Richardson spoke with staff in the office ofSenator Catherine M. Cortez Masto (D-NV) regarding S. 774, the "Protect andServe Act," and her plan to introduce a Senate companion bill to H.R. 6448,the "Invest to Protect Act."Senior Legislative Liaison Tim Richardson spoke with Senator Richard J.Durbin's (D-IL) Senate Judiciary Committee staff regarding an upcominghearing entitled "Federal Support for Preventing and Responding toCarjackings."Senior Legislative Liaison Tim Richardson spoke with staff in the office ofSenator T. Johnathan Ossoff (D-GA) regarding the importance of filling andconfirming leadership positions within the U.S. Department of Justice.Senior Legislative Liaison Tim Richardson and Legislative Liaison Matt Brownattended a conference call with staff from the office of RepresentativeWilliam L. Johnson (R-OH) to discuss draft legislation aimed at supportinglaw enforcement.Senior Legislative Liaison Tim Richardson spoke with newly hired staff in theoffice of Representative Steny H. Hoyer (D-MD), Majority Leader of the U.S.House of Representatives, regarding the FOP's priorities and the importanceof maintaining our close working relationship with the Majority Leader and hisstaff.
Page 6
Senior Legislative Liaison Tim Richardson and Legislative Liaisons MattBrown and David Taboh participated in the monthly call with otherstakeholders as part of the Public Pension Network (PPN).
Page 7
THE WHITE HOUSEPresident Biden has nominated Judge Ketanji Brown Jackson to replace theretiring Supreme Court Associate Justice Stephen G. Breyer. Judge Jacksonhas had a long career in law and criminal justice. Currently, she sits on the U.S.Court of Appeals for the D.C. Circuit. Previously, she was a judge for the U.S.District Court for the District of Columbia as well as an Assistant Federal PublicDefender. Judge Jackson also clerked for Associate Justice Breyer after shegraduated from Harvard Law School.During the President's remarks announcing his nomination of Judge Jackson,the President touted the National FOP's statement, which stated: "JudgeJackson comes from a law enforcement family, with two uncles who were careerlaw enforcement officers: one was a Miami-Dade County sex crimes detective,and the other rose through the ranks of the City of Miami Police Department tobecome the Chief of Police. Her brother served as an undercover officer in adrug-sting unit in Baltimore after graduating from college, so she should knowquite well the difficulties and dangers our officers face in the line of duty everysingle day... we believe she has considered the facts and applied the lawconsistently and fairly on a range of issues. There is little doubt that she has thetemperament, intellect, legal experience, and family background to have earnedthis appointment."
Page 8
THE U.S. HOUSE OF REPRESENTATIVESThe House was in a pro-forma session this week.THE UNITED STATES SENATEThe Senate was in a pro-forma session this week.
Page 9
COSPONSORS64256192H.R. 82The "Law Enforcement Officers' Equity Act" would expand the definition of "lawenforcement officer" for salary and retirement benefits to include all Federal lawenforcement officers.The "Public Safety Employer-Employee Cooperation Act" would recognize theright of law enforcement and other public safety officers to bargain collectivelywith their employers.COSPONSORS93021H.R. 3225COSPONSORS121S. 1888NOT YET INTRODUCED IN THE SENATECOSPONSORS228664H.R. 962COSPONSORS43834S. 1302+ 4 NEWThe "Social Security Fairness Act" would repeal both the "Windfall EliminationProvision" and the "Government Pension Offset" in current Social Security law.
Page 10
The "LEOSA Reform Act" would amend the Law Enforcement Officers' Safety Act(LEOSA), exempts qualified active and retired law enforcement officers fromlocal and State prohibitions on the carriage of concealed firearms, to ensure thatthese officers are able to carry in the same venues as civilian concealed carrypermit holders in areas like schools and national parks, as well as use publictransportation and extends the exemption to magazine capacity and would allowactive and retired law enforcement officers to access services at U.S. postoffices, Social Security Administration offices or Veterans Affairs facilities.COSPONSORS220S. 1610COSPONSORS55561H.R. 1210The "Protect and Serve Act" would make it a Federal crime to target a lawenforcement officer with an assault that results in seriously bodily harm or death.COSPONSORS23230S. 774COSPONSORS61676H.R. 3079MORE RESOURCES ON OUR LEGISLATIVE PRIORITIESFULL LIST OF LEGISLATION SUPPORTED BY THE FOP+2 NEW
Page 11
THE BLUE VIEWby the National Fraternal Order of PoliceEach week, National President Patrick Yoes sits down witha guest discuss the issues and current events surroundingthe law enforcement community.Make sure to tune in, as you'll hear law enforcementexperts, elected officials, and other notable leaders!ATTACKS ON POLICE AND THEDEMONIZATION OF LAW ENFORCEMENT Featuring Joe Gamaldi and James SmallwoodNational President Patrick Yoes sits down with NationalVice President Joe Gamaldi and National TreasurerJames Smallwood to discuss the alarming increase ofviolence against the police and the demonization of ourlaw enforcement officers.EPISODE #002TUESDAY, 22 FEBRUARYWHAT'S NEXT FOR AMERICA'S LAWENFORCEMENT OFFICERS?Featuring Jim PascoNational President Patrick Yoes sat down withExecutive Director Jim Pasco to discuss what is beingdone in Washington, D.C. to reform policing so that thepartnership between our communities and the officersthat protect them can be restored.EPISODE #001TUESDAY, 15 FEBRUARYSUBSCRIBE
Page 12
Patrick Yoes, National President of theFraternal Order of Police, responded tonumerous questions from State and local lodgeFOP presidents about the potential for protestslike those in Ottawa, Canada... MOREFOP National President: Officers WillEnforce the Law and Keep the PeaceFraternal Order of Police National VicePresident Joe Gamaldi sounded on the alarmon soft-on-crime Democratic policies Saturdayon "Lawrence Jones Cross Country"... MOREFOP National Vice President: 'We'refighting for the very soul of our countryright now' [Fox News]St. Louis Police Officer Nathan Spiess saiddidn't feel the gunshot that shattered his leftfemur until he tried to get up and run... MORE'I wish I could be there with him, fightingwith him': Injured St. Louis officerreflects on shooting, partner's battle forsurvival [KSDK]Today, President Biden nominated KetanjiBrown Jackson to be the next AssociateJustice on the Supreme Court of the UnitedStates, and I wanted to provide... MOREFOP National President Patrick YoesStatement on Nomination of KetanjiBrown Jackson to SCOTUS
Page 13
SOCIAL SECURITYThis is About Fairness! UrgeCongress to Pass the "SocialSecurity Fairness Act."TAKE ACTIONFEDERAL OFFICERSSupport Our Federal Officers byPassing the "Law EnforcementOfficers' Equity Act."TAKE ACTIONLEOSA REFORMSupport Active and Retired LawEnforcement Officers by Passingthe "LEOSA Reform Act."TAKE ACTIONPROTECT AND SERVEUrge Congress to Protect OurPolice Officers and Pass the"Protect and Serve Act."TAKE ACTIONVACCINE MANDATESWe Must Keep Our COVID-19Heroes Employed! TellCongress to Pass S. 3079! TAKE ACTIONCOLLECTIVE BARGAININGWe Must Fight for the Right toBargain Collectively! UrgeCongress to Pass H.R. 3225.TAKE ACTION
Page 14
Been Exposed?Are You Sick?READ MOREREAD MOREVIEW A STATE-BY-STATE BREAKDOWNThe National FOP provided memberswith information that was shared duringa White House COVID-19 ResponseTeam press briefing, where public healthofficials gave a general update on theCOVID-19 pandemic.COVID-19 Information for Law EnforcementProtecting Public Safety and HealthFRATERNAL ORDER OF POLICEFEBRUARY 17WWW.FOPCOVID19.ORGThe National FOP provided memberswith updated information, released bythe Centers for Disease Control andPrevention, regarding the rates of COVID-19 cases and deaths by vaccinationstatus.FEBRUARY 23READ MORE READ MORE
Page 15
LEARN MORE LEARN MORELEARN MORELEARN MOREOn the Blue View, a weekly podcastpresented by the National FraternalOrder of Police, you'll hear from lawenforcement experts, electedofficials, and other notable leadersto gain insight into the issues andcurrent events surrounding the lawenforcement community. The Collaborative Reform InitiativeTechnical Assistance Center (CRI-TAC) provides no cost, customizedtechnical assistance solutionsdesigned to meet the uniqueneeds of state, local, tribal, &campus law enforcement agenciesthroughout the United States.The COPS Office awards grants tohire community policingprofessionals, develop and testinnovative policing strategies, andprovide training and technicalassistance to community members,local government leaders, and alllevels of law enforcement. The Office of Justice Programs (OJP)provides innovative leadership toFederal, state, local, and tribal justicesystems, by disseminating state-of-theart knowledge and practices, andproviding grants for theimplementation of these crimefighting strategies.
Page 16
Page 17
CAN YOU CHIP IN $5?DONATEClick HereThe Fraternal Order of Police is committed to improving the workingconditions of law enforcement officers and the safety of those we servethrough education, legislation, information, community involvement, andemployee representation. The National FOP PAC is the power behind our organization's punch onCapitol Hill, representing its members in the most effective way possible.Our challenge to you is to have each and every FOP member in yourdepartment, lodge, and State commit $5.00 a month to the NFOP PAC.Please contact the National Legislative Office to learn about the variousways you can contribute to the NFOP PAC. DONATEClick Here
Page 18
TIM RICHARDSONSenior Legislative Liaison JIM PASCOExecutive DirectorMARK MCDONALDLegislative Liaison DAVID TABOHLegislative Liaison JESSICA CAHILLPress Liaison MATT BROWNLegislative Liaison