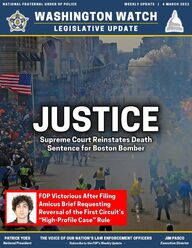 Return to flip book view
FOP Update - March 4, 2022
Page 1
Page 2
L I S T E N T O E P I S O D ECLICK TO SUBSCRIBEOn this week's episode of the Blue View, National President Patrick Yoes satdown with National Vice President Joe Gamaldi and National TreasurerJames Smallwood to discuss how the Fraternal Order of Police is speaking upand fighting for our members, especially during one of the most dangeroustimes for law enforcement. National President Patrick Yoes worked out of the Government and MediaAffairs Center in Washington, D.C. this week.National President Patrick Yoes, National Treasurer James Smallwood, andExecutive Director Jim Pasco had a meeting to discuss the National FOP FY2023 budget and the communication strategy. National President Patrick Yoes attended a planning meeting with membersfrom Concerns of Police Survivors (COPS) to discuss the National FOP's 41stAnnual National Peace Officers' Memorial Service.
Page 3
National Vice President Joe Gamaldigave numerous interviews regardingthe crime wave, the consequencesrogue prosecutors are having on ourcommunities, as well as the attackson law enforcement.National President Patrick Yoes and Legislative Liaison Mark McDonaldattended the Federal Officers Coalition meeting. National President Patrick Yoes gave numerous media interviews in regard tolaw enforcement line-of-duty deaths, the crime wave many cities acrossAmerica are experiencing, as well as the COVID-19 pandemic.Executive Director Jim Pasco spoke with U.S. Department of HomelandSecurity (DHS) Secretary Alejandro N. Mayorkas regarding State and localtask force activities, and domestic terrorism issues. Executive Director Jim Pasco spoke with U.S. Associate Attorney GeneralVanita Gupta regarding leadership in the Office of Community OrientedPolicing Services (COPS), current vacancies, and project funding for FY 2023.Executive Director Jim Pasco spoke with Erin Murphy, Senior Policy Advisorto the Director of the Domestic Policy Council for Criminal Justice, regardingcriminal justice reform.
Page 4
Executive Director Jim Pasco gave numerous media interviews in regard tocriminal justice reform, the nationwide increase in violent crime, and therecent Supreme Court nomination of Judge Ketanji Brown Jackson.Executive Director Jim Pasco also gave numerous media interviewspertaining to the COVID-19 pandemic, vaccinations, and their impact on publicsafety. The National FOP believes in the science behind the COVID-19vaccines and that vaccinations work to prevent people from becominginfected by or transmitting COVID-19. However, the National FOP continues tobelieve that whether or not to accept the vaccine is a personal decision. Executive Director Jim Pasco spoke with Vanessa Chen, Special Assistant tothe President for Criminal Justice, regarding criminal justice reform and thesurge in violent crime across the country.Legislative Liaison David Taboh spoke with staff in the office ofRepresentative David J. Trone (D-MD) regarding new language the FOPhelped draft that amends H.R. 3071, the "Public Safety Officer Support Act."Legislative Liaison David Taboh spoke with staff in the office ofRepresentative Abigail A. Spanberger (D-VA) to discuss H.R. 82, the "SocialSecurity Fairness Act."
Page 5
THE WHITE HOUSEEarlier this week, President Joseph R. Biden, Jr. addressed the nation in hisfirst State of the Union speech. In his speech, the President discussed hisrecent nomination of Judge Ketanji Brown Jackson to replace AssociateJustice Stephen G. Breyer. President Biden referenced the opinion of theNational FOP and the impact it had on his final decision.President Biden went on to address the importance of investing in lawenforcement and community policing, calling on lawmakers to work together toprotect our communities, restore trust, and hold law enforcement accountable.President Biden highlighted the work done by the U.S. Department of Justice torequire body cameras, ban chokeholds, and restrict no-knock warrants.President Biden pushed back against the Defund the Police Movement, claimingthat it is not the answer to the problems facing public safety. Instead, the goalshould be to fund the police with the resources and training needed to properlyprotect the public.
Page 6
THE U.S. HOUSE OF REPRESENTATIVESThe House Committee on Transportation and Infrastructure favorablyreported on a voice vote H. Con. Res. 74. This concurrent resolution wouldauthorize the use of the Capitol Grounds for the National Peace Officers'Memorial Service, the National Honor Guard, and the Pipe Band Exhibition on15 May 2022. H. Con. Res. 74 will now advance to the House floor for a vote.The House Committee on Homeland Security's Subcommittee on BorderSecurity, Facilitation, and Operations held a hearing entitled "Examining theCourt-Ordered Reimplementation of the Remain in Mexico Policy." Thishearing examined the Trump-era security policy and the rising crisis at oursouthern border. Providing testimony at the hearing was Acting ChiefOperating Officer Benjamine Huffman of the U.S. Customs and BorderProtection, within the U.S. Department of Homeland Security. Members of the U.S. House of Representatives were given a classifiedbriefing regarding the Russian invasion of Ukraine. Topics included thepotential timeline, the amount of Russian troops, and how long Ukraine couldhold out.
Page 7
The Senate Committee on Commerce, Science, and Transportation held anexecutive session on numerous nominations. During this session thecommittee voted on the nomination of Gigi B. Sohn, President Biden'snominee for the open Commissioner seat on the Federal CommunicationsCommission (FCC). Ms. Sohn was favorably reported to the Senate floorfollowing a 14-14 vote. The National FOP has continued to oppose thenomination of Ms. Sohn because, as a board member for Electronic FrontierFoundation (EFF), she was part of a forceful advocacy campaign promotingend-to-end encryption and opposing "lawful access" by law enforcement.These new encryption methods are causing law enforcement agencies torapidly lose the capability to obtain digital evidence necessary to protect thepublic from crime and violence.THE UNITED STATES SENATEThe Senate Committee on Judiciary held a hearing entitled "Federal Supportfor Preventing and Responding to Carjackings." Examined at this hearing wasthe rise in violent crimes, particularly carjackings and the use of violence tosteal a vehicle. Providing testimony at the hearing were numerous individualsfrom law enforcement agencies and other relevant associations.The Senate Committee on Judiciary held a hearing on numerous judicialnominations. The nominees were questioned and were carried over for afuture vote at an undisclosed date.
Page 8
COSPONSORS67260193H.R. 82The "Law Enforcement Officers' Equity Act" would expand the definition of "lawenforcement officer" for salary and retirement benefits to include all Federal lawenforcement officers.The "Public Safety Employer-Employee Cooperation Act" would recognize theright of law enforcement and other public safety officers to bargain collectivelywith their employers.COSPONSORS103121H.R. 3225COSPONSORS121S. 1888NOT YET INTRODUCED IN THE SENATECOSPONSORS228664H.R. 962COSPONSORS43834S. 1302+4 NEWThe "Social Security Fairness Act" would repeal both the "Windfall EliminationProvision" and the "Government Pension Offset" in current Social Security law.+1 NEW
Page 9
The "LEOSA Reform Act" would amend the Law Enforcement Officers' Safety Act(LEOSA), exempts qualified active and retired law enforcement officers fromlocal and State prohibitions on the carriage of concealed firearms, to ensure thatthese officers are able to carry in the same venues as civilian concealed carrypermit holders in areas like schools and national parks, as well as use publictransportation and extends the exemption to magazine capacity and would allowactive and retired law enforcement officers to access services at U.S. postoffices, Social Security Administration offices or Veterans Affairs facilities.COSPONSORS220S. 1610COSPONSORS55561H.R. 1210The "Protect and Serve Act" would make it a Federal crime to target a lawenforcement officer with an assault that results in seriously bodily harm or death.COSPONSORS23230S. 774COSPONSORS63696H.R. 3079MORE RESOURCES ON OUR LEGISLATIVE PRIORITIESFULL LIST OF LEGISLATION SUPPORTED BY THE FOP+2 NEW
Page 10
ATTACKS ON POLICE AND THEDEMONIZATION OF LAW ENFORCEMENT Featuring Joe Gamaldi and James SmallwoodNational President Patrick Yoes sits down with NationalVice President Joe Gamaldi and National TreasurerJames Smallwood to discuss the alarming increase ofviolence against the police and the demonization of ourlaw enforcement officers.EPISODE #002TUESDAY, 22 FEBRUARYSUBSCRIBETHE BLUE VIEWby the National Fraternal Order of PoliceEach week, National President Patrick Yoes sits down witha guest discuss the issues and current events surroundingthe law enforcement community.Make sure to tune in, as you'll hear law enforcementexperts, elected officials, and other notable leaders!WHO'S FIGHTING FOR AMERICA'S LAWENFORCEMENT?Featuring Joe Gamaldi and James SmallwoodNational President Patrick Yoes sits down with NationalVice President Joe Gamaldi and National TreasurerJames Smallwood to discuss how the FOP is speakingup and fighting for our members, especially during oneof the most dangerous times for law enforcement.EPISODE #003TUESDAY, 1 MARCH
Page 11
The National Fraternal Order of Police reportsthat as of midnight on 28 February, there havebeen 67 officers shot in the line of duty so farin 2022 (+40% from 2021 YTD; +76 from 2020YTD)...MOREFOP Monthly Update: Officers Shot andKilledWe have received several inquiries about theprocess which led to the National FOP issuing astatement regarding the nomination of KetanjiBrown Jackson to the Supreme Court...MOREStatement from National FOP PresidentPatrick Yoes to Members of the FOPNationwideThe United States Senate Committee onCommerce, Science, and Transportation hasannounced that it will be convening tomorrowon March 3rd, 2022 to consider the nominationof Gigi B. Sohn to be a Commissioner...MOREGigi Sohn FOP Research AnalysisPatrick Yoes, National President of theFraternal Order of Police, applauded the newstoday that the Supreme Court of the UnitedStates has reinstated...MORENational FOP President ApplaudsSCOTUS Decision in Boston MarathonBomber Case
Page 12
The Supreme Court on Friday upheld the deathsentence of Dzhokhar Tsarnaev, one of the twobrothers responsible for the 2013 BostonMarathon bombing which led to the...MORESupreme Court upholds death sentence ofBoston Marathon bomber DzhokharTsarnaev [CNN]Two Chicago police officers were shot whilewaiting to order food after a man who waswaiting in line allegedly fired at them,authorities said Friday... MORETwo Chicago police officers shot onovernight shift while ordering at a hotdog stand [CNN]Local authorities in Sarasota, Florida, aresending hundreds of ballistic helmets to helpUkrainians try and fend off ongoing attacks byRussian forces... MOREFlorida sheriff's department assistingUkraine, sending hundreds of ballistichelmets [Fox News]Law enforcement officials on Tuesday calledfor increased efforts to prosecute carjackingoffenses while acknowledging that the majorityof those crimes appear to be... MORELaw enforcement officials call fortougher prosecutions amid increase incarjackings [The Hill]
Page 13
SOCIAL SECURITYThis is About Fairness! UrgeCongress to Pass the "SocialSecurity Fairness Act."TAKE ACTIONFEDERAL OFFICERSSupport Our Federal Officers byPassing the "Law EnforcementOfficers' Equity Act."TAKE ACTIONLEOSA REFORMSupport Active and Retired LawEnforcement Officers by Passingthe "LEOSA Reform Act."TAKE ACTIONPROTECT AND SERVEUrge Congress to Protect OurPolice Officers and Pass the"Protect and Serve Act."TAKE ACTIONVACCINE MANDATESWe Must Keep Our COVID-19Heroes Employed! TellCongress to Pass S. 3079! TAKE ACTIONCOLLECTIVE BARGAININGWe Must Fight for the Right toBargain Collectively! UrgeCongress to Pass H.R. 3225.TAKE ACTION
Page 14
Been Exposed?Are You Sick?READ MOREREAD MOREVIEW A STATE-BY-STATE BREAKDOWNThe National FOP provided memberswith information, released by the WhiteHouse, regarding an updated plan onhow the government will continue tofight COVID-19. COVID-19 Information for Law EnforcementProtecting Public Safety and HealthFRATERNAL ORDER OF POLICEMARCH 2WWW.FOPCOVID19.ORGThe National FOP provided memberswith information that was shared duringa White House COVID-19 ResponseTeam press briefing, where public healthofficials gave a general update on theCOVID-19 pandemic. MARCH 3READ MORE READ MORE
Page 15
LEARN MORE LEARN MORELEARN MORELEARN MOREOn the Blue View, a weekly podcastpresented by the National FraternalOrder of Police, you'll hear from lawenforcement experts, electedofficials, and other notable leadersto gain insight into the issues andcurrent events surrounding the lawenforcement community. The Collaborative Reform InitiativeTechnical Assistance Center (CRI-TAC) provides no cost, customizedtechnical assistance solutionsdesigned to meet the uniqueneeds of state, local, tribal, &campus law enforcement agenciesthroughout the United States.The COPS Office awards grants tohire community policingprofessionals, develop and testinnovative policing strategies, andprovide training and technicalassistance to community members,local government leaders, and alllevels of law enforcement. The Office of Justice Programs (OJP)provides innovative leadership toFederal, state, local, and tribal justicesystems, by disseminating state-of-theart knowledge and practices, andproviding grants for theimplementation of these crimefighting strategies.
Page 16
Page 17
CAN YOU CHIP IN $5?DONATEClick HereThe Fraternal Order of Police is committed to improving the workingconditions of law enforcement officers and the safety of those we servethrough education, legislation, information, community involvement, andemployee representation. The National FOP PAC is the power behind our organization's punch onCapitol Hill, representing its members in the most effective way possible.Our challenge to you is to have each and every FOP member in yourdepartment, lodge, and State commit $5.00 a month to the NFOP PAC.Please contact the National Legislative Office to learn about the variousways you can contribute to the NFOP PAC. DONATEClick Here
Page 18
TIM RICHARDSONSenior Legislative Liaison JIM PASCOExecutive DirectorMARK MCDONALDLegislative Liaison DAVID TABOHLegislative Liaison JESSICA CAHILLPress Liaison MATT BROWNLegislative Liaison