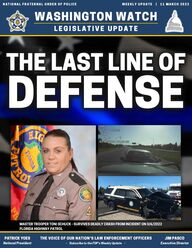 Return to flip book view
FOP Update - March 11, 2022
Page 1
Page 2
L I S T E N T O E P I S O D ECLICK TO SUBSCRIBEOn this week's episode of the Blue View, National President Patrick Yoes satdown with Representative Rodney L. Davis (R-IL), the author and lead sponsor of H.R. 82, the "Social Security Fairness Act," to discuss the importance ofthis bill as well as other issues facing the men and women of lawenforcement.National President Patrick Yoes worked out of the National FOPHeadquarters in Nashville, Tennessee.National President Patrick Yoes spoke at the 38th Annual Illinois FOP LaborCouncil in Tinley, Illinois.National President Patrick Yoes attended a planning meeting for the NationalHealth Trust in Chicago, Illinois.
Page 3
Executive Director Jim Pasco spoke with U.S. Department of HomelandSecurity (DHS) Secretary Alejandro N. Mayorkas regarding border securityissues, domestic terrorism, vacancies at the DHS, and the use of forcestandards.National President Patrick Yoes gave numerous media interviews in regard tolaw enforcement line-of-duty deaths, the increase of violence towards lawenforcement officers, and the donation of surplus supplies from lawenforcement agencies to Ukrainian citizens.National President Patrick Yoes joined Dan Abrams Live on NewsNation todiscuss the surge of violence against police officers.Executive Director Jim Pasco and Senior Legislative Liaison Tim Richardsonmet with Karhlton Moore, Director of the Bureau of Justice Assistance (BJA), Kristen Mahoney, Principal Deputy Director of BJA, Vincent Davenport,Associate Deputy Director, and Hope Janke, Director of the Public SafetyOfficers' Benefits (PSOB) program, to discuss criminal justice reform efforts,S. 3635, the "Public Safety Officers Support Act," and collaboration with BJAand all of its component programs—including the PSOB program.Executive Director Jim Pasco spoke with U.S. Associate Attorney GeneralVanita Gupta regarding current vacancies at the Office of CommunityOriented Policing Services (COPS) and reiterated the importance of the issuesthat were discussed at the meeting with BJA Director Karhlton Moore.
Page 4
Executive Director Jim Pasco gave numerous media interviews in regard tocriminal justice reform, the nationwide increase in violent crime, the need forfurther police funding, and staffing issues at the State and local level. Executive Director Jim Pasco also gave numerous media interviewspertaining to the COVID-19 pandemic, vaccinations, and their impact on publicsafety. The National FOP believes in the science behind the COVID-19vaccines and that vaccinations work to prevent people from becominginfected by or transmitting COVID-19. However, the National FOP continues tobelieve that whether or not to accept the vaccine is a personal decision. Executive Director Jim Pasco spoke with Marvin Richardson, Acting Directorof the Bureau of Alcohol, Tobacco, Firearms and Explosives (ATF), regardingthe impact that ATF task forces have had on violent crime. Executive Director Jim Pasco spoke with Heather Fong, Counselor to theSecretary of Homeland Security, regarding the impact of recent reportsgenerated by the U.S. Department of Homeland Security (DHS) on domesticterrorism issues.Senior Legislative Liaison Tim Richardson spoke with staff in the office ofSenator Cory A. Booker (D-NJ) regarding draft legislation entitled the "ViolentIncident Clearance and Technological Investigative Methods (VICTIM) Act,"which is intended to be the Senate companion to H.R. 5768, which the FOPsupports.
Page 5
Senior Legislative Liaison Tim Richardson and Legislative Liaison Matt Brownspoke with staff in the office of Representative C. Burgess Owens (R-UT)regarding draft legislation that would address the Public Safety OfficerBenefits (PSOB) involving radiation exposure that leads to death or disability.Senior Legislative Liaison Tim Richardson and Legislative Liaison Matt Brownspoke with staff in the office of Representative Daniel M. Newhouse (R-WA)regarding legislation that would fund the training on proper naloxoneadministration for School Resource Officers. Senior Legislative Liaison Tim Richardson and Legislative Liaison MarkMcDonald spoke with Judiciary Committee staff in the office of SenatorChristopher A. Coons (D-DE) regarding draft legislation to reauthorize theVictims of Child Abuse Act.Senior Legislative Liaison Tim Richardson spoke with staff in the office ofRepresentative Karen L. Bass (D-CA) regarding draft legislation on U.S.Bureau of Prisons policies as well as the recruiting and retention issuesfacing law enforcement and corrections.Senior Legislative Liaison Tim Richardson and Legislative Liaison Matt Brownspoke with staff in the office of Senator Christopher S. Murphy (D-CT)regarding legislation involving maintenance of the National Missing andUnidentified Persons System (NamUs).
Page 6
Senior Legislative Liaison Tim Richardson and Legislative Liaison Matt Brownspoke with staff in the office of Representative S. Yvette Herrell (R-NM)regarding education benefits for families of fallen officers. Senior Legislative Liaison Tim Richardson spoke with staff on the SenateCommittee on Banking regarding certain provisions in the reauthorizationlanguage for the Violence Against Women Act (VAWA).Senior Legislative Liaison Tim Richardson and Legislative Liaison DavidTaboh spoke with staff in the offices of Representatives Rodney L. Davis (R-IL) and Abigail A. Spanberger (D-VA) regarding an outreach strategy askingMembers of the House to cosponsor H.R. 82, the "Social Security FairnessAct."Senior Legislative Liaison Tim Richardson spoke with staff in the office ofSenator Coons regarding S. 998, the "Driving for Opportunity Act," as well asother issues pending before the Senate Committee on the Judiciary.
Page 7
THE U.S. HOUSE OF REPRESENTATIVESThe House Committee on Judiciary's Subcommittee on Crime, Terrorism,and Homeland Security held a hearing entitled "Reimagining Public Safety inthe COVID-19 Era." This hearing covered the challenges that COVID-19 hascreated and how law enforcement has adapted to face these obstacles.Providing testimony at the hearing was Eddie Garcia, Chief of Police for theDallas Police Department. The House passed H. Res. 973, on a 218-204 vote. This resolution includedH. J. Res. 75, which provided short-term funding to keep Federal agenciesrunning at the fiscal year 2021 level until 15 March 2022. This was done incase a government spending package could not be passed by the 11 March2022 deadline. Included in H. J. Res. 75 was an extension of the temporaryscheduling order issued by the U.S. Drug Enforcement Administration (DEA)to place illicit fentanyl and fentanyl-related substances in Schedule 1 of theControlled Substances Act. This order has been extended numerous times inthe past, and the National FOP has consistently called on Congress topermanently schedule these illicit drugs and their analogues.
Page 8
THE UNITED STATES SENATEThe Senate Committee on Judiciary held a hearing entitled "Combating theRise in Hate Crimes." At this hearing the increase of these attacks wasdiscussed and the impact they have had on local law enforcement. Providingtestimony at the hearing was Kristen M. Clarke, Assistant Attorney General,and Orlando Martinez, Detective from the Los Angeles Police Department.The Senate passed H.R. 2471, the omnibus spending bill for fiscal year 2022,on a 68-31 vote. This $1.5 trillion omnibus spending bill, will keep Federalagencies open until 30 September 2022 and would avoid a governmentshutdown that was set to start on 11 March 2022. This bill will provide $75.8billion in funding for Commerce, Justice, Science, and other related agencies.In particular, there will be $35.2 billion funding overall for the U.S. Departmentof Justice (DOJ), which is a $1.4 billion increase from the fiscal year 2021enacted level. This bill was passed in the House earlier in the week and willnow head to the President's desk for signing.
Page 9
COSPONSORS67262195H.R. 82The "Law Enforcement Officers' Equity Act" would expand the definition of "lawenforcement officer" for salary and retirement benefits to include all Federal lawenforcement officers.The "Public Safety Employer-Employee Cooperation Act" would recognize theright of law enforcement and other public safety officers to bargain collectivelywith their employers.COSPONSORS103121H.R. 3225COSPONSORS121S. 1888NOT YET INTRODUCED IN THE SENATECOSPONSORS228664H.R. 962COSPONSORS43834S. 1302+2 NEWThe "Social Security Fairness Act" would repeal both the "Windfall EliminationProvision" and the "Government Pension Offset" in current Social Security law.
Page 10
The "LEOSA Reform Act" would amend the Law Enforcement Officers' Safety Act(LEOSA), exempts qualified active and retired law enforcement officers fromlocal and State prohibitions on the carriage of concealed firearms, to ensure thatthese officers are able to carry in the same venues as civilian concealed carrypermit holders in areas like schools and national parks, as well as use publictransportation and extends the exemption to magazine capacity and would allowactive and retired law enforcement officers to access services at U.S. postoffices, Social Security Administration offices or Veterans Affairs facilities.COSPONSORS220S. 1610COSPONSORS56571H.R. 1210The "Protect and Serve Act" would make it a Federal crime to target a lawenforcement officer with an assault that results in seriously bodily harm or death.COSPONSORS23230S. 774COSPONSORS65716H.R. 3079MORE RESOURCES ON OUR LEGISLATIVE PRIORITIESFULL LIST OF LEGISLATION SUPPORTED BY THE FOP+2 NEW+1 NEW
Page 11
SUBSCRIBEWHO'S FIGHTING FOR AMERICA'S LAWENFORCEMENT?Featuring Joe Gamaldi and James SmallwoodNational President Patrick Yoes sits down with NationalVice President Joe Gamaldi and National TreasurerJames Smallwood to discuss how the FOP is speakingup and fighting for our members, especially during oneof the most dangerous times for law enforcement.EPISODE #003TUESDAY, 1 MARCHTHE BLUE VIEWby the National Fraternal Order of PoliceEach week, National President Patrick Yoes sits downwith a guest discuss the issues and current eventssurrounding the law enforcement community.Make sure to tune in, as you'll hear law enforcementexperts, elected officials, and other notable leaders!THIS IS ABOUT FAIRNESSFeaturing Representative Rodney DavisNational President Patrick Yoes sits down withRepresentative Rodney L. Davis, one of the leadingsponsors for H.R. 82, the "Social Security FairnessAct," to discuss the importance of this bill and otherissues facing the men and women of law enforcement.EPISODE #004TUESDAY, 8 MARCH
Page 12
Dramatic dashcam footage from a FloridaHighway Patrol SUV shows the moment atrooper put herself in harm's way in order toprotect thousands of runners.... MOREDashcam video shows Florida trooperdrive into speeding DUI suspect's path toprotect Skyway 10K runners [Fox 13]Marion County Prosecutor Ryan Mears held apress conference Tuesday to discuss thesuspect who shot an IMPD officer in the throaton Feb. 27... MOREFOP President Rick Snyder Responds toProsecutor Mears "Turning His Back" onTough Questions [WIBC]The National Fraternal Order of Police reportsthat as of midnight on 28 February, there havebeen 67 officers shot in the line of duty so farin 2022 (+40% from 2021 YTD; +76 from 2020YTD)...MOREICYMI: FOP Monthly Update: OfficersShot and KilledPatrick Yoes, National President of theFraternal Order of Police, applauded the newstoday that the Supreme Court of the UnitedStates has reinstated...MOREICYMI: National FOP President ApplaudsSCOTUS Decision in Boston MarathonBomber Case
Page 13
SOCIAL SECURITYThis is About Fairness! UrgeCongress to Pass the "SocialSecurity Fairness Act."TAKE ACTIONFEDERAL OFFICERSSupport Our Federal Officers byPassing the "Law EnforcementOfficers' Equity Act."TAKE ACTIONLEOSA REFORMSupport Active and Retired LawEnforcement Officers by Passingthe "LEOSA Reform Act."TAKE ACTIONPROTECT AND SERVEUrge Congress to Protect OurPolice Officers and Pass the"Protect and Serve Act."TAKE ACTIONVACCINE MANDATESWe Must Keep Our COVID-19Heroes Employed! TellCongress to Pass S. 3079! TAKE ACTIONCOLLECTIVE BARGAININGWe Must Fight for the Right toBargain Collectively! UrgeCongress to Pass H.R. 3225.TAKE ACTION
Page 14
Been Exposed?Are You Sick?READ MOREREAD MOREVIEW A STATE-BY-STATE BREAKDOWNThe National FOP provided memberswith updated information, released bythe Federal Emergency ManagementAgency, regarding COVID-19 funeralassistance. COVID-19 Information for Law EnforcementProtecting Public Safety and HealthFRATERNAL ORDER OF POLICEMARCH 7WWW.FOPCOVID19.ORGThe National FOP provided memberswith information, released by theDepartment of Health and HumanServices, regarding COVID-19treatments.MARCH 10READ MORE READ MORE
Page 15
LEARN MORE LEARN MORELEARN MORELEARN MOREOn the Blue View, a weekly podcastpresented by the National FraternalOrder of Police, you'll hear from lawenforcement experts, electedofficials, and other notable leadersto gain insight into the issues andcurrent events surrounding the lawenforcement community. The Collaborative Reform InitiativeTechnical Assistance Center (CRI-TAC) provides no cost, customizedtechnical assistance solutionsdesigned to meet the uniqueneeds of state, local, tribal, &campus law enforcement agenciesthroughout the United States.The COPS Office awards grants tohire community policingprofessionals, develop and testinnovative policing strategies, andprovide training and technicalassistance to community members,local government leaders, and alllevels of law enforcement. The Office of Justice Programs (OJP)provides innovative leadership toFederal, state, local, and tribal justicesystems, by disseminating state-of-theart knowledge and practices, andproviding grants for theimplementation of these crimefighting strategies.
Page 16
Page 17
CAN YOU CHIP IN $5?DONATEClick HereThe Fraternal Order of Police is committed to improving the workingconditions of law enforcement officers and the safety of those we servethrough education, legislation, information, community involvement, andemployee representation. The National FOP PAC is the power behind our organization's punch onCapitol Hill, representing its members in the most effective way possible.Our challenge to you is to have each and every FOP member in yourdepartment, lodge, and State commit $5.00 a month to the NFOP PAC.Please contact the National Legislative Office to learn about the variousways you can contribute to the NFOP PAC. DONATEClick Here
Page 18
TIM RICHARDSONSenior Legislative Liaison JIM PASCOExecutive DirectorMARK MCDONALDLegislative Liaison DAVID TABOHLegislative Liaison JESSICA CAHILLPress Liaison MATT BROWNLegislative Liaison