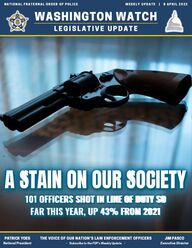 Return to flip book view
FOP Update - April 8, 2022
Page 1
WASHINGTON WATCHNATIONAL FRATERNAL ORDER OF POLICE WEEKLY UPDATE | 8 APRIL 2022LEGISLATIVE UPDATEJIM PASCOPATRICK YOES THE VOICE OF OUR NATION'S LAW ENFORCEMENT OFFICERSExecutive DirectorNational President- Subscribe to the FOP's Weekly Update - A STAIN ON OUR SOCIETYA STAIN ON OUR SOCIETY101 OFFICERS SHOT IN LINE OF DUTY SO101 OFFICERS SHOT IN LINE OF DUTY SOFAR THIS YEAR, UP 43% FROM 2021FAR THIS YEAR, UP 43% FROM 2021
Page 2
@GLFOP@FOPNATIONALNATIONAL FRATERNAL ORDER OF POLICELEGISLATIVE NEWS & ACTIVITYLISTEN TO EPISODECLICK TO SUBSCRIBENational President Patrick Yoes worked out of the National Headquarters inNashville, Tennessee.On this week's episode of the Blue View, National President Patrick Yoes satdown with Clyde Boatwright, President of the Maryland State Fraternal Orderof Police, and Mike Mancuso, President of the Baltimore City FOP Lodge #3,to discuss the current state of affairs in Maryland as well as Baltimore'scrime crisis.National President Patrick Yoes attended a general membership meetinghosted by the Cherry Hill FOP Lodge #28 in Cherry Hill, New Jersey.National President Patrick Yoes presided over the National FOP's 2022Spring Meeting of the National Board of Trustees in Philadelphia,Pennsylvania.
Page 3
@GLFOP@FOPNATIONALNATIONAL FRATERNAL ORDER OF POLICELEGISLATIVE NEWS & ACTIVITYNational President Patrick Yoes attended the FOP State President's Meetingin Philadelphia, Pennsylvania. National President Patrick Yoes joined NewsNation's Dan Abrams Live,hosted by Dan Abrams, to discuss the uptick in police ambushes and whatcan be done to change the ongoing rhetoric that has been harmful to lawenforcement across the country. National President Patrick Yoes gave numerous media interviews regardinglaw enforcement line-of-duty deaths and the increase of violence towards lawenforcement officers across the country. National President Patrick Yoes attended the Alabama State FOPConference in Montgomery, Alabama.
Page 4
@GLFOP@FOPNATIONALNATIONAL FRATERNAL ORDER OF POLICELEGISLATIVE NEWS & ACTIVITYExecutive Director Jim Pasco spoke with U.S. Associate Attorney GeneralVanita Gupta regarding use-of-force standards. Executive Director Jim Pasco spoke with Anne Milgram, Administrator of theDrug Enforcement Administration (DEA), regarding the overdose epidemicacross the United States and use-of-force standards.Executive Director Jim Pasco spoke with U.S. Attorney General Merrick B.Garland regarding the spike in violent crime that many communities areexperiencing across the country. Executive Director Jim Pasco spoke with U.S. Homeland Security DepartmentSecretary Alejandro N. Mayorkas regarding the resettlement of Ukrainianrefugees and cybercrime issues. Executive Director Jim Pasco spoke with Erin Murphy, Senior Policy Advisor tothe Director of the Domestic Policy Council for Criminal Justice, regardingfirearm violence.Executive Director Jim Pasco spoke with Stefanie G. Feldman, DeputyAssistant to the President and Senior Advisor to the Director of the DomesticPolicy Council, regarding the potential executive order of policing fromPresident Joseph R. Biden Jr.
Page 5
@GLFOP@FOPNATIONALNATIONAL FRATERNAL ORDER OF POLICELEGISLATIVE NEWS & ACTIVITY"The parties have reached general agreement on some key issues, including creatingnational standards for the accreditation of police departments and a decertificationregistry of officers who commit violations, said Jim Pasco, executive director of theFraternal Order of Police... Law enforcement officials also have opposed efforts tomake federal grant funding for local police departments contingent on thosedepartments adopting specified reforms, Pasco said... "'He's trying to do this in the midst of a 25-year-high spike in the crime rate,' Pascosaid of Biden's efforts at police reform. 'And you're not going to 'civil rights' your wayout of it...'"Last October, shortly after the George Floyd policing bill failed, Pasco received asurprise call at home from Biden, who has known him for years. The two spoke forabout 15 minutes, Pasco said, parsing the state of reform efforts, the spike in violentcrime and police morale."'He was picking through issues like the encyclopedia. He went through things from Ato Z,' Pasco recalled. 'I'm answering him, and I'm thinking to myself, 'You know, hedoesn't even have anybody on his staff who has anywhere near the depth that he hason policing, or the insight into how police officers think, and how they react to things.'"By David Nakamura, Mark Berman and Annie LinskeyApril 7, 2022Why Biden's executive order on policing isstill up in the airExecutive Director Jim Pasco spoke with Heather Fong, Counselor to theSecretary of Homeland Security, regarding ongoing border security issues.Executive Director Jim Pasco gave numerous media interviews regarding theFiscal Year 2023 budget request, criminal justice reform, the nationwideincrease in violent crime, the need for further police funding, and a potentialexecutive order from President Joseph R. Biden Jr. on policing.
Page 6
@GLFOP@FOPNATIONALNATIONAL FRATERNAL ORDER OF POLICELEGISLATIVE NEWS & ACTIVITYSenior Legislative Liaison Tim Richardson spoke with staff in the office ofRepresentative Steny H. Hoyer (D-MD), Majority Leader, about the FOP'spriorities and National Police Week.Senior Legislative Liaison Tim Richardson and Legislative Liaison DavidTaboh spoke with staff in the office of Representative David B. McKinley (R-WV) regarding a draft bill to provide funding for officer retention through theOffice of Community Oriented Policing Services (COPS).Senior Legislative Liaison Tim Richardson spoke with several members ofSenator Charles E. Grassley's (R-IA) Judiciary Committee staff regardingseveral draft bills that he has developed.Senior Legislative Liaison Tim Richardson spoke with staff in the office ofRepresentative David J. Trone (D-MD) regarding our efforts to schedule amark-up for his bill, H.R. 6943, the "Public Safety Officer Support Act."
Page 7
@GLFOP@FOPNATIONALNATIONAL FRATERNAL ORDER OF POLICELEGISLATIVE NEWS & ACTIVITYSenior Legislative Liaison Tim Richardson spoke with officials from the U.S.Drug Enforcement Administration (DEA), the Federal Bureau of Investigation(FBI), the United States Marshals Service (USMS), and the Bureau of Alcohol,Tobacco, Firearms and Explosives (ATF) regarding the National ConsensusPolicy and Discussion Paper on Use of Force.Senior Legislative Liaison Tim Richardson spoke with Representative JamesD. Jordan's (R-OH) Judiciary Committee staff regarding pending FOPpriorities and National Police Week.Senior Legislative Liaison Tim Richardson and Legislative Liaison Matt Brownspoke with staff from the office of Representative C. Burgess Owens (R-UT)regarding draft legislation that proposes to expunge certain criminal recordsfor nonviolent Federal offenses.Please join us in wishing Jessica luck in her future endeavors!Jessica will be leaving the FOP this week to start a new chapter in her career.For nearly 2 years, she has managed the day-to-day operations of the mediaaffairs section of the National Legislative Office and has made invaluablecontributions to the team on various projects. Since the early days of theCOVID-19 pandemic, Jessica played a major role in the FOP's efforts todisseminate information regarding the COVID-19 pandemic. Lastly, Jessicahas played a key role in crafting the message of the FOP and ensuring thatthe needs of our members are addressed and articulated properly. From everyone here at the NationalLegislative Office, thank you,JESSICA CAHILL!
Page 8
@GLFOP@FOPNATIONALNATIONAL FRATERNAL ORDER OF POLICETHIS WEEK IN WASHINGTONTHE U.S. HOUSE OF REPRESENTATIVESThe House Committee on Judiciary advanced H.R. 1924, the "Kenneth P.Thompson Begin Again Act," on a 28-7 vote. This FOP-supported bill wouldexpand the eligibility for the expungement of records related to a first-timedrug possession offense.THE UNITED STATES SENATEThe Senate passed H.R. 7108, the "Suspending Normal Trade Relations withRussia and Belarus Act" on a 100-0 vote. This bill suspends normal traderelations with Russia and Belarus. Additionally, the Senate also passed on a100-0 vote H.R. 6968, the "Suspending Energy Imports from Russia Act." Thisbill prohibits the importation of energy products from Russia. Both of thesebills will now head to President Joseph R. Biden Jr.'s desk to be signed.The House Committee on Appropriations Subcommittee on State, ForeignOperations, and Related Programs held a hearing entitled "U.S. InternationalAssistance to Combat Narcotics Trafficking." Providing testimony was JamesWalsh, Principal Deputy Assistant Secretary for the Bureau of InternationalNarcotics and Law Enforcement Affairs at the U.S. Department of State.The Senate confirmed Judge Ketanji Brown Jackson on a 53-47 vote toreplace Associate Justice Stephen G. Breyer on the U.S. Supreme Court.
Page 9
@GLFOP@FOPNATIONALNATIONAL FRATERNAL ORDER OF POLICECOSPONSORS72269197H.R. 82The "Law Enforcement Officers' Equity Act" would expand the definition of "lawenforcement officer" for salary and retirement benefits to include all Federal lawenforcement officers.The "Public Safety Employer-Employee Cooperation Act" would recognize theright of law enforcement and other public safety officers to bargain collectivelywith their employers.LAW ENFORCEMENT OFFICERS' EQUITYSOCIAL SECURITY FAIRNESSCOLLECTIVE BARGAINING RIGHTSCOSPONSORS103222H.R. 3225COSPONSORS132S. 1888NOT YET INTRODUCED IN THE SENATECOSPONSORS239370H.R. 962COSPONSORS43935S. 1302TOP LEGISLATIVE PRIORITIESThe "Social Security Fairness Act" would repeal both the "Windfall EliminationProvision" and the "Government Pension Offset" in current Social Security law.+3 NEW+1 NEW
Page 10
@GLFOP@FOPNATIONALNATIONAL FRATERNAL ORDER OF POLICEThe "LEOSA Reform Act" would amend the Law Enforcement Officers' Safety Act(LEOSA), exempts qualified active and retired law enforcement officers fromlocal and State prohibitions on the carriage of concealed firearms, to ensure thatthese officers are able to carry in the same venues as civilian concealed carrypermit holders in areas like schools and national parks, as well as use publictransportation and extends the exemption to magazine capacity and would allowactive and retired law enforcement officers to access services at U.S. postoffices, Social Security Administration offices or Veterans Affairs facilities.LEOSA REFORMCOSPONSORS220S. 1610COSPONSORS57581H.R. 1210PROTECT AND SERVEThe "Protect and Serve Act" would make it a Federal crime to target a lawenforcement officer with an assault that results in seriously bodily harm or death.COSPONSORS23230S. 774COSPONSORS67736H.R. 3079MORE RESOURCES ON OUR LEGISLATIVE PRIORITIESFULL LIST OF LEGISLATION SUPPORTED BY THE FOPLEGISLATIVE PRIORITIES
Page 11
@GLFOP@FOPNATIONALNATIONAL FRATERNAL ORDER OF POLICESUBSCRIBETHE BLUE VIEWby the National Fraternal Order of PoliceNational President Patrick Yoes sits down withguests to discuss the issues and current eventssurrounding the law enforcement community.Each week you'll hear from law enforcementexperts, elected officials, and notable leaders!BLUE VIEW PODCASTCHARM CITY CRIME CRISISFeaturing Clyde Boatwright + Mike MancusoOn December 16th of last year—in a city that has beenravaged by crime and with a police department that isshort upwards of 400 officers—Baltimore City PoliceOfficer Keona Holley was gunned down as she sat in herpatrol car. So far this year, there have been two officersshot in Maryland, a state where countless... MOREEPISODE #008TUESDAY, 5 APRILWHEN DISASTER STRIKES,COPS HELP COPSFeaturing Jason Smith + Rob Pride + Shawn HelbigWhen disaster strikes a community in our nation, ourfirst responders spring into action without hesitation.What is often overlooked is that they too are victims ofthe disaster. It is these everyday first responders whoare called to action to bring safety, security... MOREEPISODE #007TUESDAY, 29 MARCH
Page 12
@GLFOP@FOPNATIONALNATIONAL FRATERNAL ORDER OF POLICEFOP NEWSROOMThe mission of the Joint CounterterrorismAssessment Team (JCAT) is to improveinformation sharing and enhance public safety.In coordination with the FBI and DHS... MoreCOPS ANTI-HEROIN TASK FORCE (AHTF)PROGRAM [COPS]DEA Warns of Increase in Mass-OverdoseEvents Involving Deadly Fentanyl [DEA]The Fiscal Year 2022 COPS Anti-Heroin TaskForce (AHTF) Program is a competitive awardprogram designed to advance public safety byproviding funds directly to state law ... MoreToday, the Drug Enforcement Administrationsent a letter to federal, state, and local lawenforcement partners warning of a... MoreJoint Counterterrorism Assessment Team[National Counterterrorism Center]The National Fraternal Order of Police reportsthat as of 1 April, there have been 101 officersshot so far in 2022, 17 of whom were killed bygunfire... MoreFOP Update: Officers Shot and Killed
Page 13
MAKE Y URVOICE HEARD@GLFOP@FOPNATIONALNATIONAL FRATERNAL ORDER OF POLICEFOP ACTION CENTERSOCIAL SECURITYThis is About Fairness! UrgeCongress to Pass the "SocialSecurity Fairness Act."TAKE ACTIONFEDERAL OFFICERSSupport Our Federal Officers byPassing the "Law EnforcementOfficers' Equity Act."TAKE ACTIONLEOSA REFORMSupport Active and Retired LawEnforcement Officers by Passingthe "LEOSA Reform Act."TAKE ACTIONPROTECT AND SERVEUrge Congress to Protect OurPolice Officers and Pass the"Protect and Serve Act."TAKE ACTIONVACCINE MANDATESWe Must Keep Our COVID-19Heroes Employed! TellCongress to Pass S. 3079! TAKE ACTIONCOLLECTIVE BARGAININGWe Must Fight for the Right toBargain Collectively! UrgeCongress to Pass H.R. 3225.TAKE ACTION
Page 14
Been Exposed?Are You Sick?READ MOREVIEW A STATE-BY-STATE BREAKDOWNCOVID-19 Information for Law EnforcementProtecting Public Safety and HealthFRATERNAL ORDER OF POLICEWW W.F OPC OVID1 9.O RGAs COVID cases have declined and restrictions have been eased, there have beenfewer newsworthy developments regarding the state of the pandemic and availableresources germane to law enforcement. For this reason, this website will no longer beupdated on a regular basis, but we will certainly provide any new and relevantinformation as it becomes available.APRIL 5OFFICERS HAVE DIED DUE TO COVID-19AS OF 8 APRIL 2022COVID-19 VaccineMandates in PublicSector EmploymentQUESTIONS & ANSWERSREAD MORE READ MOREPOLICY STATEMENTCOVID-19 VaccineRequirements andMandates@GLFOP@FOPNATIONALNATIONAL FRATERNAL ORDER OF POLICECOVID-19 ACTIVITY
Page 15
@GLFOP@FOPNATIONALNATIONAL FRATERNAL ORDER OF POLICELEARN MORE LEARN MORELEARN MORELEARN MOREOn the Blue View, a weekly podcastpresented by the National FraternalOrder of Police, you'll hear from lawenforcement experts, electedofficials, and other notable leadersto gain insight into the issues andcurrent events surrounding the lawenforcement community. The Collaborative Reform InitiativeTechnical Assistance Center (CRI-TAC) provides no cost, customizedtechnical assistance solutionsdesigned to meet the uniqueneeds of state, local, tribal, &campus law enforcement agenciesthroughout the United States.The COPS Office awards grants tohire community policingprofessionals, develop and testinnovative policing strategies, andprovide training and technicalassistance to community members,local government leaders, and alllevels of law enforcement. The Office of Justice Programs (OJP)provides innovative leadership toFederal, state, local, and tribal justicesystems, by disseminating state-of-theart knowledge and practices, andproviding grants for theimplementation of these crimefighting strategies. U.S. DEPARTMENT OF JUSTICEOFFICE OF JUSTICEPROGRAMSADDITIONAL RESOURCES
Page 16
@GLFOP@FOPNATIONALNATIONAL FRATERNAL ORDER OF POLICE
Page 17
@GLFOP@FOPNATIONALNATIONAL FRATERNAL ORDER OF POLICEDONATEClick HereDONATEClick HerePOLITICAL ACTION COMMITTEECAN YOU CHIP IN $5?The Fraternal Order of Police is committed to improving the workingconditions of law enforcement officers and the safety of those we servethrough education, legislation, information, community involvement, andemployee representation. The National FOP PAC is the power behind our organization's punch onCapitol Hill, representing its members in the most effective way possible.Our challenge to you is to have each and every FOP member in yourdepartment, lodge, and State commit $5.00 a month to the NFOP PAC.Please contact the National Legislative Office to learn about the variousways you can contribute to the NFOP PAC.
Page 18
@GLFOP@FOPNATIONALNATIONAL FRATERNAL ORDER OF POLICETIM RICHARDSONSenior Legislative Liaison JIM PASCOExecutive DirectorMARK MCDONALDLegislative Liaison DAVID TABOHLegislative Liaison JESSICA CAHILLPress Liaison MATT BROWNLegislative Liaison 328 MASSACHUSETTS AVE NE, WASHINGTON, D.C. 20002PHONE: 202-547-8189 ▪ FAX: 202-547-8190WASHINGTON D.C. STAFF