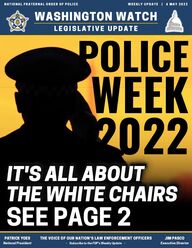 Return to flip book view
FOP Update - May 6, 2022
Page 1
Page 2
L I S T E N T O E P I S O D ECLICK TO SUBSCRIBEOn this week's episode of the Blue View, National President Patrick Yoes satdown with Todd Axtell, Chief of Police for the City of Saint Paul, Minnesota todiscuss Chief Axtell's "bank of trust" philosophy—one which views every callfor service, conversation, and community interaction as an opportunity tomake a deposit. This philosophy has allowed the department to maintain itsstellar reputation and strengthen its ties despite the historic civil unrest, aglobal pandemic, and several high-profile crises.IT'S ALLABOUT THEWHITE CHAIRS Narrated by NationalPresident Patrick Yoes
Page 3
National President Patrick Yoes participated in numerous planning meetingsfor Police Week 2022 and the FOP's 41st Annual Peace Officers' MemorialService.National President Patrick Yoes participated in numerous planning meetingsfor the National FOP Healthcare Trust. National President Patrick Yoes gave numerous media interviews regardinglaw enforcement line-of-duty deaths and the increase of violence towards lawenforcement officers across the country. Executive Director Jim Pasco spoke with U.S. Attorney General Merrick B.Garland regarding law enforcement priorities. Executive Director Jim Pasco spoke with U.S. Homeland Security SecretaryAlejandro N. Mayorkas regarding border security issues and the formation ofthe Disinformation Governance Board of the U.S. Department of HomelandSecurity (DHS).Executive Director Jim Pasco spoke with U.S. Associate Attorney GeneralVanita Gupta regarding the National Consensus Policy on the Use of Forceand the numerous Office of Community Oriented Policing Services (COPS)grant programs.
Page 4
Executive Director Jim Pasco gave numerous media interviews regarding theFiscal Year 2023 budget request, criminal justice reform, the nationwideincrease in violent crime, and the recent rulemaking by the DOJ on ghostguns. Senior Legislative Liaison Tim Richardson spoke with staff in the office ofSenator Charles E. Grassley (R-IA) regarding a bill he's recently introduced S.4116, the "Start Making Adjustments and Require Transparency (SMART) inCocaine Sentencing Act."Senior Legislative Liaison Tim Richardson had several different conferencecalls with staff in the offices of Senators L. Tammy Duckworth (D-IL) andJohn Cornyn III (R-TX), and Representative David J. Trone (D-MD) to discussmoving the "Public Safety Officers Support Act."Senior Legislative Liaison Tim Richardson spoke with staff in the office ofSenator T. Jonathan Ossoff (D-GA) regarding potentially introducing a Senatecompanion to H.R. 2992, the "TBI and PTSD Law Enforcement Training Act."Senior Legislative Liaison Tim Richardson and Legislative Liaison DavidTaboh spoke with staff in the office of Representative Joshua S. Gottheimer(D-NJ) regarding draft legislation entitled "Their Lives Count Act," whichwould propose the collection of information regarding social media platformsconnection to criminal activity.
Page 5
THE U.S. HOUSE OF REPRESENTATIVESTHE UNITED STATES SENATEThe Senate Committee on Appropriations' Subcommittee on HomelandSecurity held a hearing entitled "A Review of the President's Fiscal Year 2023Funding Request for the U.S. Department of Homeland Security." Providingtestimony was U.S. Homeland Security Secretary Alejandro N. Mayorkas.The House was in a pro-forma session this week.The Senate Committee on Homeland Security and Governmental Affairs helda hearing entitled "Securing and Ensuring Order on the Southwest Border."Discussed were the challenges facing stakeholders when attempting tosecure the border.
Page 6
COSPONSORS74272198H.R. 82The "Law Enforcement Officers' Equity Act" would expand the definition of "lawenforcement officer" for salary and retirement benefits to include all Federal lawenforcement officers.The "Public Safety Employer-Employee Cooperation Act" would recognize theright of law enforcement and other public safety officers to bargain collectivelywith their employers.COSPONSORS103222H.R. 3225COSPONSORS143S. 1888NOT YET INTRODUCED IN THE SENATECOSPONSORS249672H.R. 962COSPONSORS43935S. 1302The "Social Security Fairness Act" would repeal both the "Windfall EliminationProvision" and the "Government Pension Offset" in current Social Security law.
Page 7
The "LEOSA Reform Act" would amend the Law Enforcement Officers' Safety Act(LEOSA), exempts qualified active and retired law enforcement officers fromlocal and State prohibitions on the carriage of concealed firearms, to ensure thatthese officers are able to carry in the same venues as civilian concealed carrypermit holders in areas like schools and national parks, as well as use publictransportation and extends the exemption to magazine capacity and would allowactive and retired law enforcement officers to access services at U.S. postoffices, Social Security Administration offices or Veterans Affairs facilities.COSPONSORS220S. 1610COSPONSORS57581H.R. 1210The "Protect and Serve Act" would make it a Federal crime to target a lawenforcement officer with an assault that results in seriously bodily harm or death.COSPONSORS23230S. 774COSPONSORS67736H.R. 3079MORE RESOURCES ON OUR LEGISLATIVE PRIORITIESFULL LIST OF LEGISLATION SUPPORTED BY THE FOP
Page 8
SUBSCRIBECOMMON-SENSE APPROACH TOCRIMINAL JUSTICEFeaturing U.S. Associate Attorney General VanitaGuptaThe U.S. Department of Justice is tasked with enforcingthe law, defending the interests of the United States,and ensuring public safety. This is no small task. Ittakes a team of committed public servants to... MOREEPISODE #011WEDNESDAY, 27 APRILTHE BLUE VIEWby the National Fraternal Order of PoliceNational President Patrick Yoes sits down withguests to discuss the issues and current eventssurrounding the law enforcement community.Each week you'll hear from law enforcementexperts, elected officials, and notable leaders!WHAT IS THE BANK OF TRUST? Featuring Saint Paul Police Chief Todd AxtellThey are known as the "Twin Cities." But when it comesto how some in the community view law enforcement,Minneapolis and St. Paul couldn't be further apart. In2020, America witnessed a tragedy unfold inMinneapolis, triggering weeks of riots and civil unrest.Just a few miles east, the St. Paul police chief... MOREEPISODE #012TUESDAY, 3 MAY
Page 9
Justice Department Issues Statement onthe Administration's Counter UnmannedAircraft Systems (C-UAS) National ActionPlan and Legislative Proposal [DOJ]For almost four years, the Department ofJustice has responsibly used the... More81% of Registered Voters Say Crime isMajor Problem in the U.S. 72% say theytrust the FOPBill named for Culpeper police veteranwho's fought 15 years for tax benefit[Culpeper Star-Exponent]A poll, commissioned by the Fraternal Order ofthe Police and conducted by Morning Consult,shows that a vast majority of registered... MoreNever climb into a boxing ring with WallyBunker. This tough, smart ex-cop will float likea butterfly and sting you like a swarm... MoreThe National Fraternal Order of Police reportsthat as of 1 May, there have been 123 officersshot so far in 2022, 19 of whom were killed bygunfire. There have been 25 ambush... MoreFOP Monthly Update: Officers Shot andKilled
Page 10
SOCIAL SECURITYThis is About Fairness! UrgeCongress to Pass the "SocialSecurity Fairness Act"TAKE ACTIONFEDERAL OFFICERSSupport Our Federal Officers byPassing the "Law EnforcementOfficers' Equity Act"TAKE ACTIONLEOSA REFORMSupport Active and Retired LawEnforcement Officers by Passingthe "LEOSA Reform Act"TAKE ACTIONPROTECT AND SERVEUrge Congress to Protect OurPolice Officers and Pass the"Protect and Serve Act"TAKE ACTIONHELPER ACTSupport Law Enforcement! Tell Congress to Pass H.R. 3172/S. 2981TAKE ACTIONCOLLECTIVE BARGAININGWe Must Fight for the Right toBargain Collectively! UrgeCongress to Pass H.R. 3225TAKE ACTION
Page 11
Been Exposed?Are You Sick?VIEW A STATE-BY-STATE BREAKDOWNCOVID-19 Information for Law EnforcementProtecting Public Safety and HealthFRATERNAL ORDER OF POLICEWWW. F O P C O V I D 1 9 . O R GREAD MORE READ MOREREAD MOREThe National FOP provided FOP members with updated information,released by the Federal Emergency Management Agency, regardingpublic assistance for state, local, and tribal governments.MAY 6
Page 12
LEARN MORE LEARN MORELEARN MORELEARN MOREOn the Blue View, a weekly podcastpresented by the National FraternalOrder of Police, you'll hear from lawenforcement experts, electedofficials, and other notable leadersto gain insight into the issues andcurrent events surrounding the lawenforcement community. The Collaborative Reform InitiativeTechnical Assistance Center (CRI-TAC) provides no cost, customizedtechnical assistance solutionsdesigned to meet the uniqueneeds of state, local, tribal, &campus law enforcement agenciesthroughout the United States.The COPS Office awards grants tohire community policingprofessionals, develop and testinnovative policing strategies, andprovide training and technicalassistance to community members,local government leaders, and alllevels of law enforcement. The Office of Justice Programs (OJP)provides innovative leadership toFederal, state, local, and tribal justicesystems, by disseminating state-of-theart knowledge and practices, andproviding grants for theimplementation of these crimefighting strategies.
Page 13
Page 14
DONATEClick HereDONATEClick HereCAN YOU CHIP IN $5?The Fraternal Order of Police is committed to improving the workingconditions of law enforcement officers and the safety of those we servethrough education, legislation, information, community involvement, andemployee representation. The National FOP PAC is the power behind our organization's punch onCapitol Hill, representing its members in the most effective way possible.Our challenge to you is to have each and every FOP member in yourdepartment, lodge, and State commit $5.00 a month to the NFOP PAC.Please contact the National Legislative Office to learn about the variousways you can contribute to the NFOP PAC.
Page 15
TIM RICHARDSONSenior Legislative Liaison JIM PASCOExecutive DirectorMARK MCDONALDLegislative Liaison DAVID TABOHLegislative Liaison MATT BROWNLegislative Liaison