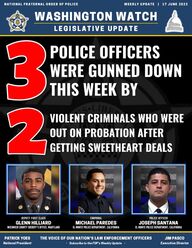 Return to flip book view
FOP Update - June 17, 2022
Page 1
Page 2
L I S T E N T O E P I S O D ECLICK TO SUBSCRIBENational President Patrick Yoes worked out of the Government and MediaAffairs Center in Washington, D.C. this week.On this week's episode of the Blue View, National President Patrick Yoes satdown with Deputy James Craigmyle, a K9 trainer and former SWAT K9handler, to discuss the role of a K9 partner and his time on Live PD.National President Patrick Yoes attended the Florida State FOP Conferencehosted in Orlando, Florida.National President Patrick Yoes attended the Georgia State FOP Conferencehosted in St. Simon Island, Georgia. National President Patrick Yoes attended the West Virginia State FOPConference hosted in Charleston, West Virginia.
Page 3
National President Patrick Yoes gave numerous media interviews regardinglaw enforcement line-of-duty deaths and the increase of violence towards lawenforcement officers across the country. Executive Director Jim Pasco spoke with U.S. Homeland Security SecretaryAlejandro N. Mayorkas regarding the southwest border and the recentlysigned Executive Order on Advancing Effective, Accountable Policing andCriminal Justice Practices to Enhance Public Trust and Public Safety. National President Patrick Yoes attended the National Law EnforcementOfficers Memorial Fund (NLEOMF) Board Meeting hosted in Washington, D.C.Executive Director Jim Pasco spoke with numerous House and Senatestaffers involved in the negotiations on firearms legislation.Executive Director Jim Pasco spoke with U.S. Associate Attorney GeneralVanita Gupta regarding the U.S. Department of Justice's (DOJ) review of theUvalde, Texas school shooting tragedy.
Page 4
Senior Legislative Liaison Tim Richardson participated in a stakeholder callto discuss H.R. 2992, the "TBI and PTSD Law Enforcement Training Act,"which is currently pending before the Senate.Senior Legislative Liaison Tim Richardson represented the FOP on a call withSenate staff to brief stakeholder organizations on the agreement in principleon a bipartisan framework to amend certain Federal firearms law.Executive Director Jim Pasco spoke with numerous reporters regarding therecently signed Executive Order as well as the ongoing negotiations onfirearms legislation.Senior Legislative Liaison Tim Richardson and Legislative Liaison DavidTaboh spoke with staff in the offices of Representatives Rodney L. Davis (R-IN) and Abigail A. Spanberger (D-VA) regarding efforts to get H.R. 82, the"Social Security Fairness Act," to the House floor.Senior Legislative Liaison Tim Richardson spoke with majority staff on theCommittee on Ways and Means about the "Wally Bunker HealthcareEnhancement for Local Public Safety (HELPS) Retirees Act."Senior Legislative Liaison Tim Richardson spoke with staff in the office ofSenator Sheldon Whitehouse (D-RI) about draft legislation that wouldestablish a Federal Certifying Commission.
Page 5
THE U.S. HOUSE OF REPRESENTATIVESThe House Committee on Natural Resources favorably reported H.R. 263, the "BigCat Public Safety Act," as amended, on a 25-17 vote. The bill, which wouldprohibit private individuals from possessing lions, tigers, leopards, cheetahs,jaguars or cougars, will now go to the House for a full vote. The FOP supports.[25-14 vote] H.R. 5768, the "Violent Incident Clearance and TechnologicalInvestigative Methods (VICTIM) Act," would establish a grant programadministered by the U.S. Department of Justice (DOJ) to help State, Tribal, andlocal law enforcement agencies improve their clearance rates for homicides andnon-fatal shootings; and[Voice vote] H.R. 6538, the "Active Shooter Alert Act," would establish a nationalcoordinator within the U.S. Department of Justice (DOJ) to establish andadminister an Active Shooter Alert Communications Network.The House Committee on Judiciary held a markup for numerous FOP-supportedbills. These bills were favorably reported and will now be sent to the House floorfor a vote:The House passed S. 4160, the "Supreme Court Police Parity Act," on a 396-27vote. This bill would provide police protection to the immediate families ofJustices on the Supreme Court of the United States (SCOTUS). This protectionwould be determined necessary by the Marshal of the Supreme Court. This billpassed the Senate in May, but it was delayed in passing the House in its currentform. The bill will now be sent to the President's desk to be signed into law.
Page 6
THE UNITED STATES SENATEThe Senate Committee on Judiciary held a hearing entitled "ProtectingAmerica's Children From Gun Violence." This hearing examined potentialFederal solutions to counter future instances of firearm violence impactingchildren at schools. Providing testimony at this hearing was Jeri L. Williams,Chief of Police for the Phoenix Police Department, among other relevantstakeholders.The Senate Committee on Judiciary held an executive business meeting tovote on numerous nominations including the nomination of Steven M.Dettelbach to be the next Director of the Bureau of Alcohol, Tobacco,Firearms and Explosives (ATF). The Committee failed to favorably report thisnomination on an 11-11 vote, however the nomination was discharged on a52-41 vote and will now head to the Senate floor for a full vote. The Senate Appropriations' Subcommittee on Financial Services and GeneralGovernment held a hearing entitled "Fiscal Year 2023 Budget Request for theTreasury Office of Terrorism and Financial Intelligence, and the TreasuryFinancial Crimes Enforcement Network."The Senate Committee on Appropriations' Subcommittee on Labor, Healthand Human Services, Education, and Related Agencies held a hearingentitled "Fiscal Year 2023 Budget Request for the United States Departmentof Labor."
Page 7
COSPONSORS76279203H.R. 82The "Law Enforcement Officers' Equity Act" would expand the definition of "lawenforcement officer" for salary and retirement benefits to include all Federal lawenforcement officers.The "Public Safety Employer-Employee Cooperation Act" would recognize theright of law enforcement and other public safety officers to bargain collectivelywith their employers.COSPONSORS103222H.R. 3225COSPONSORS143S. 1888NOT YET INTRODUCED IN THE SENATECOSPONSORS2510277H.R. 962COSPONSORS44036S. 1302The "Social Security Fairness Act" would repeal both the "Windfall EliminationProvision" and the "Government Pension Offset" in current Social Security law.
Page 8
The "LEOSA Reform Act" would amend the Law Enforcement Officers' Safety Act(LEOSA), exempts qualified active and retired law enforcement officers fromlocal and State prohibitions on the carriage of concealed firearms, to ensure thatthese officers are able to carry in the same venues as civilian concealed carrypermit holders in areas like schools and national parks, as well as use publictransportation and extends the exemption to magazine capacity and would allowactive and retired law enforcement officers to access services at U.S. postoffices, Social Security Administration offices or Veterans Affairs facilities.COSPONSORS220S. 1610COSPONSORS57581H.R. 1210The "Protect and Serve Act" would make it a Federal crime to target a lawenforcement officer with an assault that results in seriously bodily harm or death.COSPONSORS23230S. 774COSPONSORS80866H.R. 3079MORE RESOURCES ON OUR LEGISLATIVE PRIORITIESFULL LIST OF LEGISLATION SUPPORTED BY THE FOP
Page 9
Featuring National Vice President Joe GamaldiThere's been a lot of people recentlytalking about the revolving-door criminaljustice system and the deadly policies ofrogue prosecutors. What they are sayingnow, the Fraternal Order of Police wassaying nearly 800 days ago. In Decemberof 2019, FOP leaders from across thecountry met at the White House... MOREAMERICA'S CRIME CRISISSUBSCRIBETHE BLUE VIEW PODCASTNational President Patrick Yoes sits down with guests todiscuss the issues and current events surrounding the lawenforcement community. Each week you'll hear from lawenforcement experts, elected officials, and notable leaders!Featuring Deputy Sheriff James CraigmyleAn important member of the lawenforcement family, often undervalued,is a K9 partner. These partners assist lawenforcement in numerous ways includingnarcotic operations, inspecting vehicles,collecting evidence, assisting in missingperson cases, and rescue... MORETHE K9 PARTNER
Page 10
S. 4312, the "Police and Fire Health CareProtection Act"I am writing on behalf of the members of theFraternal Order of Police to advise you of ourstrong support for S. 4312, the "Police and FireHealth Care Protection Act"... MoreIACP and FOP Praise Senate Deal onFirearmsThe Fraternal Order of Police (FOP) and theInternational Association of Chiefs of Police(IACP) applaud today's news that a bipartisanagreement has been reached in the... MoreI am writing on behalf of the membership of theFraternal Order of Police to urge you todischarge H.R. 82, the "Social Security... MoreNational President Patrick Yoes Calls forAction on H.R. 82, the "Social SecurityFairness Act"House Judiciary Committee Advances BillsAddressing Law Enforcement Hiring AndActive Shooting IncidentsPatrick Yoes, National President of theFraternal Order of Police, welcomed the newsthat H.R. 5768, the "Violent Incident Clearanceand Technological Investigative... More
Page 11
Suspected El Monte cop killer given pleadeal by Gascón's office last year [Fox11]State Troopers Now Patrolling High-Crime Areas in Philly [NBC 10]The public safety program, named "OperationTrigger Lock," has state police working withPhiladelphia Police highway patrol officers inselect locations throughout the city... MoreIntentional attacks on law enforcement aregoing up compared to this time last year in2020, according to data from the FraternalOrder of Police... MoreThe city of El Monte is mourning two policeofficers killed in the line of duty and now, someare saying their alleged killer should have beenbehind bars... MoreAttacks on police officers on the rise[NewsNation]Why the man accused of killing aWicomico Sheriff's Deputy was givenprobation [ABC 7]TAustin Davidson is now charged with themurder of Wicomico County Sheriff's Deputy1st Class Glenn Hillard and is connected to acrime in Baltimore City... More
Page 12
SOCIAL SECURITYThis is About Fairness! UrgeCongress to Pass the "SocialSecurity Fairness Act"TAKE ACTIONFEDERAL OFFICERSSupport Our Federal Officers byPassing the "Law EnforcementOfficers' Equity Act"TAKE ACTIONLEOSA REFORMSupport Active and Retired LawEnforcement Officers by Passingthe "LEOSA Reform Act"TAKE ACTIONPROTECT AND SERVEUrge Congress to Protect OurPolice Officers and Pass the"Protect and Serve Act"TAKE ACTIONHELPER ACTSupport Law Enforcement! Tell Congress to Pass H.R. 3172/S. 2981TAKE ACTIONCOLLECTIVE BARGAININGWe Must Fight for the Right toBargain Collectively! UrgeCongress to Pass H.R. 3225TAKE ACTION
Page 13
Been Exposed?Are You Sick?VIEW A STATE-BY-STATE BREAKDOWNCOVID-19 Information for Law EnforcementProtecting Public Safety and HealthFRATERNAL ORDER OF POLICEW W W .FOPCOVID19.ORGOFFICERS HAVE DIED DUE TO COVID-19AS OF 17 JUNE 2022READ MORE READ MOREREAD MOREAs COVID cases have declined and restrictions have been eased, there havebeen fewer newsworthy developments regarding the state of the pandemicand available resources germane to law enforcement. For this reason, thiswebsite will no longer be updated on a regular basis, but we will certainlyprovide any new and relevant information as it becomes available.JUNE 17
Page 14
LEARN MORE LEARN MORELEARN MORELEARN MOREOn the Blue View, a weekly podcastpresented by the National FraternalOrder of Police, you'll hear from lawenforcement experts, electedofficials, and other notable leadersto gain insight into the issues andcurrent events surrounding the lawenforcement community. The Collaborative Reform InitiativeTechnical Assistance Center (CRI-TAC) provides no cost, customizedtechnical assistance solutionsdesigned to meet the uniqueneeds of state, local, tribal, &campus law enforcement agenciesthroughout the United States.The COPS Office awards grants tohire community policingprofessionals, develop and testinnovative policing strategies, andprovide training and technicalassistance to community members,local government leaders, and alllevels of law enforcement. The Office of Justice Programs (OJP)provides innovative leadership toFederal, state, local, and tribal justicesystems, by disseminating state-of-theart knowledge and practices, andproviding grants for theimplementation of these crimefighting strategies.
Page 15
Page 16
DONATEClick HereDONATEClick HereCAN YOU CHIP IN $5?The Fraternal Order of Police is committed to improving the workingconditions of law enforcement officers and the safety of those we servethrough education, legislation, information, community involvement, andemployee representation. The National FOP PAC is the power behind our organization's punch onCapitol Hill, representing its members in the most effective way possible.Our challenge to you is to have each and every FOP member in yourdepartment, lodge, and State commit $5.00 a month to the NFOP PAC.Please contact the National Legislative Office to learn about the variousways you can contribute to the NFOP PAC.
Page 17
TIM RICHARDSONSenior Legislative Liaison JIM PASCOExecutive DirectorMARK MCDONALDLegislative Liaison DAVID TABOHLegislative Liaison MATT BROWNLegislative Liaison