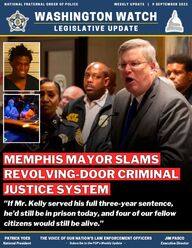 Return to flip book view
FOP Update - 9 September 2022
Page 1
WASHINGTON WATCHN A T I O N A L F R A T E R N A L O R D E R O F P O L I C E W E E K L Y U P D A T E | 9 S E P T E M B E R 2 0 2 2L E G I S L A T I V E U P D A T EJIM PASCOPATRICK YOES THE VOICE OF OUR NATION'S LAW ENFORCEMENT OFFICERSExecutive DirectorNational President- Subscribe to the FOP's Weekly Update -
Page 2
LEGISLATIVE NEWS ACTIVITY National President Patrick Yoes worked out of the Government and Media Affairs Center in Washington D C National President Patrick Yoes met with the Director of the Bureau of Alcohol Tobacco Firearms and Explosives ATF Steven M Dettelbach and ATF Deputy Director Marvin G Richardson National President Patrick Yoes met with Kenneth Spencer Chairman of the Fraternal Order of Police United States Park Police Labor Committee USPPFOP and Mike Shalton USPPFOP Board Member to discuss various lodge and legislative issues On this week s episode of the Blue View National President Patrick Yoes sat down with Mike Essig President of the New York State Fraternal Order of Police to discuss the 21 years since terrorist attacks on September 11 and the profound impact it had on America and our law enforcement officers L I STEN TO EPI SODE NATIONAL FRATERNAL ORDER OF POLICE CLICK TO SUBSCRIBE GLFOP FOPNATIONAL
Page 3
@GLFOP@FOPNATIONALNATIONAL FRATERNAL ORDER OF POLICELEG I S LAT I V E N E W S & A CTI V I TYNational President Patrick Yoes traveled toLexington, Kentucky to attend the KentuckyState FOP Conference.Executive Director Jim Pasco spokewith ATF Deputy Director Marvin G. Richardson regarding logistics forthe National FOP's upcomingExecutive Board meeting.National President Patrick Yoes gave numerous media interviews regardinglaw enforcement line-of-duty deaths, the increase of violence toward lawenforcement officers across the country, as well as the recruitment andretention crisis.Executive Director Jim Pasco spoke with U.S. Associate Attorney GeneralVanita Gupta regarding the recruitment and retention issue that lawenforcement agencies across the country are experiencing. Executive Director Jim Pasco spoke with Heather Fong, Counselor to theSecretary of Homeland Security, regarding the growing threats to lawenforcement officers nationwide.
Page 4
@GLFOP@FOPNATIONALNATIONAL FRATERNAL ORDER OF POLICELEG I S LAT I V E N E W S & A CTI V I TYExecutive Director Jim Pasco gave numerous media interviews regardingvarious topics, including the recruitment and retention issue that agencies arefacing nationwide as well as the surge in violent crime.Senior Legislative Liaison Tim Richardson represented the FOP at an in-person stakeholder meeting with staff in the office of Representative StevenJ. Scalise (R-LA), the House Minority Whip, to discuss changes to H.R. 8152,the "America Data Privacy and Protection Act."Senior Legislative Liaison Tim Richardson and Legislative Liaison Matt Brownparticipated in a conference call with staff in the office of Senator Michael F.Bennet (D-CO) to discuss public safety collective bargaining issues.Senior Legislative Liaison Tim Richardson and Legislative Liaison DavidTaboh participated in a conference call led by the staff of the sponsors of the"Social Security Fairness Act," Representatives Rodney L. Davis (R-IL) andAbigail A. Spanberger (D-VA), to discuss developments related to H.R. 82 inthe House.PASS H.R. 82CONTACT YOUR REPRESENTATIVE
Page 5
@GLFOP@FOPNATIONALNATIONAL FRATERNAL ORDER OF POLICETHI S WEE K IN W A SHI N G TONTHE U.S. HOUSE OF REPRESENTATIVESTHE UNITED STATES SENATEThe House was in a pro-forma session this week.The Senate Committee on Judiciary held an executive business meeting toconsider numerous judicial nominations and pending legislation. Additionally,the Senate confirmed multiple judicial nominees that had previouslyadvanced through the Judiciary Committee.
Page 6
@GLFOP@FOPNATIONALNATIONAL FRATERNAL ORDER OF POLICECOSPONSORS88296208H.R. 82The "Law Enforcement Officers' Equity Act" would expand the definition of "lawenforcement officer" for salary and retirement benefits to include all Federal lawenforcement officers.The "Public Safety Employer-Employee Cooperation Act" would recognize theright of law enforcement and other public safety officers to bargain collectivelywith their employers.LAW ENFORCEMENT OFFICERS' EQUITYSOCIAL SECURITY FAIRNESSCOLLECTIVE BARGAINING RIGHTSCOSPONSORS103424H.R. 3225COSPONSORS153S. 1888NOT YET INTRODUCED IN THE SENATECOSPONSORS2510378H.R. 962COSPONSORS44238S. 1302TOP L EGI S L ATI V E PR I O RIT I E SThe "Social Security Fairness Act" would repeal both the "Windfall EliminationProvision" and the "Government Pension Offset" in current Social Security law.+2 NEW
Page 7
@GLFOP@FOPNATIONALNATIONAL FRATERNAL ORDER OF POLICEThe "LEOSA Reform Act" would amend the Law Enforcement Officers' Safety Act(LEOSA), exempts qualified active and retired law enforcement officers fromlocal and State prohibitions on the carriage of concealed firearms, to ensure thatthese officers are able to carry in the same venues as civilian concealed carrypermit holders in areas like schools and national parks, as well as use publictransportation and extends the exemption to magazine capacity and would allowactive and retired law enforcement officers to access services at U.S. postoffices, Social Security Administration offices or Veterans Affairs facilities.LEOSA REFORMCOSPONSORS220S. 1610COSPONSORS58591H.R. 1210PROTECT AND SERVEThe "Protect and Serve Act" would make it a Federal crime to target a lawenforcement officer with an assault that results in seriously bodily harm or death.COSPONSORS23230S. 774COSPONSORS81898H.R. 3079MORE RESOURCES ON OUR LEGISLATIVE PRIORITIESFULL LIST OF LEGISLATION SUPPORTED BY THE FOPLEG I S LAT I V E P R I ORI T I ES
Page 8
@GLFOP@FOPNATIONALNATIONAL FRATERNAL ORDER OF POLICEBLU E VIE W POD C A STFeaturing Robert GaddyLeveraging the diversity of this great nationhas become an important aspect of runninga successful law enforcement agency.When members of the public believe theirlaw enforcement organizations representthem, understand them, and respond tothem; and when communities... MORELEVERAGING DIVERSITY TO OVERCOME ADVERSITYFeaturing Mike EssigSeptember 11th, 2001 is a day that willnever be forgotten. On that day, 2,977Americans were killed in a series of horrificterrorist attacks. Thousands of lawenforcement officers and other firstresponders would die in the ensuing yearsbecause of their exposure to toxic... MOREWHEN THE TOWERS FELL AND THE YEARS SINCESUBSCRIBETHE BLUE VIEW PODCASTNational President Patrick Yoes sits down with guests todiscuss the issues and current events surrounding the lawenforcement community. Each week you'll hear from lawenforcement experts, elected officials, and notable leaders!
Page 9
@GLFOP@FOPNATIONALNATIONAL FRATERNAL ORDER OF POLICEFOP N EWS R O OMEzekiel Kelly, the suspect in a shooting spreethat left four dead and three wounded inMemphis, Tennessee, appeared in court for thefirst time Friday and was ordered held... MORESuspect in Memphis shooting spree thatleft 4 dead and 3 wounded is ordered heldwithout bond [NBC News]Violent crime prosecutions are not keepingpace with violent crime... MOREColorado violent crime rising, but notprosecutions [Fox 31]Cleveland voters approved Issue 24 lastNovember, which provides more oversight forCleveland Police. But Issue 24 continues to bea reason many officers cite for leaving thedepartment, according to exit... MOREMore Cleveland Police officers leavingdepartment compared to last year [WOIO]ICYMI: FOP Monthly Update: OfficersShot and Killed The National Fraternal Order of Police reportsthat as of 31 August, there have been 234officers shot so far in 2022, 45 of whom werekilled by gunfire... More
Page 10
MAKE Y URVOICE HEARD@GLFOP@FOPNATIONALNATIONAL FRATERNAL ORDER OF POLICEFOP A CTI O N CE N T ERSOCIAL SECURITYThis is About Fairness! UrgeCongress to Pass the "SocialSecurity Fairness Act"TAKE ACTIONFEDERAL OFFICERSSupport Our Federal Officers byPassing the "Law EnforcementOfficers' Equity Act"TAKE ACTIONLEOSA REFORMSupport Active and Retired LawEnforcement Officers by Passingthe "LEOSA Reform Act"TAKE ACTIONPROTECT AND SERVEUrge Congress to Protect OurPolice Officers and Pass the"Protect and Serve Act"TAKE ACTIONHELPER ACTSupport Law Enforcement! Tell Congress to Pass H.R. 3172/S. 2981TAKE ACTIONCOLLECTIVE BARGAININGWe Must Fight for the Right toBargain Collectively! UrgeCongress to Pass H.R. 3225TAKE ACTION
Page 11
Been Exposed?Are You Sick?VIEW A STATE-BY-STATE BREAKDOWNCOVID-19 Information for Law EnforcementProtecting Public Safety and HealthFRATERNAL ORDER OF POLICEWW W.F OPC OVID1 9.O RGOFFICERS HAVE DIED DUE TO COVID-19AS OF 9 SEPTEMBER 2022COVID-19 VaccineMandates in PublicSector EmploymentQUESTIONS & ANSWERSREAD MORE READ MOREPOLICY STATEMENTCOVID-19 VaccineRequirements andMandates@GLFOP@FOPNATIONALNATIONAL FRATERNAL ORDER OF POLICECOV I D -19 A CTI V I TYREAD MOREAs COVID cases have declined and restrictions have been eased, there havebeen fewer newsworthy developments regarding the state of the pandemicand available resources germane to law enforcement. For this reason, thiswebsite will no longer be updated on a regular basis, but we will certainlyprovide any new and relevant information as it becomes available.9 SEPTEMBER
Page 12
@GLFOP@FOPNATIONALNATIONAL FRATERNAL ORDER OF POLICELEARN MORE LEARN MORELEARN MORELEARN MOREOn the Blue View, a weekly podcastpresented by the National FraternalOrder of Police, you'll hear from lawenforcement experts, electedofficials, and other notable leadersto gain insight into the issues andcurrent events surrounding the lawenforcement community. The Collaborative Reform InitiativeTechnical Assistance Center (CRI-TAC) provides no cost, customizedtechnical assistance solutionsdesigned to meet the uniqueneeds of state, local, tribal, &campus law enforcement agenciesthroughout the United States.The COPS Office awards grants tohire community policingprofessionals, develop and testinnovative policing strategies, andprovide training and technicalassistance to community members,local government leaders, and alllevels of law enforcement. The Office of Justice Programs (OJP)provides innovative leadership toFederal, state, local, and tribal justicesystems, by disseminating state-of-theart knowledge and practices, andproviding grants for theimplementation of these crimefighting strategies. U.S. DEPARTMENT OF JUSTICEOFFICE OF JUSTICEPROGRAMSADD I T ION A L RE S O URC E S
Page 13
@GLFOP@FOPNATIONALNATIONAL FRATERNAL ORDER OF POLICE
Page 14
@GLFOP@FOPNATIONALNATIONAL FRATERNAL ORDER OF POLICEDONATEClick HereDONATEClick HerePOL I T ICA L ACT I O N C O M MIT T E ECAN YOU CHIP IN $5?The Fraternal Order of Police is committed to improving the workingconditions of law enforcement officers and the safety of those we servethrough education, legislation, information, community involvement, andemployee representation. The National FOP PAC is the power behind our organization's punch onCapitol Hill, representing its members in the most effective way possible.Our challenge to you is to have each and every FOP member in yourdepartment, lodge, and State commit $5.00 a month to the NFOP PAC.Please contact the National Legislative Office to learn about the variousways you can contribute to the NFOP PAC.
Page 15
@GLFOP@FOPNATIONALNATIONAL FRATERNAL ORDER OF POLICETIM RICHARDSONSenior Legislative Liaison JIM PASCOExecutive DirectorMARK MCDONALDLegislative Liaison DAVID TABOHLegislative Liaison MATT BROWNLegislative Liaison 328 MASSACHUSETTS AVE NE, WASHINGTON, D.C. 20002PHONE: 202-547-8189 ▪ FAX: 202-547-8190W A S H I N G T O N D . C . S T A F F