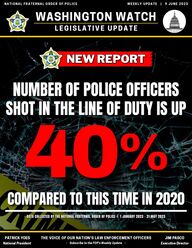 Return to flip book view
FOP Update - 9 June 2023
Page 1
WASHINGTON WATCHN A T I O N A L F R A T E R N A L O R D E R O F P O L I C E W E E K L Y U P D A T E | 9 J U N E 2 0 2 3L E G I S L A T I V E U P D A T EJIM PASCOPATRICK YOES THE VOICE OF OUR NATION'S LAW ENFORCEMENT OFFICERSExecutive DirectorNational President- Subscribe to the FOP's Weekly Update -
Page 2
@GLFOP @FOPNATIONALNATIONAL FRATERNAL ORDER OF POLICENational President Patrick Yoes participated in a meeting of the National LawEnforcement Officers Memorial Fund Executive Committee. National President Patrick Yoes participated in a planning meeting for the 66thBiennial National Conference and Exposition in Las Vegas, Nevada this August.National President Patrick Yoes participated in a meeting with members of theNational FOP's Board of Trustees.National President Patrick Yoes traveled to Las Cruses,New Mexico, to attend the New Mexico State FOPConference.LEGISLATIVE NEWS & ACTIVITY
Page 3
@GLFOP @FOPNATIONALNATIONAL FRATERNAL ORDER OF POLICELEGISLATIVE NEWS & ACTIVITYOn this week's episode of the Blue View Podcast, National President Patrick Yoessat down with John Bostain, the President of Command Presence Training. He hascommitted the last 26 years to law enforcement, 24 of which have been as a trainer.He has trained more than 25,000 law enforcement professionals at the state, local,federal, and international levels and is a frequent speaker at national lawenforcement conferences.LISTEN TO EPISODE CLICK TO SUBSCRIBENational President Patrick Yoes gave numerous media interviews regarding lawenforcement challenges on the horizon, the recruitment and retention crisis, and theNational FOP's data showing a rise in the number of officers shot in the line of duty.
Page 4
@GLFOP @FOPNATIONALNATIONAL FRATERNAL ORDER OF POLICELEGISLATIVE NEWS & ACTIVITYExecutive Director Jim Pasco spoke with Associate U.S. Attorney General VanitaGupta to discuss opportunities for action in the area of officer wellness.Executive Director Jim Pasco spoke with Heather J. Fong, Counselor to theSecretary of Homeland Security, regarding problems with Western Hemispherevisas.Executive Director Jim Pasco met with Dwight Henninger, Senior Law EnforcementPartnership Advisor within the Bureau of Alcohol, Tobacco, Firearms and Explosives(ATF), and Terry Cunningham, Deputy Executive Director of the InternationalAssociation of Chiefs of Police (IACP), to discuss enhancing ATF's already strongrelationship with State and local law enforcement.Senior Legislative Liaison Tim Richardson represented FOP on a call with the Officeof Science and Technology Policy (OSTP) and the Bureau of Justice Statistics at theU.S. Department of Justice to discuss a new report, "Equity and Law EnforcementData Collection, Use, and Transparency."
Page 5
@GLFOP @FOPNATIONALNATIONAL FRATERNAL ORDER OF POLICESenior Legislative Liaison Tim Richardson met with staffin the office of Senator Robert P. Casey, Jr. (D-PA) todiscuss S. 894, the "Public Safety Concussions andTraumatic Brain Injury Health Act,"; S. 1514, the "Homesfor Every Local Protector, Educator, and Responder(HELPER) Act,"; the "Protect and Serve Act," and otherFOP priorities.Legislative Liaison Asa Render spoke with staff in the office of John E. James (R-MI) to discuss potential legislative solutions to the recruitment and retention crisis.Senior Legislative Liaison Tim Richardson and Legislative Liaison David Tabohrepresented the FOP at organization stakeholder's meeting hosted byRepresentatives Garret N. Graves (R-LA) and Abigail D. Spanberger (D-VA), alongwith Representative Julia J. Letlow (R-LA), to discuss strategy to advance H.R. 82,the "Social Security Fairness Act," to a vote.LEGISLATIVE NEWS & ACTIVITY
Page 6
@GLFOP @FOPNATIONALNATIONAL FRATERNAL ORDER OF POLICESecretary of Homeland Security (DHS) Alejandro N. Mayorkas convened a meetingof the Faith-Based Security Advisory Council (FBSAC) to discuss how DHS canimprove information sharing, increase access to DHS grants and resources, andbuild trust and partnerships with faith-based organizations, leaders, andcommunities. U.S. Attorney General Merrick B. Garland announced the recipients of the SixthAnnual Attorney General's Award for Distinguished Service in Community Policing,recognizing the exceptional work of 19 law enforcement officers and deputies from15 jurisdictions across the country.A LIST OF AWARD WINNERS CAN BE FOUND HERETHIS WEEK IN WASHINGTONTHE WHITE HOUSEThe Attorney General's Awardrecognizes individual State, local,and Tribal sworn rank-and-fileofficers, deputies, and troopers forexceptional efforts in communitypolicing. The awarded individualshave demonstrated activeengagement with the communityin one of three areas: criminalinvestigations, field operations, orinnovations in community policing.
Page 7
@GLFOP @FOPNATIONALNATIONAL FRATERNAL ORDER OF POLICEThe House Committee on the Judiciary's Subcommittee on Immigration Integrity,Security, and Enforcement held a hearing, entitled: "The Border Crisis: Is the LawBeing Faithfully Executed?" Former Acting Secretary of the U.S. Department ofHomeland Security (DHS) Chad Wolf was among the witnesses who testified at thehearing, which examined the U.S. Department of Homeland Security's policies.The House Committee On Oversight and Accountability's Subcommittee onNational Security, the Border, and Foreign Affairs held a hearing, entitled: "HelpWanted: Law Enforcement Staffing Challenges at the Border?" Joseph Cuffari,Inspector General for DHS, testified at the hearing.The House Committee on Oversight and Accountability released a resolution andaccompanying report recommending that the U.S. House of Representatives findFederal Bureau of Investigation (FBI) Director Christopher Wray in contempt ofCongress for his refusal to comply with a subpoena lawfully issued by theCommittee. THIS WEEK IN WASHINGTONTHE U.S. HOUSE OF REPRESENTATIVES
Page 8
SOCIAL SECURITY FAIRNESS ACTTOP LEGISLATIVE PRIORITIESLAW ENFORCEMENT OFFICERS' EQUITY ACTCOLLECTIVE BARGAINING RIGHTSH.R. 132256 COSPONSORSR: 16 D: 40H.R. 82279 COSPONSORSR: 84 D: 195S. 59744 COSPONSORSR: 5 D: 39@GLFOP @FOPNATIONALNATIONAL FRATERNAL ORDER OF POLICEH.R. 354PROTECT AND SERVE ACTNOT YET INTRODUCED IN THE SENATEH.R. 74376 COSPONSORSR: 66 D: 1032 COSPONSORSR: 32 D: 0LEOSA REFORM ACTHELPER ACTH.R. 317046 COSPONSORSR: 10 D: 36S. 15148 COSPONSORSR: 1 D: 7MORE RESOURCES BILLS SUPPORTEDS. 14622 COSPONSORSR: 2 D: 0H.R. 353918 COSPONSORSR: 6 D: 12NOT YET INTRODUCED IN THE SENATES. 16581 COSPONSORSR: 1 D: 0
Page 9
@GLFOP @FOPNATIONALNATIONAL FRATERNAL ORDER OF POLICER E A D M O R ER E A D M O R ER E A D M O R ER E A D M O R ER E A D M O R EFOP NEWSROOMNational President Patrick Yoes sent a letter to Senators Tester andHoeven in support of S. 1857 the "Assisting Narcotics and TraffickingOfficers in Interdicting (ANTI) Drugs Act."S. 1857, the "Assisting Narcotics and TraffickingOfficers in Interdicting (ANTI) Drugs Act"A suspect was killed and a police officer was wounded in a shootoutTuesday afternoon in Ogden.Suspect killed, officer wounded in shooting at Ogdenapartment complex (Fox 13)The officer was hit in his bulletproof vest and returned fire, killing thesuspect identified as Nicholas Lendrum, according to Denver PoliceChief Ron Thomas.Suspect killed after reported unprovoked attack onofficer at Denver hotel identified (9News)South Carolina officer rescues kidnapped getawaydriver who mouthed 'help me' during traffic stop (FoxNews)A South Carolina police department is commemorating one of itsofficers after a traffic stop led to the rescue of a woman...The National Fraternal Order of Police reports that as of midnight on31 May, there have been 166 officers shot in the line of duty so far in2023.Monthly Report: Officers Shot and Killed
Page 10
LISTENThere is no magical "de-escalation pixiedust" that can be sprinkled on individualsin crisis to calm them down. De-escalation is a desired outcome; it is aresult. It is not a specific technique ortactic. De-escalation cannot be measuredsolely on whether an officer did or didnot use force... MORETHE TRUTH ABOUT DE-ESCALATION: A DESIREDOUTCOME, NOT A TECHNIQUE WITH JOHN BOSTAIN@GLFOP @FOPNATIONALNATIONAL FRATERNAL ORDER OF POLICELISTENIn a groundbreaking stride towardsenhanced welfare for both retired racinggreyhounds and former U.S. lawenforcement officers, a uniquepartnership has been established. Forgedby Greyhounds Australasia andGreyhound Racing New South Wales intandem with the National FOP... MOREADDRESSING OFFICER WELLNESSWITH HELP FROM DOWN UNDERTHE BLUE VIEW PODCAST
Page 11
LEARN MORE LEARN MORELEARN MORELEARN MOREOn the Blue View Podcast, you'llhear from law enforcementexperts, elected officials, andother notable leaders to gaininsight into the issues andcurrent events surrounding thelaw enforcement community. The Collaborative ReformInitiative Technical AssistanceCenter (CRI-TAC) provides no-cost, customized technicalassistance solutions designed tomeet the unique needs of state,local, tribal, and campus lawenforcement agencies.The COPS Office awards grants tohire community policingprofessionals, develop and testinnovative policing strategies, andprovide training and technicalassistance to community members,local government leaders, and alllevels of law enforcement. The Office of Justice Programs(OJP) provides innovative leadershipto Federal, state, local, and tribaljustice systems, by disseminatingstate-of-the art knowledge andpractices, and providing grants forthe implementation of these crimefighting strategies. U.S. DEPARTMENT OF JUSTICEOFFICE OF JUSTICEPROGRAMSADDITIONAL RESOURCES@GLFOP @FOPNATIONALNATIONAL FRATERNAL ORDER OF POLICE
Page 12
@GLFOP @FOPNATIONALNATIONAL FRATERNAL ORDER OF POLICE
Page 13
CLICK TO CONTRIBUTE TO THE PACPOLITICAL ACTION COMMITTEEWhether it be Members of Congress or a President of the United States, when they seek toengage in meaningful conversation on issues pertaining to criminal justice or lawenforcement, they partner with the National Fraternal Order of Police. We are known andtrusted to fight for the interests of our members, which makes the FOP a vital ally on policingand criminal justice issues.The National Fraternal Order of Police Political Action Committee (NFOP PAC) needs yourhelp! Our PAC plays an important role in our advocacy program and allows the FOP tosupport candidates who support our members and our profession. Given the importance ofthe PAC, it is vital that our PAC is as well-funded as possible.WE ARE ASKING ALL FOP MEMBERS TO FIND A WAY TOCONTRIBUTE TO THE NATIONAL FOP PACPlease consider supportingthe National FOP's 5-5-5 GIVEBACK PROGRAM For only $15 per month, yourhard-earned dollars will go towhere they are most effective. @GLFOP @FOPNATIONALNATIONAL FRATERNAL ORDER OF POLICE
Page 14
TIM RICHARDSONSenior Legislative Liaison MARK MCDONALDLegislative Liaison DAVID TABOHLegislative Liaison ASA RENDERLegislative Liaison JIM PASCOExecutive Director@GLFOP @FOPNATIONALNATIONAL FRATERNAL ORDER OF POLICEWASHINGTON, D.C. STAFF328 MASSACHUSETTS AVE NE,WASHINGTON, D.C. 20002ADDRESS202-547-8189PHONEFAX: 202-547-8190FAXLEGISLATIVE@FOP.NETEMAILTHE STEVE YOUNG LAWENFORCEMENT LEGISLATIVEADVOCACY CENTERNATIONAL FOPLEGISLATIVE OFFICE