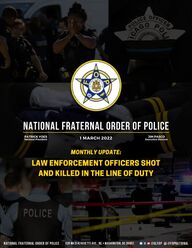 Return to flip book view
REPORT: Officers Shot and Killed [March 2022]
Page 1
@FOPNATIONAL@GLFOPNATIONAL FRATERNAL ORDER OF POLICE328 MASSACHUSETTS AVE., NE • WASHINGTON, DC 20002
Page 2
@FOPNATIONAL@GLFOPNATIONAL FRATERNAL ORDER OF POLICE328 MASSACHUSETTS AVE., NE • WASHINGTON, DC 20002The National Fraternal Order of Police reports that as of midnighton 28 February, there have been 67 officers shot in the line ofduty so far in 2022 (+40% from 2021 YTD; +76% from 2020 YTD).Of those officers shot, 9 of them were killed by gunfire.There have been 13 ambush-style attacks on law enforcementofficers this year. These ambush-style attacks have resultedin 24 officers shot, 4 of whom were killed by gunfire.The number of ambush-style attacks listed does not includethe countless incidents where an officer was shot at but notstruck by gunfire during an ambush-style attack.LAW ENFORCEMENT OFFICERSSHOT IN THE LINE OF DUTYLAW ENFORCEMENT OFFICERSKILLED BY GUNFIRE
Page 3
@FOPNATIONAL@GLFOPNATIONAL FRATERNAL ORDER OF POLICE328 MASSACHUSETTS AVE., NE • WASHINGTON, DC 20002OREGON 0MAINE 0ALABAMA 2PENNSYLVANIA 2MARYLAND 2ALASKA 0PUERTO RICO 0MASSACHUSETTS 0ARIZONA 10RHODE ISLAND 0MICHIGAN 0ARKANSAS 2SOUTH CAROLINA 0MINNESOTA 0CALIFORNIA 4SOUTH DAKOTA 0MISSISSIPPI 0COLORADO 0TENNESSEE 2MISSOURI 2CONNECTICUT 0TEXAS 7MONTANA 1DELAWARE 0UTAH 0NEBRASKA 0FLORIDA 2VERMONT 0NEVADA 2GEORGIA 5VIRGINIA 1NEW HAMPSHIRE 0HAWAII 0WASHINGTON 3NEW JERSEY 0IDAHO 0WASHINGTON, D.C. 1NEW MEXICO 3ILLINOIS 1WEST VIRGINIA 0NEW YORK 4INDIANA 2WISCONSIN 3NORTH CAROLINA 2IOWA 0WYOMING 0NORTH DAKOTA 0KANSAS 0AM. SAMOA 0OHIO 0KENTUCKY 2GUAM 0OKLAHOMA 2LOUISIANA 02019FULLYEAR2020FULLYEAR2021FULLYEAR2022YEAR TODATE
Page 4
@FOPNATIONAL@GLFOPNATIONAL FRATERNAL ORDER OF POLICE328 MASSACHUSETTS AVE., NE • WASHINGTON, DC 20002Every felonious attack on a law enforcement officer, especially by gunfire, isdisturbing regardless of the circumstances. Officers are always susceptibleto life-threatening attacks and therefore must always be vigilant andmaintain the highest level of situational awareness.In most cases, officers are able to quickly assess situations, recognizethreats, and take adequate defensive actions. Tragically, not every threatcan be seen or mitigated. Perhaps most troubling and worrisome areambush-style and other calculated attacks on law enforcement.Premeditated ambush-style attacks are particularly disturbing andpernicious. These types of attacks are carried out with an element ofsurprise and intended to deprive officers of their ability to defend againstthe attack. Premeditated attacks contribute to a worrisome desensitizationto evil acts that were once largely considered taboo except by the mostdepraved individuals.In 2020, 49 percent of shooting incidents involved a discernible element ofpremeditation, which is a 7 percent increase over 2019. An "ambush-style attack" is definedas when an officer is struck bygunfire without any warning oropportunity to defend themselves.
Page 5
@FOPNATIONAL@GLFOPNATIONAL FRATERNAL ORDER OF POLICE328 MASSACHUSETTS AVE., NE • WASHINGTON, DC 20002In October 2015, the U.S. Department of Justice released a report entitled:Ambushes of Police. The report detailed the number of ambush attacks onlaw enforcement officers from 1990-2013. In 2013 alone, there were between200 and 300 ambush attacks reported. The Executive Summary states:"…the proportion of fatal attacks on officers attributableto ambushes [is] increasing. Concerns about targetedviolence against police are on the rise, while officersmust not only be guardians of the public but also beprepared to respond to violence targeting them.""56 percent were not on a call or engaged in anyenforcement activity. Many of these officers weresimply eating, sitting on post, or in five cases, targetedand killed while at their home or on their way home."A December 2017 study by the Office of Community Oriented PolicingServices entitled Making It Safer, examined law enforcement officer fatalitiesfrom 2010-2016, including ambush attacks. The study found that 20% ofambushed officers were seated in their patrol cars and that:In May 2017, the Federal Bureau of Investigation (FBI) released a reportentitled: The Assailant Study: Mindset and Behavior. The report identified adisturbing and growing trend of attackers who are motivated by a desire tokill a law enforcement officer. This motivation, the report concludes, is froma "singular narrative that portrays the officer as guilty in traditional andsocial media and the subject as the victim."
Page 6
@FOPNATIONAL@GLFOPNATIONAL FRATERNAL ORDER OF POLICE328 MASSACHUSETTS AVE., NE • WASHINGTON, DC 20002"While the overall number of officers who were feloniouslykilled was declining, the percentage of officers feloniouslykilled during surprise attacks was increasing."In 2018, the Criminal Justice Information Services Division within the FBIreleased a report entitled Ambushes and Unprovoked Attacks: Assaults on OurNation's Law Enforcement Officers. This comprehensive report concluded:VIEW THE 2020 YEAR-END SUMMARYThe Office of Community Oriented Policing Services (COPS) within the U.S.Department of Justice recently published the 2020 Year-End Summary on LawEnforcement Officers Shot in the Line of Duty, which contains research conductedby staff with the National FOP's Government and Media Affairs Center (GMAC).In October of 2019, the National Fraternal Order of Police partnered with theNational Blue Alert Network to collect and analyze data on reported shootings oflaw enforcement officers nationwide. Using media monitoring software and generalresearch, staff with the National FOP's GMAC has tracked, collected, and analyzedpublicly available information to produce the 2020 Year-End Summary on officersshot and killed in the line of duty. The report contains data on law enforcementofficers shot in the line of duty, both fatally and non-fatally, for the expressedpurpose of better understanding the nature and frequency of incidents that couldgive rise to the issuance of a Blue Alert. The information in this monthly update reflects preliminary numbers and aresubject to change. The 2021 Year-End Summary will be published in early 2022.
Page 7
@FOPNATIONAL@GLFOPNATIONAL FRATERNAL ORDER OF POLICE328 MASSACHUSETTS AVE., NE • WASHINGTON, DC 20002POLICE OFFICER DONALD SAHOTAVancouver Police Department, WashingtonEnd of Watch: Saturday, January 29, 2022POLICE OFFICER WILBERT MORANew York City Police Department, New YorkEnd of Watch: Tuesday, January 25, 2022CORPORAL CHARLES GALLOWAYHarris County Constable's Office - Precinct 5, TexasEnd of Watch: Sunday, January 23, 2022DETECTIVE JASON RIVERANew York City Police Department, New YorkEnd of Watch: Friday, January 21, 2022POLICE OFFICER II FERNANDO ARROYOSLos Angeles Police Department, CaliforniaEnd of Watch: Monday, January 10, 2022DEPUTY CONSTABLE NEIL ADAMSSan Jacinto County Constable's Office - Precinct 1, TexasEnd of Watch: Wednesday, February 23, 2022POLICE OFFICER JOHN PAINTERBridgewater College Police Department, VirginiaEnd of Watch: Tuesday, February 1, 2022
Page 8
@FOPNATIONAL@GLFOPNATIONAL FRATERNAL ORDER OF POLICE328 MASSACHUSETTS AVE., NE • WASHINGTON, DC 20002SERGEANT JOSHUA CAUDELLArkansas Department of Corrections, ArkansasEnd of Watch: Monday, February 28, 2022POLICE OFFICER JORGE DAVID ALVARADO, JR.Salinas Police Department, CaliforniaEnd of Watch: Friday, February 25, 2022
Page 9
@FOPNATIONAL@GLFOPNATIONAL FRATERNAL ORDER OF POLICE328 MASSACHUSETTS AVE., NE • WASHINGTON, DC 20002Tim Richardson, Senior Legislative LiaisonMark McDonald, Legislative LiaisonJessica Cahill, Press LiaisonDavid Taboh, Legislative LiaisonJim Pasco, Executive DirectorOffice PhoneMatt Brown, Legislative Liaisontrichardson@fop.netmmcdonald@fop.netjcahill@fop.netdtaboh@fop.netjpasco@fop.net(202) 547-8189mbrown@fop.net